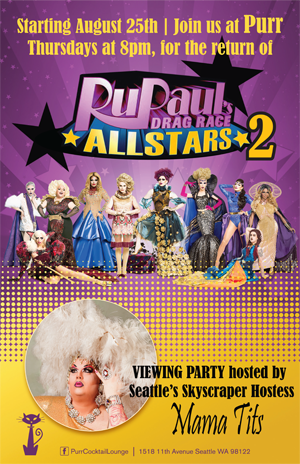 They filmed it a year ago but the second season of "RuPaul's Drag Race: All-Stars" is finally set to debut this coming Thursday (instead of RPDR's regular Monday night scheduling), August 25, 2016 at 8 pm on LOGO with a 90 minute long premiere. For this go round, ten queens from Seasons 2 through 7 were invited back for another chance to become America's Next Drag Super-All-Star.  And, unlike the first season of All-Stars 4 years ago (won by Season Four's Chad Michaels) the 10 queens WON'T be playing as teams with two eliminated each episode. In fact, the entire set-up for "All-Stars 2" is completely different from any other season/variation of RPDR.
The biggest change?
The bottom two queens will not be lip syncing for their lives and a chance to stay another week on the show…instead, the TOP 2 queens will "Lip Sync for their Legacy" and the winner will get to eliminate a fellow contestant…RuPaul and her judges will actually NOT choose who goes home.
How brilliant is that?
Returning for a chance for drag redemption: Adore Delano, Alaska, Alyssa Edwards, Coco Montrese, Detox, Ginger Minj, Katya, Phi Phi O'Hara, Roxxxy Andrews, and Tatiana.
Tatiana is the only queen from Season 2. No one represents Seasons One or Three. Phi Phi is the sole competitor from Season 4. The majority of the cast hail from Season Five (the year our Jinkx Monsoon won) with FIVE divas representing  that season…Alaska, Alyssa, Coco, Detox and Roxxxy. Adore Delano is the only Season 6 contestant while Ginger Minj and Katya are the duo repping the much maligned Season 7.
To be honest, we're a bit annoyed that Season Five is so over represented. Did they really need to bring back Alyssa AND Coco for hopefully NOT another round of their boring feud? (Note: We're #TeamAlyssa. Coco is a snoozy troublemaker.)
We're guessing that Alaska, Adore and Katya are the Final Three. That's not a Spoiler…it's pure speculation.
Meanwhile, for Seattle fans of the never ending/always evolving "RPDR" entertainment empire, you can catch screening parties every Thursday for the next 8 weeks at several area venues but most spectacularly, Purr  is the place to be for RPDR All Star viewing parties. The popular Capitol Hill gay cocktail lounge at 1518 11th Avenue (between Pike and Pine) will once again serve as host for one of the most popular parties in town, largely aided by their numerous big screen tvs, delicious cocktails and one larger than life hostess, in this case the Skyscraper Hostess herself, Mama Tits who will be presiding over the weekly mayhem.
(Note: Lily Armani has hosted RPDR viewing parties for years at Lobby and now Purr but according to the Rumor Mill, Lily had conflicting work commitments that prevented her from hosting this go round…)
More info on Purr's party:
YouTube sensation Todrick Hall joins Carson Kressley and Michelle Visage on the judging panel alongside RuPaul for a season packed with more eleganza, wigtastic challenges and twists than Drag Race has ever seen. The new season featuring 10 of the most celebrated competitors vying for a second chance to enter Drag Race herstory will be filled with plenty of heated competition, lip-syncing for the legacy, and, of course, the All-Stars Snatch Game.

Join us with our host, MAMA TITS, Thursday, August 25!
Arrive early. Show starts at 8pm.
Tags: Logo TV, Mama Tits, Purr, RPDR All Stars 2, RPDR Viewing Parties