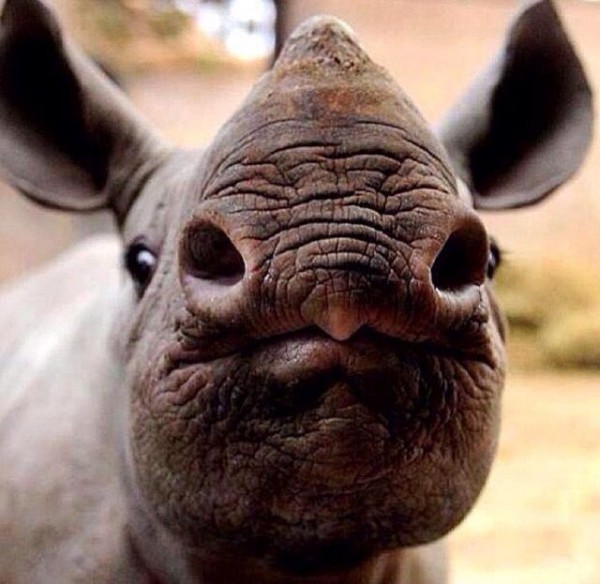 Rhinos are one of the closest things we have left on this planet that look like they wandered in off the set of "Jurassic Park Part 8" and we love them.
Sadly, they're also one of the most endangered species on the planet. All five remaining species of rhinoceros are endangered with three of the five listed as "critically endangered". The two main problems for rhinos: lack of free range for them to roam, and their slaughter by poachers to harvest the horn/horns of the rhino, long sought after by many cultures for traditional medicinal (including as an aphrodisiac) and ornamental uses.
There's no actual medical use for the horn…it's composed of keratin, the same protein that's the basis of hair and finger/toe nails in animals, including humans. So, instead of killing a rhino to nurse yourself to good health, or to put lead back into your "human horn", it would be just as useful to chew on your own nails or eat a bag of hair…
Dumbass.
In an effort to help "strike out rhino extinction" the Puget Sound chapter of the American Association of Zoo Keepers (AAZK) with the support of Seattle's Woodland Park Zoo, is hosting a "Bowling for Rhinos" fundraising event on Sunday, September 11th at the University of Washington HUB from 5 pm to 10 pm. It's an all ages event appropriate for the entire family and features other activities besides bowling: there's food catered by Peado Bueno, other games including pool, ping pong and video games, raffle prizes, and even a space dedicated to the Sunday Night Football game for football nerds who can't tear themselves away from the "big game" long enough to help support "big game".
Ha!
Anyway, this is a great event for a great cause. And, a perfect event for animal loving families to bond over!
Here's more info on the event:
WHEN:
Sunday, September 11, 5:00-10:00 p.m.
Bowling session 1: 5:00-7:00 p.m.
Bowling session 2: 7:00-9:00 p.m.
Dinner: 6:00-9:00 p.m.

WHERE:        
University of Washington HUB
4001 Northeast Stevens Way, Seattle, WA 98195

TICKETS:     
To register or make a donation to Bowling for Rhinos, visit www.brownpapertickets.com/event/2543681.

Event Fee(s) include: bowler $30.00; partier $25.00; youth (15 and younger) $15.00. Registration for bowling is limited to 50 bowlers per session, 100 total for the evening.

Can't make the event but want to support rhino conservation? Visit www.psaazk.org to make a donation. All donations are tax deductible and 100 percent of donated funds go to Bowling for Rhinos conservation projects.

INFO:             
The American Association of Zoo Keepers (AAZK) is very excited to be celebrating over 25 years of raising funds for rhino conservation. The AAZK's Bowling for Rhinos event provides zoo keepers of the world with an avenue to raise funds and awareness for rhino and habitat conservation. This event also gives the public an opportunity to demonstrate their support for endangered rhinos and the worldwide effort to conserve endangered species.

All funds raised from this event directly support four locations; Lewa Wildlife Conservancy (LWC) in Kenya; and to Ujung Kulon, Bukit Barisan Selatan, and Way Kambas National Parks in Indonesia through the International Rhino Foundation. Poaching is on the rise, and habitat degradation continues, threatening vulnerable rhino populations. The American Association of Zoo Keepers (AAZK) expresses its concern for the plight of the rhino by taking action. Bowling for Rhinos raises over $300,000 annually to help in this work and over $5 million has been raised since its inception in 1990.
(Visited 1 times, 1 visits today)