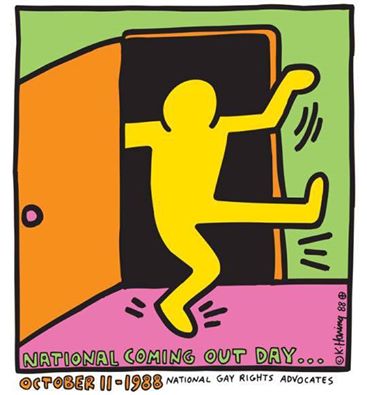 Yes, it's  October 11 "National Coming Out Day" and for any non-out readers out there in the mists, please take this opportunity to join us!
I need a new toaster!
In Seattle, Equal Rights Washington is hosting a "Coming Out" Happy Hour this evening at The Wildrose, 1021 East Pike on Capitol Hill starting at 5:30 pm. Yes, the 'rose is a lesbian bar but all are welcome and anyone/everyone is invited to come out and join our big Rainbow Family.
Also tonight, Social Outreach Seattle is hosting their big annual Gala & Community Awards Ceremony at Neighbours from 6 pm to 9 pm. It's a 21+ event with a $20 ticket and here's all the poo plus a list of the awards given:
Social Outreach Seattle presents our 4th Annual Gala & Community Awards Ceremony, Tuesday, October 11, 2016 at Neighbours Nightclub (1509 Broadway), 6 p.m. Doors (Cocktails & Appetizers), 7 – 9 p.m. Gala and Community Awards show. This event is 21+.

Tickets are just $20 and are available at the door on the day of the event, or online at BrownPaperTickets.com: http://www.brownpapertickets.com/event/2626988.

The Social Outreach Seattle Gala & Community Awards is our biggest night of fundraising all year. The money we raise at the event will greatly impact the number of LGBTQ and Allied homeless folks we can provide a hot meal, Christmas card and warm clothes for this winter. Additionally, funds will go towards the planning and execution of our once, monthly self-defense class and other SOSea programs and projects. We have set our fundraising goal for this event at $5,000. Please help us get there by spreading the word; especially on social media. Plus you get to cheer on some amazing community winners as we honor their work!

Excellence in Leadership
Louis Chernin, Greater Seattle Business Association

2016 Public Safety Award
Seattle Police Officer Nic Abts-Olsen

2016 Transgender Excellence Award
Danni Askini, Gender Justice League

2016 Media Award
Justin Carder (a.k.a jseattle), Capitol Hill Seattle Blog
Steve Kiggins, Q13 FOX

2016 Grassroots Activism Award
Ceasar Hart, Drag King Visibility

2016 Community Partner of the Year
Jeffrey Robert, The Gay Uncle Time

2016 Sponsor of the Year
Tanya Rachinee, Owner/Manager Root Table

2016 Entertainer of the Year
Michael Cagle

2016 Rayo de Sol
Jacque Larrainzar

2016 Race & Social Justice Award
Doris Martinez, Highline College
Tags: Coming Out Day, Equal Rights Washington, Social Outreach Seattle Gala & Community Awards, SoSea, The Wildrose