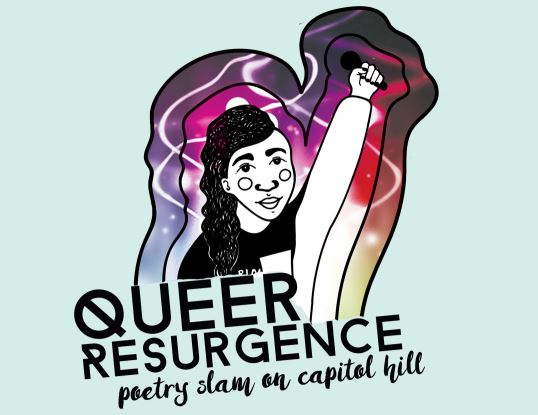 I meant to post this earlier but…
Life is hard right now.
Bleh.
But, arty farty Seattle queer folk need to be aware of this cool arts festival focusing on the spoken word. It's the CAPITOL HILL POETRY SLAM FESTIVAL and part of a group called QUEER RESURGENCE. It started Sunday and continues today (Monday, January 23rd) and wraps up Tuesday. Here's the skinny!
Hello Seattle Gay Scene,

Seattle Poetry Slam is organizing a three day all-ages poetry festival and competition open to those who identify as LGBTQ in the neighborhood of Capitol Hill in Seattle.  With the recent changes in the city, we are committed to reclaiming the neighborhood that was once Queer and bringing art back into Capitol Hill.

Below you will find the press release.  Please let me know if you have any questions.

PRESS RELEASE

Queer Resurgence on Capitol Hill Poetry Slam Festival

Poetry, Queer Community and Art Back on Capitol Hill, January 22-24, FREE

This project is funded in part by a Neighborhood Matching Fund award from the City of Seattle, Seattle Department of Neighborhoods.

WHAT: Queer Resurgence on Capitol Hill Poetry Slam Festival

WHEN: January 22-24 2017

WHERE: Capitol Hill Neighborhood of Seattle.  Wildrose Bar, Gay City, Elliott Bay Book Company and Re-Bar Seattle

WEBSITE: http://www.queerpoetrycapitolhill.org

FACEBOOK: http://www.facebook.com/seattlequeerpoetry
The Queer Resurgence on Capitol Hill Poetry Slam Festival is a celebration of LGBTQ art, artists and community while inviting our community back to Capitol Hill.  This festival is a three day, all-ages, art festival and poetry competition open to those who identify as LGBTQ.  With the recent changes in the city, we are committed to reclaiming the neighborhood that was once Queer and bringing art back into Capitol Hill. Seattle Poetry Slam will celebrating 25 years in as a Seattle's longest running weekly show and we are committed to giving voices back to the people.

Calendar of Events:

January 22

12pm-2pm– Decolonize Your Sex Workshop

2pm-4pm– The Language of Tarot and Poetry

4pm-6pm– Qomedy: Queer Comedy Open Mic and Showcase

6pm-9pm– Preliminary Round Poetry Slam A (Gay City)

6pm-10pm– Preliminary Round Poetry Slam B (Wildrose)

January 23

12pm-2pm– QWOC Panel on Race Gender Sex & Surviving Seattle

2pm-4pm– Witchy AF-Writing Workshop with Imani Sims

2pm-4pm– Interrupting Self Sabotage-A Writing Workshop with Tara Hardy\

4pm-6pm– Queer and Trans People of Color Open Mic with featured poets Joshua Koets and Anastacia Renee

6pm-9pm-Preliminary Round Poetry Slam C (Gay City)

6pm-10pm– Preliminary Round Poetry Slam D (Wildrose)

January 24

7pm-10pm Queer Resurgence Poetry Slam Festival FINALS featuring Jansen Niccals (ReBar Seattle)

www.queerpoetrycapitolhill.org
(Visited 2 times, 1 visits today)