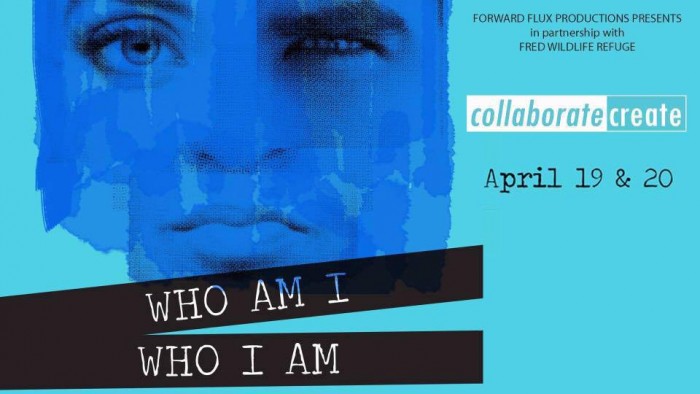 Hello, Sweeties, it's your cut rate Barbara Walters, Anna! I'm having a kiki with local powerhouses Adé and Sparkle Leigh!  These dear friends of mine are both in an exhibition called "Who Am I / Who I Am": "a 21 day artist residency series. A diverse group of 20 artists are given 21 days to create an immersive exhibition exploring a single theme. For this cycle, the artists will be investigating identity."  I decided to snort some lines of glitter and try to figure out the secret identities of these two super people!
---
Anna: Hello, Sweeties!  As we sip our bathtub gin and glitter cocktails (or just straight glitter on the rocks in  Sparkle's case), please tell me how you got involved in this art show?

Adé: I got involved in this show as a recommendation from Gabriel Bello Diaz.
Sparkle: I was reached out to by Westley & Andy of Forward Flux Productions. I've worked with the company off & on the last couple years!
Anna: I see that the residency is at the Fred Wildlife Refuge.  I've never been, but I'm imagining trash pandas and rescue quokkas!  How far off am I?
Adé: I am a trash Panda.
Sparkle: Well… I guess that makes me a rescue quokka..??? ACTUALLY, even DURING the course of this very interview- I find myself very suddenly unable to attend due to a car accident. However, please don't you worry. I'm determined to see that something very special goes in my performance slot's space!
Anna: Which artistic disciplines will your piece(s) incorporate?
Adé: My piece incorporates film and music.
Sparkle: Performance Art Drag, but now you have to SEE FOR YOURSELF!
Anna: OK, so, since this show is all about identity, I'm now going to tag team in my twin who absorbed me in utero: Craig Trolli! Byeeeee!
Craig: Hello again, you two!  OK, getting right to it: as artists and performers, how do you feel about marketing your personas and staying true to yourself?
Adé: I have mixed feelings about marketing my persona. On one hand I love the creative side of doing things like photos and videos. On the other hand I hate promoting myself. I always try to stay true to myself though.
Sparkle: That's been one of my struggles during this entire process & the answer to your question is VERY much what you will see at the exhibit.

Craig: What is one thing about you that most people don't know?
Adé: Most people don't know that my mother joined a cult and disappeared 19 years ago.
Craig: Oh? Um. Can you tell us more about that?
Adé: I don't have time to tell the whole story right now. That's another interview!
Sparkle: I've recently been in a possibly crippling Hit & Run Car Accident & that's causing a few aggravating hiccups, as it were.
Craig: Personally, I don't create much art because I feel like someone chopped off my hands in my sleep.  How do you deal with artistic blocks?
Adé: Artistic blocks happen to me frequently. The best way for me to handle them is to stay busy.
Sparkle:  Honestly & Truthfully- BARREL THRU. The Beauty of Art is the Beauty of Life! No one has ALL the answers! YOUR story is JUST AS INTERESTING as what you watch on TV, ESPECIALLY NOWADAYS! Lol CREATE your Life! CREATE Beauty. Cultivate it & Care for it because in 10 Min. you could be hit by a VW! And things may or may not be very, very different when you walk-… if you walk away- or hobble, or wheel away…
Craig: I have a very personal question for each of you.
Sparkle, you just had a drunk driver hit you and try to drive off. How is this going to impact you and your art?

Sparkle: I'm very much in Toon Town right now, it feels like- with the amount of painkillers I'm on- and they have ALWAYS loved my Art here, well here & wherever else I'm able to bring it! 
I think it's going to impact things in a way because we all face struggles, we all face diversions, and/ or things that don't always set us off "the path," but they most CERTAINLY set us down "another path." So far my head and body are still a little cloudy & my dear friend Becky, who I was in the wreck with, is also doing well. (Find her at: www.rebeccapeterson.us)
Please don't also get me started on the impact and bond that I feel with Adé because of this piece & this experience. Each artist involved with the piece I also feel a very, very special kinship to. We all were grouped together & had several really amazing, powerful, beautiful, and inspirational talks and then, for some of us- for very different reasons, myself included- life got the better of us & we weren't able to complete our work, but isn't that just the sweetest fruit of all in a piece & process like this? I'm excited to share the impact of that on myself, but thru the shared experience of loss.
Craig: Adé, you were the victim of a street attack last year.  It actually inspired me to go to a self-defense class for drag and burlesque performers.  Has anything postivie come out of that event for you and your work?

Adé: The attack has not inspired my art. But the positive thing that came out of it was it made me a lot more active on the political side of things. I had to open my eyes and really look at what's going on around me and in the world.
Craig: I just watched the Marina Abramović performance art documentary, "The Artist is Present". Would you rather: a) sit and stare into the eyes of complete strangers for 3 whole months, b) repeatedly run and slam your naked body into another naked person, or c) work on a project with David Blaine?
Adé: I would rather not do any of those things.
Sparkle: Somewhere between A. & C. without EVER B. Lol (Nobody INCLUDING MYSELF wants to see tha-… well, No, I've worked the gigs where THAT'S what they wanna-…) ANYWAY!
Anna: Hi, I'm back!  Finally: let's play Fuck, Marry, Kill: Artist Edition!  Your options are Damien Hirst (he chops animals in half), Jeff Koons (Lady Gaga lyric and balloon animal artist) or Björk's Vaseline-loving ex, Matthew Barney!
Adé: I'd fuck Matthew Barney.  I'd marry Jeff Koons. I wouldn't kill Damien Hirst but I wouldn't kill anyone.
Sparkle: Jeff, Matthew, Damien.
Anna: Thank you for coming to this kiki, Sweeties!
Craig: Why is there glitter in this drink?!?
Anna: **cough** It was Sparkle.
---
Anna and Craig have both been in plays, sketches and drag numbers with Adé and Sparkle Leigh  and love to brag about it, because wouldn't you? The list includes Bacon Strip, Always a Mermaid, Never a Merm, Capitol Hill High, Totally Solid Gold, Sex Drugs Death Disco: the Michael Alig Show, and Amanduh: She Came from the Internet.
More on the event:
Forward Flux Productions presents Cycle 8 of collaborate create, a 21 day artist residency series. A diverse group of 20 artists are given 21 days to create an immersive exhibition exploring a single theme. For this cycle, the artists will be investigating identity.

The exhibition is titled "Who Am I / Who I Am" and will feature all new works created in 21 days, including paintings, film, poetry, dance, new plays, interactive installations and more. The exhibition will be installed throughout the entire Fred Wildlife Refuge venue (our presenting partner). In addition to the new works on display, there will be a full bar, live music and a pARTy atmosphere. Connect with the art, artists and your fellow audience members to explore our shifting relationship with gender, sexuality and identity.

Audiences are invited to explore the artists' installed works on their own pace, staying the entire time to see all of the pieces (7-10pm), or dropping by for a portion of the evening.

Cycle 8 of this residency program is guest curated by Barry Johnson. Barry was a resident artist in Cycle 5 of the program, exploring gentrification.

The resident artists are:
Adé, Angel Alviar-Langley aka Moonyeka, Tré Calhoun, Melissa Cole, Gabriel-Bello Diaz, Chelsea DuVall, Zane Exactly, Melissa Koch, William Kuko, Ted Larson, Sparkle Leigh!, Angel O'Leary, Julian Pena, Starheadboy, Nelle Tankus, Tré (Trout.) Thibodeaux, Shann Thomas, Markeith Wiley, Susan Will and Daniel Joseph Wood

The creative team is:
Program Director: Wesley Frugé
Guest Curator: Barry Johnson
Program Manager: Andy Buffelen
Associate Program Manager: Kiki Abba
Presenting partner: Fred Wildlife Refuge

This event is 21+ only.

Buy your tickets today or click here to learn more about collaborate create.
Tags: Ade, Art Installations, Collaborate, Forward Flux Productions, Fred Wildlife Refuge, Hit and Runs, Interactive Art, Jeff Koons, Making Art, Matthew Barney, Performance Art, Queer Art, Sparkle Leigh, Who am I / Who I am