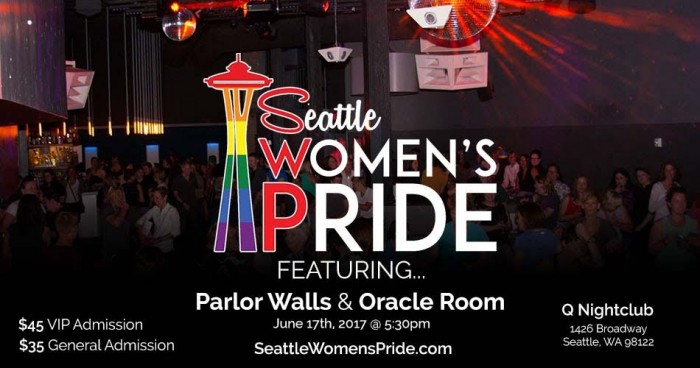 Via Press Release:
SEATTLE, Wash. (June 6, 2017): In the spirit of celebrating National LGBTQ Pride Month, the organizers behind the fourth annual Seattle Women's Pride have announced the recipients for their distinguished awards presentation on Saturday, June 17.
Seattle Womxn Marching Forward – Luminary Award
In solidarity with over five million participants worldwide, 175,000 Seattleites gathered on January 21 to march in defense of our rights to safety, health and families – recognizing that vibrant and diverse communities are the strength of our country. Since January 21, organizers of the Womxn's March on Seattle, now called Seattle Womxn Marching Forward, have continued to foster community building to maintain the momentum of resistance and self-determination. Community leaders within the Seattle Womxn Marching Forward initiative will be on hand to accept this prestigious award.
"Seattle Womxn Marching Forward was born out of necessity to unite a fractured community fighting back against injustice and intolerance, and I cannot imagine any other group more poised to accept our Seattle Women's Pride Luminary Award this year," said event producer Sarah Toce. "This courageous all-volunteer group is leading the charge for accountability and equality."
Marination – Business Excellence Award
Roz Edison and Kamala Saxton own the Hawaiian-Korean cuisine brand Seattleites know and love, most notably Super Six in Columbia City, Marination Ma Kai on Alki, Marination Station on Capitol Hill, The Truck (Big Blue), and Marination at 6th and Virginia. Roz and Kamala will receive the Seattle Women's Pride 2017 Business Excellence Award.
"When I first met Kamala and Roz at their newest restaurant Super Six in Columbia City, I asked Kamala if she would host a brunch for International Family Equality Day (IFED) and she immediately said, 'Of course, sign me up!' Her generosity and willingness to share with the community illustrates what their business is built on – community," said Jennifer Jimenez, whose company, Eastside Total Health & Lactation, is sponsoring the awards portion of the evening.
Repair Revolution – Community Champion Award
Eli Allison founded Repair Revolution with a vision to empower clients by teaching them about their vehicles and build community for people who want to learn to work on their own cars. This is a complete paradigm shift from how business is usually done in the automotive industry. The automotive industry is set up in such a way that customers often leave repair shops feeling taken advantage of and never really understanding what is going on with their vehicles. Repair Revolution puts the feeling of empowerment back into the LGBTQ and allied communities by making them a part of the solution.
"Eli has built Repair Revolution on the foundation of giving back to the community," Jimenez said. "They share their expertise by not only fixing your car, but training you how to take care of it yourself!"
"On behalf of the Seattle Women's Pride 2017 planning committee, I'd like to congratulate all award recipients for a job well done," said Toce. "We look forward to honoring everyone on Saturday, June 17!"
Last year's event honored leading pioneers, including U.S. Representative Suzan DelBene (WA-1), who received the Seattle Women's Pride Crusader Award; Midwife Ali Tromblay, who received the Seattle Women's Pride inaugural Community Champion Award; and Washington State Supreme Court Justice Mary Yu, who was honored with the organization's inaugural Luminary Award.
Seattle Women's Pride will take place Saturday, June 17, 2017 from 5:30 p.m. – 9:30 p.m. at Q Nightclub on Capitol Hill (1426 Broadway). Tickets are $35/$45 VIP. A portion of the evening's proceeds will benefit the American Civil Liberties Union (ACLU). Tickets are currently available via Stranger Tickets, but are expected to sell out so advance purchase is encouraged.
Seattle Women's Pride 2017 is sponsored by The Seattle Lesbian, Eastside Total Health & Lactation, Bastyr Department of Midwifery, Seattle Storm, Fun Home the Musical, Seattle Pride, Seattle Sperm Bank, TomboyX, Lifelong, Family Equality Council, and Whidbey Island Realtor Alicia Dietrich. Additional support is presented by Seattle Men's Chorus, Seattle Women's Chorus, Seattle Gay News, Seattle Gay Scene, The Stranger, The Personal Stories Project, Olivia, Lesbians Who Tech, and Revry.
This year's main entertainment stage will include live performances by Brooklyn bands Parlor Walls and Oracle Room with spinning by DJ Kristina Childs. After a series of colorful EPs, Brooklyn trio Parlor Walls released their debut album, Opposites, on Northern Spy Records in March before embarking on a national tour. Their music swims between chaos and restraint, nestling in the cracks of warmth and dissonance. Featured in New York Times, Wall Street Journal, NY Music Daily, Popmatters, and Spin Magazine. The lush pop of Oracle Room is centered around the lyrics and vocals of New York-based songwriter Alex Nelson, the emotional catalyst for the band's ghostly turbulent electronica.
Past performers at Seattle Women's Pride have included Julie Goldman, Dana Goldberg, Vicci Martinez, and Brooklyn Dicent.
Purchase tickets for Seattle Women's Pride 2017 here: http://www.strangertickets.com/events/41374899/seattle-womens-pride-music-festival-2017.
(Visited 1 times, 1 visits today)