Schlong Song is an energetic, sexually confessional, laugh/cry-out-loud journey through the life of a queer artist who beat all the 'odds' by surviving, and sometimes thriving, amidst Puritan religiosity. Written and developed by multi-disciplinary extraordinaire Noah Duffy, the tale is performed through a stage name, Woody Shticks, who acts, dances, and sings live, many times all-at-once. Bring some friends to 18th Avenue Arts and get ready for some "stand-up storytelling steeped in #gayshit" every Friday and Saturday night in June. I highly-recommend Schlong Song as a must-see theatrical event in Seattle this summer to celebrate pride with your loved ones.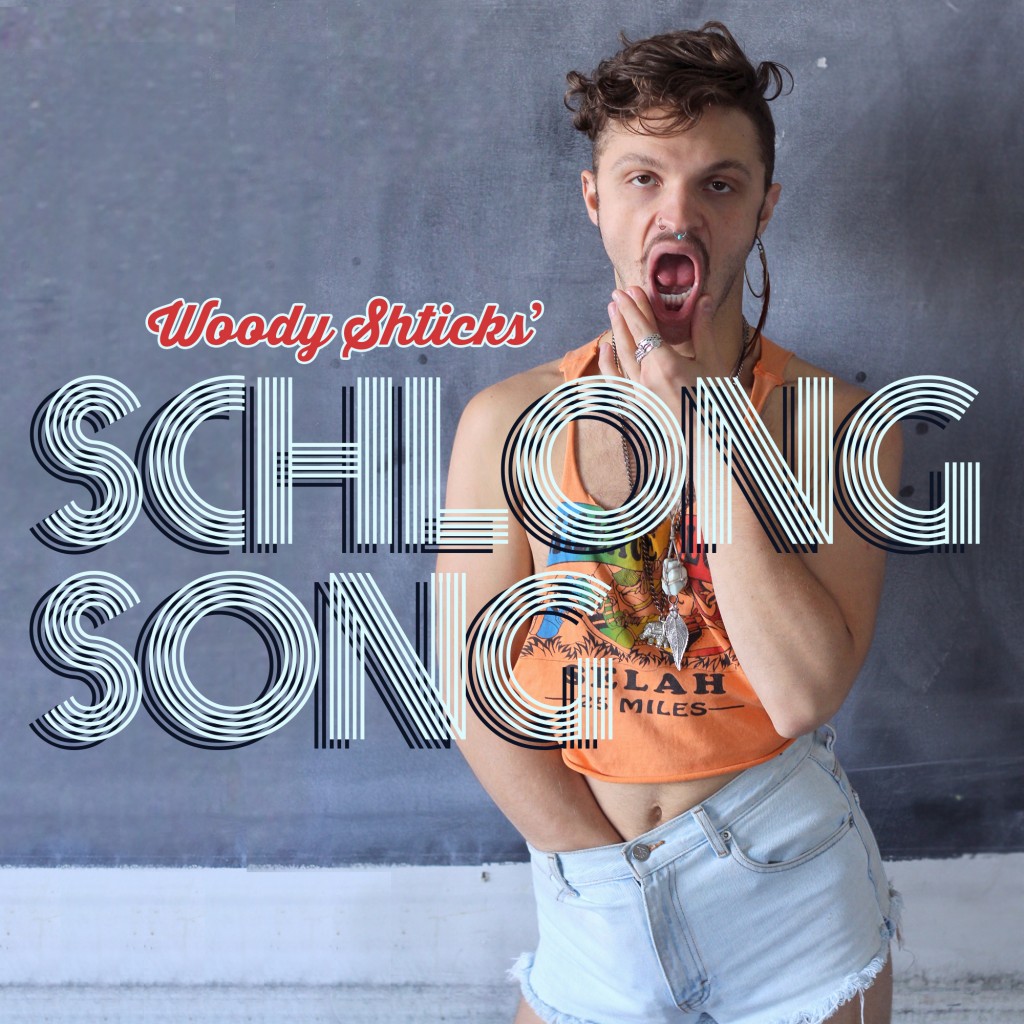 I saw the sold-out premiere earlier this year and fell in love with the unique, refreshing experience of the show. Shticks is endearing, entertaining, and genuinely engages the audiences, creating an energy of improvisation, an energy of magic-making. He performs a diversity of arts; there's a little something for everyone to enjoy. Excited to see the show again, I got the opportunity to have a brief interview with Duffy/Shticks for Seattle Gay Scene. I must confess, I know of this person and have admired him previously, not for his talent, but for his work ethic as a tireless professional.
May 31 –  June 2, 2017.
JPS: You put so much of yourself into Schlong Song. I was amazed – and highly entertained – by your physical and mental endurance during the performance. How much of your life have you been dedicating to the creation, execution, and development of this show? How have you been preparing for the performances?
WS: Schlong Song is directly reflective of my collective life, as any of my nearest and dearest can tell you. Because the show is always changing to accommodate new antics and shifting perspectives, I feel like I'm researching every time I log in to a sex app. (NSA sponsorship, tech bros?) As far as preparing for the show, I typically run through the hour-long set once a day while biking up hills or try out new material using my partner Trevor's erection as a microphone.
JPS: Does this mean Trevor might make it into the show at some point down the road?  Asking for a friend …
WS: So you've seen his legs, huh? And his enormous talent? Trevor Hansen (dapper Davey Bones, of Can Can Cabaret) and I actually collaborate often – next on choreography for The Libertinis' Nite Skool at Annex Theatre in August! You never know if he'll make it into Schlong Song…there's so much improv that I don't even know.
JPS: Tell me about the relationship between Shticks and Duffy.
WS: Woody Shticks is a very public pen(is) name. Six years ago, when The Libertinis were coalescing, I decided to create a moniker that demonstrated my love of indiscreet innuendos and recognizable gimmicks. These days, I use both of my names interchangeably. Plus, there's nothing like the looks on the faces of baby boomers and straight dudes when they find out my name is Woody.
JPS: I think what does it for me is the Shticks part.  Gets me every time. Name two or three artists who have substantially influenced you as a creator and explain why.
WS: Jennifer Beals in Flashdance for
the opening sequence that will forever be my warm-up, Glenn Close in Fatal Attraction for
#relationshipgoals, Jennifer Coolidge in everything for her unparalleled self-assurance, and my mom Bunny for her artful knack for getting hers while getting to work. That's four. Do I lose my art card?
JPS: Now I'm wondering where I put my card.  Anyway, this is a very personal work of art and a valuable contribution to queer arts. What do you think and feel you are accomplishing for yourself and others through the performances of Schlong Song?
WS: The conflict between assimilation and liberation is all too real for the queer community in Seattle. While rainbow flags are a fun addition to my June walkabouts, they don't stop me from getting assaulted in the street. It's high time we celebrate uncommon experiences – like those in Schlong Song – instead of regurgitating canned attitudes propagated by Will & Grace reruns or Katy Perry's PR team. Gay shit is at once completely relatable and literally queer and the sooner we emphasize that fact, the sooner we'll wrestle back our wants and needs from unexamined straight people.
JPS: What kind of advice would you give to other queer artists out there who have dreams of writing and producing confessional work?
WS: DO IT. And do it for the right reasons. Live art serves all kinds of purposes…but so do therapists. Be clear about what your story is, why you should share it, and who should hear it. And my best piece of advice is to stop asking for advice. 
JPS: Love it! Get out there and just get it done. I've seen you volunteer regularly for Annex Theatre's box office. I've seen you performing amazing performing feats with The Seagull Project. You do a great deal of work as a member of the Libertinis, with another exciting show, NITE SKOOL. Your general life-hustle is exemplary. What drives you to do so much all the time?
WS: Earl Grey, deep lunges, and student debt are my primary motivators.
JPS: Let's all just give a moment of silence right now for all those with slightly crippling student loan debt. You too, readers. (A moment of silence.) Okay. (beat) At the premiere, you filmed closing night. Do you plan to film again?  If so, what night?
WS: I do plan to film it again, with the help of my baller videographer Derek Edamura and killer stage manager Sophie Schwartz. I haven't decided which night…my vote would be the one filled with the loudest butts. (Hold on – the most butts, the loudest clapping.)
JPS: Would you consider the idea of creating a film-version of Schlong Song at some point?  How can we make this happen???
WS: Film isn't usually my bag…but I do in fact make skin flicks. Just because our repartee is so delicious, I'll link to one of my favorites – STAIR, featuring bangarang music by Oh Land. (Spoiler alert: nudey art ahead.) My Instagram is also nude dude central (@woody.shticks). As far as filming Schlong Song goes, if you find the cameras, a king-sized bed, and a generous patron, I'm down.
JPS: BONUS!!! The song is gorgeous and you definitely shine in it. I think it's also a great preview into a little bit of what the Schlong Song is about.  Thank you for sharing! Where do you see the final development of Schlong Song going?  How far and wide to you want to take it?
WS: I want Schlong Song to go as deep as audiences are willing to take it. My goal for the show would be to hit the road, especially touring to colleges and universities – because I don't know if you knew this, but it's overwhelmingly difficult to have fun and fulfilling sex if you don't know it exists.
JPS: Any words for folks who are considering seeing your show but haven't gotten a ticket yet?
WS: Get your tickets, and if you came last time, cum again! Putting a rainbow filter on your profile picture is cute, but supporting local queer culture with your money and time is a much better investment. Plus we sold out in February, so buy early and often!
JPS: Any words for those who already have their tickets?
WS: If you've already seen Schlong Song, you're in for an even bigger, better, wetter time. If you're a virgin, get ready – you're in for one helluva first time.
JPS: Thank you so much for your time.  I'm looking forward to seeing the show on opening weekend.  All the best to you!
WS: Bring everyone you know – because I guarantee that you'll learn something, and I guarantee it'll be gross!
That's it!  Want to learn more?  Here's all the links you need.
(Visited 6 times, 1 visits today)