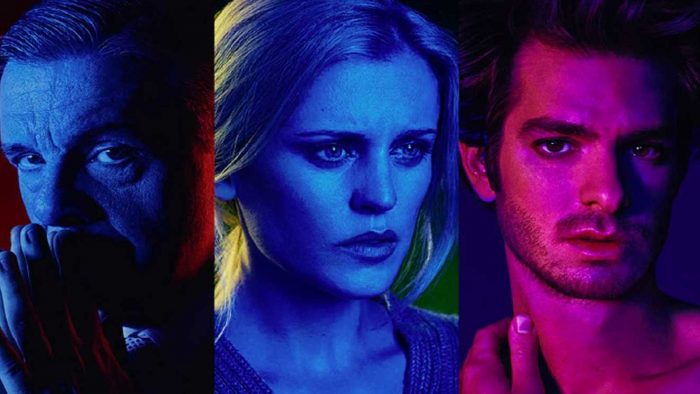 The latest in the series NATIONAL THEATRE LIVE events where productions from the London UK based National Theatre of Britain are broadcast live to cinemas around the world then subsequently re-screened is of great interest to LGBTQ audiences. It's the National Theatre's eagerly awaited new production of Tony Kushner's beloved ANGELS IN AMERICA, his two part award winning saga about the AIDS crisis in NYC in the 1980s and how it affects an odd range of people that includes a gay couple, a straight Mormon couple and the very much real and notorious right wing lawyer and closeted gay man, Roy Cohn. Subtitled "A Gay Fantasia on National Themes" this ambitious duo of plays has transfixed audiences onstage and in its award winning television adaptation on HBO that starred Al Pacino and Meryl Streep for the last 25 years.
This new production stars one American, Broadway legend and out gay actor Nathan Lane as Roy Cohn as well as a couple familiar Brits with film star Andrew Garfield as Prior Walter, an AIDS inflicted gay man visited by an angel; and popular gay actor Russell Tovey, known for his work on the HBO series Looking. The productions have received mostly positive reviews, with a few mixed ones as well. I will say, just watching the trailer, that Garfield and Tovey's American accents are a bit…dicey. But, I'm a tad hyper picky when it comes to "Angels" since I saw the original and brilliant Broadway cast and mostly very much admire the HBO version.
The Seattle International film festival has snagged the local broadcast rights to these two productions; SIFF has had much success in recent years with the NT Live productions including several broadcasts of the hugely popular NT production of Frankenstein that features Benedict Cumberbatch and Jonny Lee Miller in two different takes on the play with the pair alternating in the roles of Dr. Frankenstein and The Creature. Both parts of Angels in America have now debuted and are screening in repertory over the next few days.
Part One, Millennium Approaches will screen next on Sunday July 30th at noon, then Monday July 31st and Tuesday August 1st at SIFF's Film Center at Seattle Center.  Grab tickets here. This smaller venue is located in the old Northwest Rooms at Seattle Center and is just three blocks east of their Uptown Cinema.
Part Two, Perestroika will follow a similar screening program but on Sunday August 6th through Tuesday August 8th. Go HERE for those tix.
Be aware these are LONG plays….over 3 hours each!
More:
Andrew Garfield (Silence, Hacksaw Ridge) plays Prior Walter along with a cast including Denise Gough (People, Places and Things), Nathan Lane (The Producers), James McArdle (Star Wars: The Force Awakens), and Russell Tovey (The Pass).

This new staging of Tony Kushner's multi-award-winning two-part play "Angels in America: A Gay Fantasia on National Themes", is directed by Olivier and Tony-award-winning director Marianne Elliott ("The Curious Incident of the Dog in the Night-Time" and "War Horse"). "Part One: Millennium Approaches" was first performed at the National Theatre in 1992 and was followed by "Part Two: Perestroika" the following year.

Director:

Marianne Elliott

Principal Cast:

Andrew Garfield, Nathan Lane, James McArdle, Russell Trovey, Denise Gough

Country:

United Kingdom

Year:

2017

Running Time:

210 minutes

Language:

English
(Visited 1 times, 1 visits today)