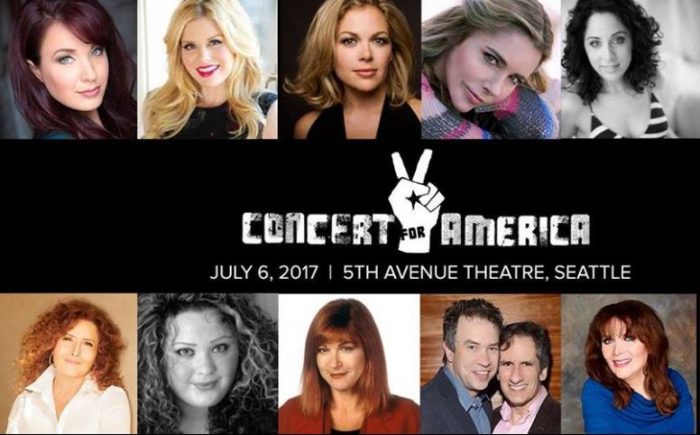 If you want to take Seth Rudetsky at his word you will rest up on the 4th of July and be fully energized for his July 6th CONCERT FOR AMERICA at the 5th Avenue Theater in beautiful downtown Seattle! Our own hometown star, Megan Hilty, the star of the late lamented NBC television show "Smash" and seasoned Broadway veteran (Wicked, 9 to 5, Tony nominated for Noises Off)   heads a cast that includes Tony Award nominee Kerry Butĺer (Xanadu) who local audiences will remember from her appearances in the original casts of Hairspray and Catch Me If You Can which opened prior to Broadway at  the 5th Avenue Theatre. Other nationally-known Broadway and Hollywood stars scheduled to appear include Grammy winning singing legend Melissa Manchester, Tony winner Dinah Manoff (Neil Simon's I Ought To Be In Pictures, series regular on TV's "Empty Nest"), actress/singer Maureen McGovern, Broadway star Sierra Boggess, and fabulous local sensations Trina Mills, Naomi Morgan, Caety Sagoian, Billie Wildrick, Diverse Harmony and Spectrum Dance Theater! Tix/livestream at www.ConcertsForAmerica.com
"It's going to be a fabulous night!" says the ebullient, jovially jaunty Seth. "Most of the singing ladies are going to do two numbers each and that means we get to hear their mega-hit pop or Broadway standards. That means don't be surprised, when I introduce Maureen McGovern, singing her breakout first hit 'The Morning After', a song you and I swooned to way back in 1972  when the song written for The Poseidon Adventure received a gold record as a million-seller hit and went on to win a Grammy Award."
Miss McGovern became sort of the queen of Disaster Movie theme songs as she followed that one up with another smash from another Irwin Allen movie The Towering Inferno called 'We May Never Love Like This Again'. The nationally-known stars are of course the big draw stars but the local cast members like Billie Wildrick and Naomi Morgan and the others more than hold their own.
On  Thursday July 7th "Seth's Big Fat Broadway Cruise" sails to Alaska. Seth, Kerry Butler, Faith Prince and Sierra Boggess will see the glaciers with the passengers by day, and croon and entertain them by night. Seth's husband and business partner James is on board as well and confessed he was thrilled to hear that the cruise is overbooked.
My Broadway pal Ann Harada ( The Original Christmas Eve in  the Tony Award winning Avenue Q) told me in regards to Seth  "He's absolutely a good egg and I like him very much. The only thing I would say is don't talk badly about anyone or any show in his presence, because if you think I know everybody in show business he truly does! I think it speaks very highly of him that all of our premiere divas like and trust him to accompany them (not all the time, but often): Audra McDonald, Betty Buckley, Patti LuPone, Kristin Chenoweth… His Broadway knowledge is vast. You will get along with Seth because you're both true fans."
To learn more about this Musical Director, Broadway producer (Disaster!), historian, stand-up comedy star and all around great Theatre guy, go to the show at the 5th on Thursday and online at www.sethrudetsky.com. If, as I told him we are brothers from another mother, I can only imagine those women were Fanny Brice's Mom Rosie Brice  and Groucho Marx's Mom Minnie Marx!
More on this event:
Concert for America has been hailed by the New York Times as "striking for its emphasis on the importance of faith in the United States and optimism about its future." Created and hosted by Seth Rudetsky and James Wesley, who also organized the Broadway For Orlando/What the World Needs Now is Love recording, Concert for America: Stand Up, Sing Out! debuted as a monthly series to universal acclaim at The Town Hall, which serves as its New York home. Prior to this Seattle engagement, Concert for America will be presented in San Francisco at The Curran on June 24, 2017, following other recent editions at Royce Hall at UCLA in Los Angeles and the Auditorium Theatre in Chicago.

After years of fundraising and volunteering for a myriad of non-profit organizations, in 2015  Rudetsky and Wesley decided to form their own 501(c)(3) non-profit organization. Though their initial focus was intended to be children, it became clear by the end of 2016 that the number of people at risk in the United States had increased greatly. They chose to widen the scope of the organization to provide more support to more communities in need. Rudetsky and Wesley wanted to benefit a wide array of non-profit organizations serving diverse audiences but all with a similar focus: fighting for civil and human rights for all Americans.

Proceeds from Concert for America: Stand Up, Sing Out! will benefit five national organizations working to protect human rights: Southern Poverty Law Center, National Immigration Law Center, The Sierra Club Foundation, NAACP and National Coalition Against Domestic Violence.

Tickets start at $25 and are available at www.5thavenue.org. Participating performers are subject to change.

For those unable to attend Concert for America in person, it will be broadcast via Facebook Live on the Concert for America and 5th Avenue Theatre Facebook pages and at ConcertsforAmerica.com, beginning at 7pm PDT / 10pm EDT on Thursday, July 6.

Concert for America: Stand Up, Sing Out! is created and organized by Seth Rudetsky and James Wesley, in association with Your Kids, Our Kids, as well as the generous support of The Actors Fund and Playbill. The Seattle edition of Concert for America is co-presented by The 5th Avenue Theatre, facilitated by Lauren Smith and will be directed by Pauls Macs.

For more information about Concert for America visit:

Facebook.com/ConcertForAmerica

@Concerts4USA
(Visited 4 times, 1 visits today)