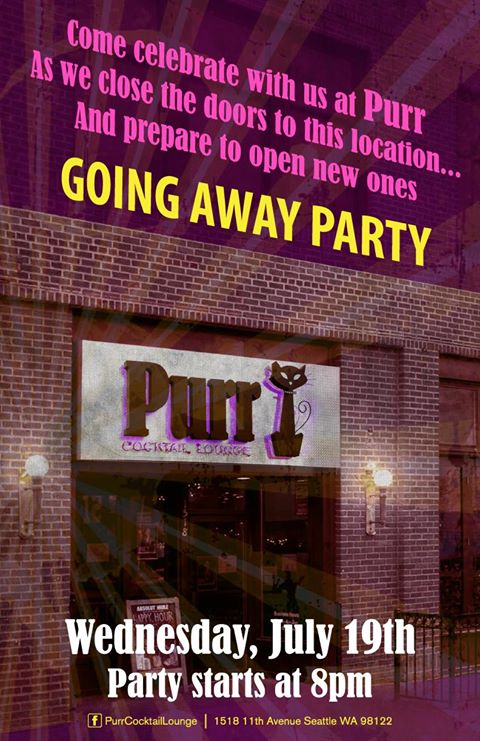 A new development in the ongoing saga of Purr Cocktail Lounge, the popular LGBTQ bar on 11th Ave between Pike and Pine on Capitol Hill. Last month, owner Barbie Roberts announced the bar would be making some "changes" and we've subsequently learned that she plans on moving Purr to a new location.
Rumors began flying that the bar was actually closing or moving to weird and unlikely locations but we chatted with Barbie over Pride Weekend and she assured us that Purr will soon be alive and well and in a new locale and one that isn't off the confines of the Hill.
She did mention that there would be a good bye party by the middle of July and today she officially announced the "Purr Going Away Party" to happen on Wednesday, July 19th:
And the Party is just beginning……
Please join us for our "Going Away Party" on Wednesday July 19th. as we say goodbye to our "current" location. We've been proud to serve you here on 11th Ave for 12 strong years, and will continue to do so in our "new location". Stay tuned for additional news as we work on solidifying details of our new home. Hope to see you all there!
Barbie also stressed to us that she's not leaving the current location out of any bad feelings or due to the building being torn down. It's simply the end of her current lease and she decided not to continue at that location due to the rent hike she would face under a new lease. It's Economics 101, folks…gentrification leads to property values going up, followed by a big jump in rents which is something that effects both individuals in apartments as well as small business owners in commercial locations.
Barbie declined to give us the name(s) of any new potential location(s); she was still working on making the deal, but she did say it would be in the neighborhood and that it was very difficult finding suitable locations with rent in her budget. Most new buildings on Capitol Hill either won't lease to nightlife businesses at all or try and limit their hours of operation with midnight closing times which isn't practical for most bars or clubs.
Since the announcement last month, social media has exploded with speculation about the move with guesses ranging from the odd to the unlikely including many convinced that Purr was moving to the old Broadway Grill building on Broadway…a rumor that I largely started as a joke but ended up being believed by many. (The Broadway Grill building is believed to require extensive and expensive structural work, one of the main reasons why the building has remained vacant four years after its spectacle failure at the hands of previous owners, Matthew Walsh and husband C.J. Saretto).
Popular guesses include the old "World of Beer"/500 Pine vacant space and the soon to be vacant Sun Liquor on Pike Street. Meanwhile, others have surmised that an existing business might be vacating a building soon…including the not long open Capitol Lounge/former Lobby Bar space on Pike Street.
Since there are 32,654 rumors out there about Lobby as well as Eagle closing and Neighbours being sold, we'll just combine them all into one big fake rumor:
PURR IS TAKING OVER THE OLD EAGLE LOCATION AND THE EAGLE IS TAKING OVER THE NEIGHBOURS BUILDING AND NEIGHBOURS IS MOVING TO TACOMA….OR, CANADA.
SOMEWHERE.
(Visited 1 times, 1 visits today)