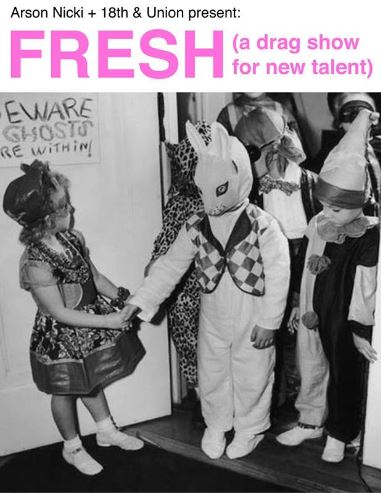 We j'adore the 18th & Union theater and cabaret space which is so conveniently located at…
18th and Union, that betwitching top of Capitol Hill that's the dividing line between Capitol Hill the 'hood and the Central District.
They're programming a nice mix of longer running shows from interesting small theater companies plus one offs and cabaret type shows from a host of talented local folks.
The line-up for July 2017 features all sorts of talented types including locals like the divine Rebecca Mmmmm Davis, Francesca Betancourt and duo fringers, Christine Longé and Tom Spangenberg but also out of town tours from Ashland Oregon based troupe, Puppeteers for Fears with their Cthulhu: the Musical show.
It's a fun mix of: "Burlesque, Drag, Cthulhu and More"
More poo:

Our June shows are wrapping up, and a whole new crew is moving in. July at 18th & Union features burlesque, drag, a comic book adventure, storytelling, and a sci-fi puppet horror musical. That's right: something for everybody!

**

One performance only, Thursday, July 6

SHAKE THAT TREE

With the Rainier Cherries and special guests

Hosted by The Stay Up Late Show's Rebecca Mmmm Davis

Never been to a burlesque show before? Are you a Boob Noob? Here's the perfect introduction to the Ecdysiastical Art. The Rainier Cherries will take you on a sexy, sultry journey through the world of Shimmy and Shake!

Thursday, July 6 at 7:30 pm

Tickets: $15-$25

**

Opening Friday, July 7

The Adventures of Rocketman and Beano

written and performed by Christine Longé and Tom Spangenberg

Holy comic books, Beano! Watch as Maggie and Stuart re-enact the "original" superhero saga with song, dance, and epic mis-haps. Think Lucy and Desi doing Batman and Robin with a dash of Shakespeare. Cheer on and laugh at these superheroes (super-idiots?) in their quest to avenge injustice! A hit at the 2017 Seattle Fringe Festival.

Fridays and Saturdays at 7:30pm, July 7-15

Monday, July 10 at 7:30pm

Tickets: $12-$25

**

Opening Friday, July 14

FRESH

curated and hosted by Arson Nicki

A new drag show for new drag artists. It's a non-competitive launch pad for emerging talent. It's a refresh button for a scene that could use a new perspective or two (or eight).

Friday and Saturday, July 14 and 15, 9:30pm

Tickets: $10-$22

**

Opening Friday, July 21

Cthulhu: the Musical

created and performed by Puppeteers for Fears

Adapted from the 1929 short story, "The Call of Cthulhu" by horror icon, H.P. Lovecraft, the show tells the story of his most famous creation: Cthulhu, a giant, malevolent, octopus-faced elder god who hibernates beneath the ocean, communicating to humans through their dreams, slowly driving them mad. On tour from Ashland, Oregon, where Cthulhu: the Musical ran to soldout houses.

Friday – Monday, July 21-24, 8pm

Tickets: $12-$25

**

Opening Friday, July 28

SHE IS FIERCE

A female storytelling event

curated by Francesca Betancourt

SHE IS FIERCE: stories from the femme and female perspective is a recurring storytelling event where female-identified individuals of every demographic tell true stories from their experiences. Storytellers will collaborate and perform alongside a dancer, a musician and two amazing comedians. Join us as these courageous individuals take the stage to tell their stories around the theme REBELLION.

Friday and Saturday, July 28 and 29, 7:30pm

**

Advance tickets for all productions are on sale now.

Online: http://18thandunion.org

By phone: 866-811-4111

All tickets at 18th & Union are sold in advance and at the door as Choose Your Own Price, with 3 ticketing levels: Discount, Full Price, and Give a Little More.

**

About 18th & Union

18th & Union is a 47-seat arts space in Seattle's Central District that offers a home for Seattle's solo and other portable performing artists: theater, poetry, music, and more. For up-to-date information about all events at 18th & Union, visit the website at http://18thandunion.org.
(Visited 1 times, 1 visits today)