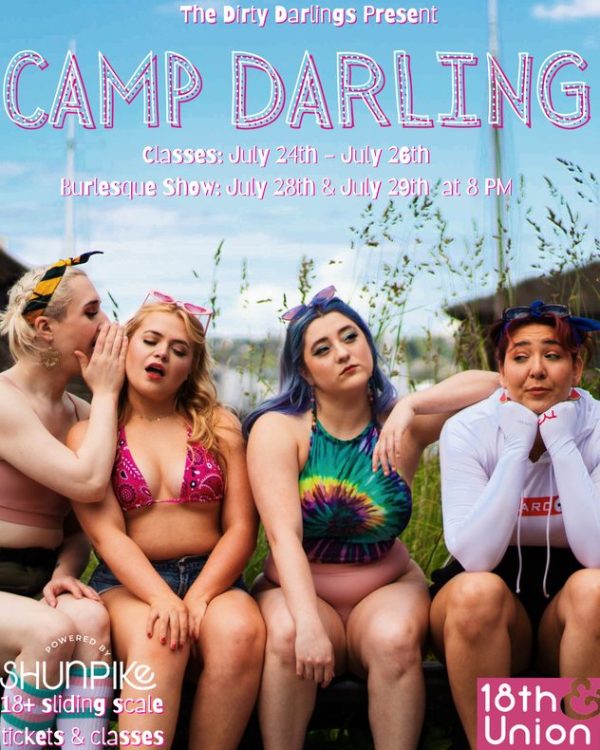 Have you had a yen to learn the art of burlesque? Has it been a yearning in your heart to learn how to bump and grind? Do you really like pasties and rhinestones and feather boas?
If so, CAMP DARLING is the adult summer camp you have been dreaming of…it's a production of The Dirty Darlings, burlesque troupe and they're taking over Capitol Hill's 18th & Union theater space starting Monday, July 24th to offer up classes in the burlesque theater arts leading up to cabaret shows on Friday andSaturday, July 28th and 29th.
The poo:

The Dirty Darlings are back this summer with CAMP DARLING, the sparkliest & queerest summer camp ever!

Join your favorite camp counselors for a week of burlesque & performance based classes at 18th & Union. Including beginner burlesque-orgaphy, yoga for performers, stage makeup, build-an-act, and more! Classes run Monday July 24th to Wednesday July 26th and are all offered on a sliding scale. Sign up here!
The climax of the week is the Camp-tastic Cabaret Friday, July 28th and Saturday, July 29th at 8 P.M. at 18th & Union! This campy cabaret will have you marching to the tip jar while singing Boom Chicka Boom. This fun & flirty show is stuffed with sexy summer acts, jaw-dropping group numbers, and sultry songs around the campfire!

Like every Darlings show you can bet on seeing your favourite Stripping Spice Girls of Seattle: Lola California, Penelope Cock, Scarlett Folds, and the Hot Hawaiian Hostess, Sweety Sunday!

Camp Darling also features performances from two incredible, local burlesquers and these babes are hungry for your hoots & hollers! Check out the hot new talent each night with a different cast of guest artists Friday & Saturday!

Come on down to CAMP DARLING, where the burlesque is in-tents!
(Visited 64 times, 1 visits today)