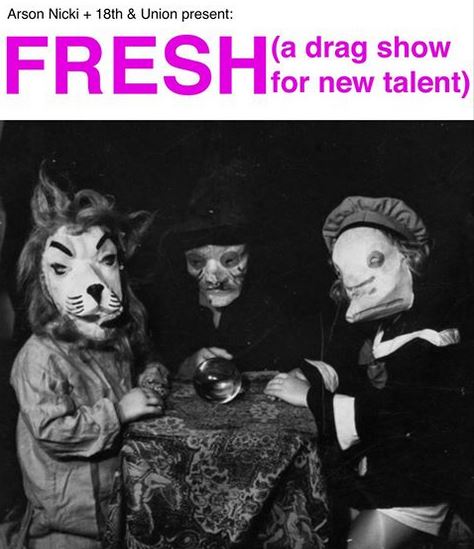 TWO very interesting shows coming up at the 18th & Union theater/performance space up top of Capitol Hill just a couple blocks from the monstrous TV/Radio antennas….both coming up this weekend and both emerging from Seattle's Fringe Fest this past spring.
One is the return of FRESH, local drag star/producer ARSON NICKI's "launch pad" for emerging drag talent. It's non-competitive (no prizes or pressure to 'win' anything) and gives new artists a chance to try out their material.
It's also that rare beast, an ALL AGES drag show so for the under 21 crowd, here's an affordable way to check out (or do) some drag!
Here's duh poo:
FRESH
curated and hosted by Arson Nicki

FRESH is a new(ish) drag show for new drag artists. It's a non-competitive launch pad for emerging talent. It's a refresh button for a scene that could use a new perspective or two or eight. It's a celebration of the present & future of Seattle queerdom.

PERFORMER LINEUP (in alphabetical order):

Friday, 10/20 (aka Arson's birthday!)

Jena Sae Kwan
Kace Face
Kara Phoebe
Madam Marman

Saturday, 10/21

Kitty Glitter
Nicolai D'Lacey
Terrie Belle
Xtrocity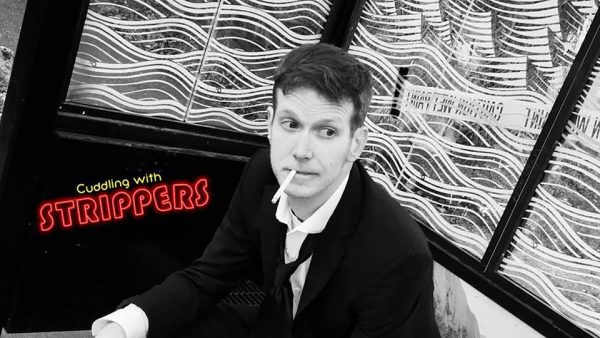 There's also the return of another show from this year's Seattle Fringe Fest…local actor NIK DONER returns with his solo-esque show CUDDLING WITH STRIPPERS, his memory piece about coping with "cancer, love, and sex through the blurry lens of the addiction that blacked out many nights…"
As far as we know/can read between the lines, the strippers in question seem to be women so, no….this doesn't seem to be a "gay" show but since when do I only write about/recommend only gay stuff? This show is intriguing us because:
We think Nik Doner is a terrific local actor and performer
The subject matter sounds fascinating
The fantastic actor Hannah Victoria Franklin is directing this so it must be amazing? Right?
More on Stripper Snuggling which opens this weekend but extends into November.
Cuddling With Strippers
written and performed by Nik Doner

What if we remember only the parts we want to? What if sobriety is one ongoing morning-after text from a concerned friend…filling in the gaps you tried hard to drink away? Nik Doner puts these newly found memories into a show about cancer, love, and sex through the blurry lens of the addiction that blacked out many nights. Did he meet a 4 year old dwarf at 3am? Spend Christmas in jail? Get a naked ultrasound? Fresh from its highly praised debut at the 2017 Seattle Fringe Festival and directed by Hannah Victoria Franklin, Cuddling with Strippers is a vulnerable look at memories, asking, "Wait…what happened?" and accepting the fate of whatever answer you get.

Featuring Malika Usmanova and Hannah Ruwe

Run time: approximately 70 minutes with no intermission

Please note: this show may contain adult language, partial or burlesque-style nudity, strong subject matter, strobe or quick flashing lights, loud noises or gun sound.

Director: Hannah Victoria Franklin
Stage Manager: Danielle Franich
Lighting/Sound Design: Andrew C. Somora
(Visited 12 times, 1 visits today)