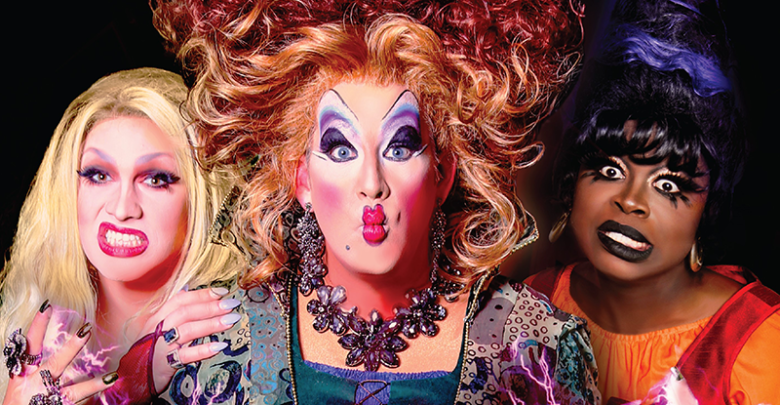 Peaches Christ has finally answered the question, "What do you get when you mix Bob the Drag Queen, Jinkx Monsoon, and several half-nude performers?"
Surprising to absolutely NO ONE, you get a hilarious night of drunken antics, great jokes, and a healthy dash of sex appeal. Peaches Christ shared with the Pacific Northwest her San Francisco Halloween hit "Hocum Pokem"—a spinoff of the 90s cult classic Hocus Pocus—and audiences couldn't get enough.
The show I attended at Seattle's SIFF Egyptian Theatre was totally sold out and completely boozed up. Champagne overflowed and spirits (GET IT?) were high. Local living legend Sylvia O'Stayformore opened the show after a 5-minute power outage and didn't miss a goddamn beat. She narrated the performance in her 1960s Endora house dress and served as a wonderfully sarcastic addition to the crew's campy dynamic.
Peaches herself starred as "Peachy Manderson," the drag version of Bette Midler's Winifred Sanderson from the original film. Drag Race Season 5 winner Jinkx Monsoon filled Sarah Jessica Parker's shoes, and while fellow Drag Race alum Ginger Minj was originally cast in Kathy Najimy's role, Season 8 winner Bob the Drag Queen subbed in.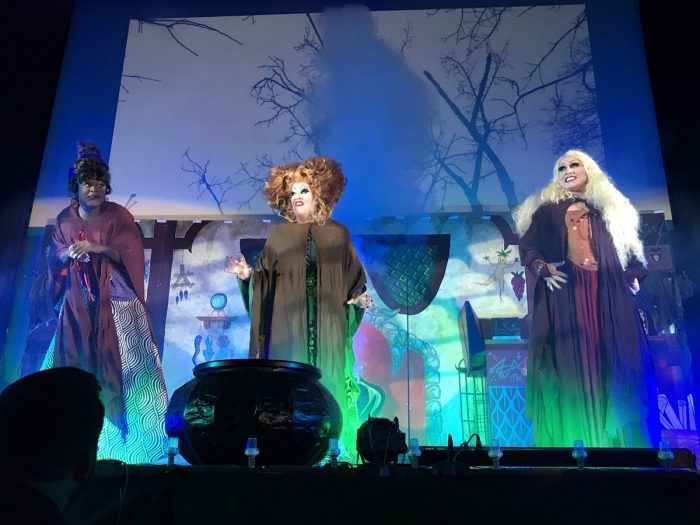 Jinkx herself covered the Eurhythmics' "Sweet Dreams" and absolutely crushed it live. Her comedic timing was perfect as usual, with a couple funny Drag Race references and loads of sexual innuendo. It should also be mentioned that Jinkx served as line prompter when Bob's mystery chemical combo bumped some lines out of the script, letting the audience revel in the complete absence of a 4th wall.
And Peaches held the whole show together with plenty of punchlines, witty writing, and solid directing. Other performers included the nearly naked Strawberry Shartcake, Tipsy Rose Lee as "Thackery Binx Monsoon" (a little less Thackery Binx and a little more Rum Tum Tugger, just the way you like it), Nick Sahoyah, Visage LaRue, Mackenzie Miller, the charming Ruby Bouché, Seattle's permanently amazing Abbey Roads, and Isabella Extynn (out of drag) as literally an entire cast of characters unto herself. The ensemble was delightfully in synch and scary talented. (BUT DO YOU GET IT YET?)
Between the marshmallows, the RuPaul homages, the musical numbers, and the impressive costumes, Hocum Pokem gave us more than just the standard dick jokes and bitchy digs we're used to from drag performances, serving audiences a fresh upgrade to everybody's favorite spooky kids' movie.
Stay tuned to Seattle Gay Scene for tickets to the next Peaches Christ show soon to be announced! (Tentatively it's Bianca DelRio in "Sheetlejuice" in December !!!!)

(Visited 5 times, 1 visits today)