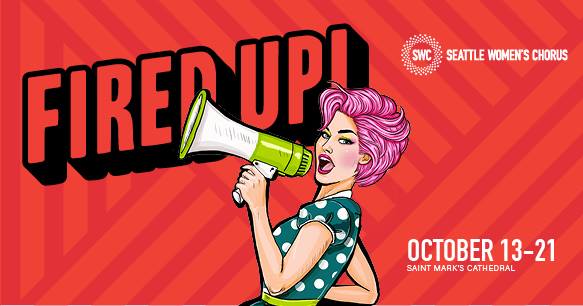 Seattle Women's Chorus is FIRED UP for their 15th Anniversary Concert Season
Five Performances

October 13-21

Inside

Saint Mark's Cathedral
Artistic Director Paul Caldwell leads Seattle Women's Chorus (SWC) into their 15th Anniversary season with FIRED UP inside Capitol Hill's historic Saint Mark's Cathedral. For five performances, SWC will bring heart and soul to songs of protest and social justice with a repertoire that pulls from many modern social movements. FIRED UP features music that rouses the masses, speaks truth to power, and cements public consciousness.
Traditional pieces by Woodie Guthrie complement contemporary music by singer, songwriter MILCK. The sounds of works by Mari Esabel Valverde and Abbie Betinis will fill Saint Mark's Cathedral, as well as a stunning piece by 14-year old YouTube sensation Isolde Fair that was inspired by Hillary Clinton's concession speech. Collectively the concert shines a spotlight on music that grew from human rights protests and marches and was influenced by some of this world's great motivators: Eleanor Roosevelt, Emma Lazarus, Maya Angelou and Victor Hugo.
Northwest Girlchoir
joins SWC for a special set and together through song, these strong, multi-generational female voices,  remind us of Seattle's crucial role as a harbinger of social activism. Isolde Fair will make a special guest appearance at the

October 20 and 21

performances.  She is available for phone interviews upon request.
Tickets to the Seattle performances are $25-$48 and available at SeattleChoruses.org

or via the phone at (206) 388-1400. The Seattle area box office is open

Monday

through

Friday

,

11AM – 6PM

.
Dates:  

10/13/17 – 10/21/17
              10/13, 10/14, 10/20, 10/21 at 8:00

pm

; 10/21 at 2:00

pm
              Seattle, Saint Mark's Cathedral
About Northwest Girlchoir 
During the span of four decades, the choir has empowered and inspired thousands of girls and
young women in our region to lift their voices in chorus with others, through outstanding music education, dynamic choral performances, and an enduring community. Northwest Girlchoir performs in Seattle and across the Puget Sound, partners with local arts organizations, and tours nationally and internationally. Concert repertoire includes a diverse mix of classical works, world music, and contemporary choral pieces. Over 250 girls and young women, grades 1-12, from the greater Puget Sound region make up the entire choral program at Northwest Girlchoir.
She is
14 years old, in 8th grade and has always related to the world through music, playing the
violin since age 5 & writing songs on piano at 8. She wrote 

"To All the Little Girls"

 as a music class assignment inspired by Hillary Clinton's concession speech
;
it has become an empowering
message that has resonated with listeners around the world. She has performed her song at Lincoln Center and has won numerous awards for both her violin playing and songwriting.
A
bout Seattle Men's Chorus/Seattle Women's Chorus
The internationally renowned Seattle Men's Chorus (founded 1979) and Seattle Women's Chorus (founded 2002) comprise the largest community chor
al
organization in North America. Both choruses stand out as the largest
LGBTQ
-identified men's and women's choruses in the world.
Along with the small ensembles, Captain Smartypants and Sensible Shoes, the choruses comprise
one of
the Pacific Northwest's largest, most vibrant and successful music organizations,
performing in Seattle's most prestigious venues for an annual
audience of more than 30,000 patrons
. Flying House Productions is the not-for-profit organization that governs and manages the Choruses. Collectively there are 650+ singing members along with staff, volunteers, and associate members who support both Choruses. They are a leading voice for the LGBTQ community and offer more than 30 outreach events and main stage concert performances annually.
Our voices transform society through innovative and entertaining programs that build community, illuminate the experiences of LGBTQ people and their allies, expand inclusion, and inspire justice.
A more harmonious world that celebrates the unique identities and talents of all people.
(Visited 1 times, 1 visits today)