I freakin' LOVE Chicken Soup Brigade, the awesome and amazing food service providing arm of Lifelong that delivers meals to home bound clients dealing with a range of debilitating ailments ranging from HIV/AIDS to cancer to diabetes and heart disease.
Full Disclosure: I've been a client of CSB a couple years ago after my heart attack. I only used the service for about a month (and stopped because I had other food providers and didn't want to take something that others could use more) but it meant a lot to me to have easy, delicious, ready to eat meals at my disposal when I needed them. For people without other options, it is literally a life saver to use Chicken Soup Brigade's services.
Which is why I'm posting these photos of these deliciously decadent pies that are currently on sale (through November 18) part of their EASY AS PIE fundraiser that benefits Chicken Soup Brigade and enables them to continue providing thousands of meals every year to people all over Seattle.
They are selling three kinds of pie this year…the Theo Chocolate Pie (with chocolate from local chocolate company Theo), a gooey Butter Tart Pie and a traditional Pumpkin Pie that isn't pictured because I'm that weirdo that doesn't like Pumpkin Pie very much.
Go HERE to find out more and to order these delicious treats that help out EVERYONE….but your waistline. (Hint: invite 8 friends over and each of you can have ONE piece without turning into the Goodyear Blimp).
Theo Chocolate Pie
This pie is made with delicious chocolate proudly donated by Theo Chocolate!  Chocolate cream filling in a buttery crust….Mmmmmm.  Chocolate lovers rejoice!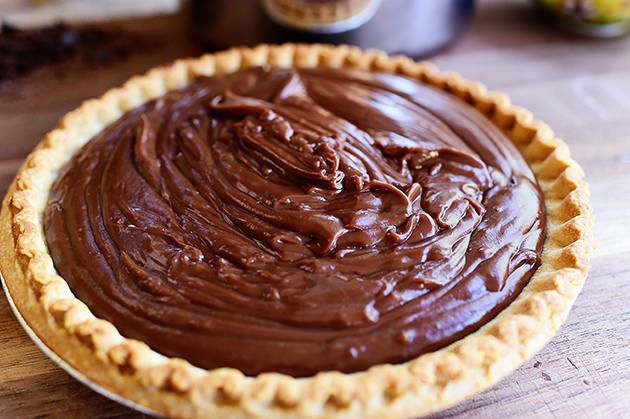 Easy as Pie is a delicious fundraiser that inspires our generous community to work together to make the holidays happier for our clients.
Every fall we begin selling pies (homemade with love by the Chicken Soup Brigade kitchen, of course), to family, friends, and colleagues in time to celebrate the holiday season. Each pie costs $25, which provides four nutritious, home-delivered meals to a Chicken Soup Brigade client, many of whom are homebound and living with a serious and debilitating health condition like HIV, cancer, diabetes, or kidney disease. We also give an actual pie to a client for every pie that is sold, making the holiday season – which can often be a sad time for clients – a little more joyful.
Butter Tart Pie
Butter tarts are a Canadian classic, dating back to the days of the pioneers. This pie is a famous family recipe from our Chef who hails from up North. Made with simple ingredients: butter, brown sugar, maple syrup, vanilla, salt, eggs, walnuts, and raisins – gluten free to boot!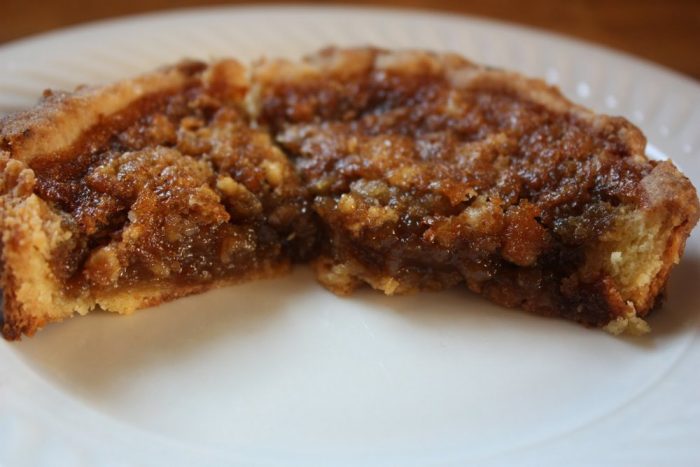 (Visited 2 times, 1 visits today)