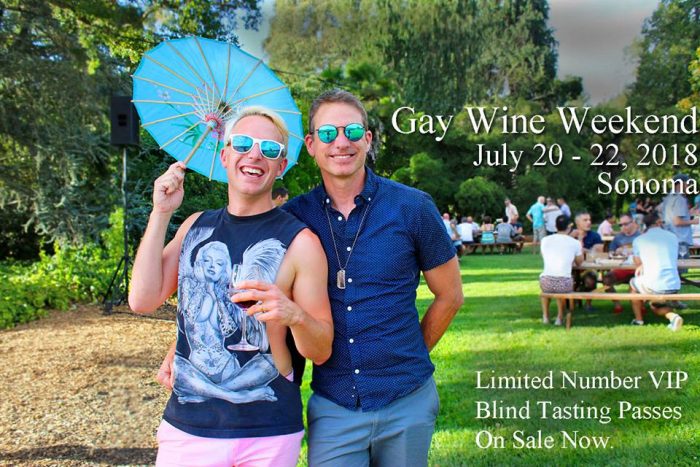 Lort knows we drink a lot of it!
Wine is a VERY big deal nowadays 
Here's a video where "Out In The Vineyard" founders Mark Vogler and Gary Saperstein get "on the grapevine" to open up about being openly gay in the Wine Country of Sonoma, their thriving LGBTQ community and the need for Gay Wine Weekend.
AND, here's some info on Gay Wine Weekend 2018:
Join us Out In The Vineyard in Sonoma July 20-22, 2018! 
A weekend of Wine & Celebration with new winemaker dinners, winery tours and events, benefiting Face to Face, Sonoma County AIDS Network.

Enjoy 3 Full Days of LGBT events in Northern California's magnificent Sonoma Valley – home to some of the world's most prestigious wines and wineries. Celebrate with world class wine and culinary delights, music and dancing in a private estate vineyard, VIP Receptions, wine tasting excursions, champagne brunch, wine auction and pool party in one of the most famous luxury wine destinations in the world.
Out In The Vineyard is an experiential Wine Country Event and Travel company promoting positive LGBT lifestyles and offering exclusive, luxury itineraries and events in Wine Country for the discerning gay traveler and our friends.
(Visited 5 times, 1 visits today)