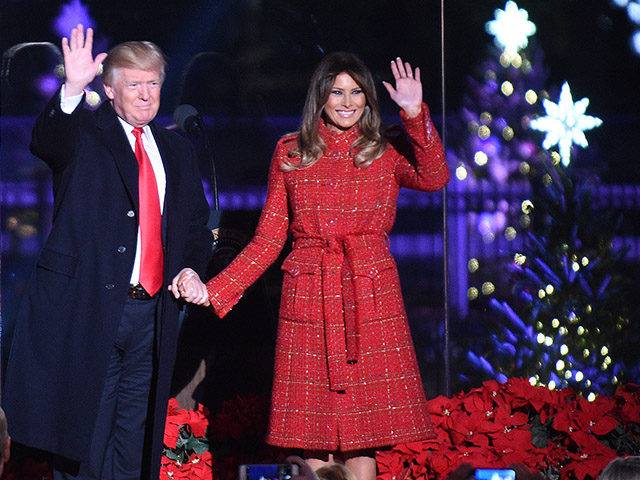 Oh, my stars….people have worked themselves up into a tizzy.
Over nothing.
So, here's the poop….last week, the Washington State Log Cabin Republicans group (aka "The delusional gay people who vote for Republicans despite the fact its against their own interests as gay people but I digress") posted an invite on their Facebook page inviting the public to join them for "The First Trumpmas" at Madison Pub on Saturday, December 16th. The invite's info states:
Help make Christmas great again and come join the local LCR members for a night of festive winning.
How enticing…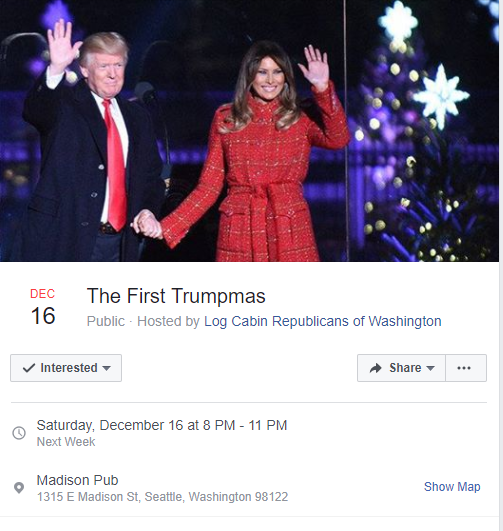 That's also the same night as "The Seventh Annual March of the Mistletomosexuals" where hundreds of folks (mainly gay men) don their holiday gay apparel on an all night bar crawl. My guess is, that the Log Cabin Republicans were just latching on to that event (which others have done as well) for an informal get together of "like minded" people.
News of this "event" started to spread (mea culpa: I posted a link to the Facebook invite on Seattle Gay Scene's Facebook page so I fully admit to fanning the flames…) and while some people thought it funny (and also appalling) it started to enrage other people who aren't fans of the Republican Party in general but especially so right now as we have to deal with The Illegitimate Regime of Donald Trump as well as the recent awful tax bill being voted in by Congress.
Those angry people started grousing about this event over the weekend with many people furious at Madison Pub because they thought that this was an "official" event being sanctioned by the bar. Which is rather absurd because for those of us who have BEEN to Mad Pub or are at least aware of this legendary, very low key gay sports bar, we're fully aware that Madison Pub really doesn't DO events…once in a blue moon they host a fundraiser for some kind of local gay sports team, but that's about it. They serve cheap strong booze and offer up TVs to watch sports and pool tables and pinball and darts and games and that's it. It's your basic "Friendly Drunken Gay Tavern".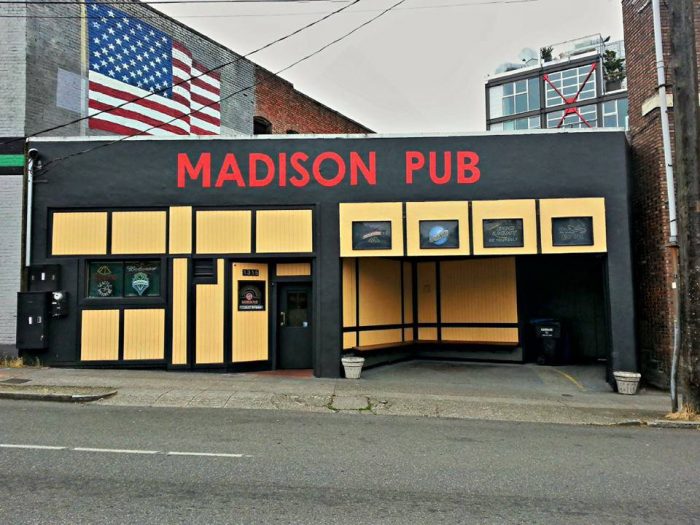 Meanwhile, outraged folks started gathering their tiki torches to protest that Mad Pub was hosting this evil Republican event…even though they weren't.
(Also, failing to realize that demanding a public bar to refuse service to people that have differing viewpoints from the status quo isn't much different than Christian bakeries refusing to make wedding cakes for godless homosexuals…but that's a different discussion.)
Finally, fed up with being poked and denounced, Madison Pub issued this statement on THEIR Facebook page:
Dear friends,

Please understand that we IN NO WAY support or endorse that "Trumpmas" event or the group organizing it. They used our name without permission. We were as shocked as you to read this today. It is NOT going to be held here.
To date, no word from the Log Cabin Republicans.
So, to make it clear, you can stop hating on Madison Pub for hosting an event they had no knowledge of or control of. And, even if this dumb get together HAD actually happened, it's not really anyone's business if 3 people want to get together in a dark corner in a bar and think kind thoughts about Twitler and his corrupt administration of mediocrity while having a beer or two.
Different (but dumb) strokes for different folks.
Meanwhile, the rest of you having that hissy fit can put down your tiki torches…
(Visited 1 times, 1 visits today)