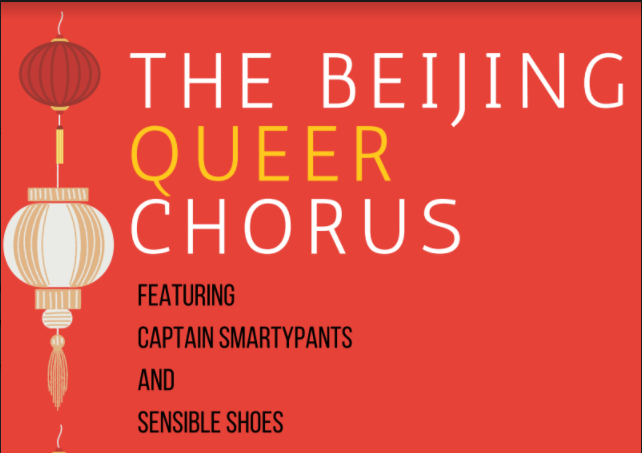 I feel guilty.
I was wanting to write this up in a more timely manner and it slipped between the cracks.
My bad (hangs head in shame).
The Beijing Queer Chorus is in the US on a mini-tour and they're performing at Bellevue's East Shore Unitarian Church (12700 SE 32nd St, Bellevue, WA 98005) on Saturday March 10th at 7:30 pm.
THAT'S TONIGHT!!!
They'll be joined by the Captain Smartypants and Sensible Shoes groups from the Seattle Men's Chorus and Seattle Women's Chorus and you can still snag tickets HERE or at the door!
Some poo on the Beijing Queer Chorus:
Founded in 2008 in Beijing, the Beijing Queer Chorus is now, with around 50 voices, the first public performing LGBT+ chorus in mainland China, the only Asian member of The Gay and Lesbian Association of Choruses, and the first Asian mixed LGBT chorus present on an international LGBT chorus festival.
24 members of the Beijing Queer Chorus will perform with two local vocal ensembles Captain Smartypants and Sensible Shoes before traveling to Portland OR to perform with the Portland Gay Men's Chorus. In late August, the Portland Gay Men's Chorus is traveling to China on a four-city performance tour along with the Beijing Queer Chorus.
Eric Lane Barnes, Seattle area composer and musical director has worked with the Beijing Queer Chorus for several years and has been instrumental in bringing the group to the attention to the rest of the world:
I have been working with the Beijing Queer Chorus since 2012 when I received an email from Roy Wang (now the executive director of the BQC) asking permission for his chorus to sing one of my songs. I was astonished and thrilled that he reached out to me. (I had no idea there was any sort of LGBT chorus in China at that point.) After exchanging a few emails a strong personal and professional relationship had been formed. In June of 2013 I made my first trip to Beijing to work with the chorus. It was an incredibly rich and rewarding experience.

Both the Seattle and Beijing choruses have found musical partnerships rewarding and mutually beneficial. Our audiences have grown and our worldview on LGBTQ issues has been broadened beyond anything either chorus thought was possible. 
Here is a clip of an impromptu Lady GaGa "Born this Way" encore from May 2017. It was in Seoul Korea with Queer Choruses from Beijing, Seoul, Taiwan,Singapore, Hong Kong and London.  https://vimeo.com/220211964
This is a great community event that's obviously very family friendly. Do check it out!
Tags: Beijing Queer Chorus, East Shore Unitarian Church, Eric Lane Barnes, Queer China, Queer Choral Music, Seattle Men's Chorus, Seattle Women's Chorus