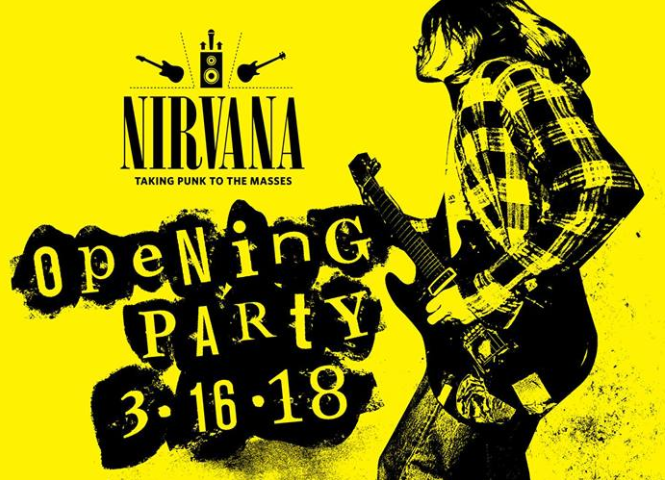 Jeeze Louise…we're getting old.
You know you're gettin' up there when beloved music groups from your youth start celebrating major anniversaries. And, there's a big one coming up as mega pioneer grunge powerhouse band NIRVANA gets ready to turn 30 years old in a couple weeks and to commemorate that, Seattle's MUSEUM OF POP CULTURE aka MoPop is bringing back one of their most beloved exhibits featuring our hometown rock heroes.
Nirvana: Taking Punk to the Masses will return to the museum this month and MoPop will kick off with a big opening party on Friday, March 16th with special guests including Krist Novoselić, the surviving co-founder of Nirvana.
Nirvana nerds might contest the date of this anniversary…Novoselić and Kurt Cobain, both natives of Aberdeen, Washington (one of the saddest towns on the West Coast) had joined forces in 1987 and used a succession of different drummers to rehearse with and even record some demos prior to the first "official gig" on March 19, 1988. The cited drummer for that show was Dave Foster but Nirvana went through several drummers before Dave Grohl joined in 1990 and became the third official/final member of the trio. 
Here's more info on the anniversary and exhibit and party at MoPop.
We're kinda bummed Kurt's widow, the beloved/reviled actress/musician Courtney Love isn't going to be there. She always brings a lot to the party…
MoPOP Marks Nirvana's 30th Anniversary with the Return of Nirvana: Taking Punk to the Masses

Opening Celebration with Special Guest Krist Novoselić on March 16, 2018

 

SEATTLE, WA—On March 19, 1988, Kurt Cobain, Krist Novoselić, and Dave Foster played their first show under the name Nirvana at the Community World Theater in Tacoma, WA.  Thirty years later, Nirvana remains one of the most influential bands of all time and to commemorate this milestone, the Museum of Pop Culture (MoPOP) is kicking off the return of its critically-acclaimed exhibition, Nirvana: Taking Punk to the Masses with a celebration on Friday, March 16, 2018, just a few days ahead of the band's anniversary date. The event will include a panel discussion moderated by MoPOP Senior Curator, Jacob McMurray and featuring:

Charles Peterson, Photographer
Bruce Pavitt, Founder, Sub Pop Records
Jack Endino, Producer, Recording Engineer, Musician
Steve Fisk, Producer, Recording Engineer, Musician
Gillian Gaar, Music Journalist, Nirvana biographer
Kerri Harrop, DJ (Cherry Canoe) and Northwest Music Industry Stalwart
Kim Thayil, Guitarist, Soundgarden

Plus, live musical performances from Seattle bands Red Ribbon and Dead Bars, special guest DJs, poster and button-making, and other activities. Admission also includes access to MoPOP exhibitions Nirvana: Taking Punk to the Masses and Indie Game Revolution.

EVENT DETAILS

DATE: Friday, March 16, 2018

TIME: 7:00pm-11pm

VENUE: MoPOP

               Seattle, WA 9810

TICKETS: Event is 21+. $28 adult admission, $23 for MoPOP members. On sale now at MoPOP.org.

 

ABOUT NIRVANA: TAKING PUNK TO THE MASSES

Organized by MoPOP and originally opened in 2011, Nirvana:  Taking Punk to the Masses is the most extensive exhibition of memorabilia celebrating the music and history of Seattle rock luminaries, Nirvana. The exhibit features more than 200 rare artifacts and photography from the band, their crews, and families.  The exhibit also contains more than 50 oral history interviews from key figures in the independent music scene of the late 1980s and early '90s.  Visitors eager to dig even further into the vast store of images, audio and video that informed the collection will be able to explore them in detail at media kiosks. Steve Fisk, who co-produced the band'sBlew EP (1989), created the ambient soundtrack fans will hear as they move through the exhibition.

ABOUT THE MUSEUM OF POP CULTURE (MoPOP)

MoPOP is a leading-edge nonprofit museum, dedicated to the ideas and risk-taking that fuel contemporary popular culture. With its roots in rock 'n' roll, MoPOP serves as a gateway museum, reaching multigenerational audiences through our collections, exhibitions, and educational programs, using interactive technologies to engage and empower our visitors. At MoPOP, artists, audiences and ideas converge, bringing understanding, interpretation, and scholarship to the popular culture of our time.

 

CURRENT EXHIBITIONS AT MoPOP

Star Trek: Exploring New Worlds

Wild Blue Angel: Hendrix Abroad, 1966-1970

Infinite Worlds of Science Fiction

Indie Game Revolution sponsored by Nintendo

Fantasy: Worlds of Myth and Magic

Scared to Death: The Thrill of Horror Film

PUSH ME, PULL ME: Pearl Jam and the Art of the Screen-Printed Poster at Seattle-Tacoma International Airport
(Visited 1 times, 1 visits today)