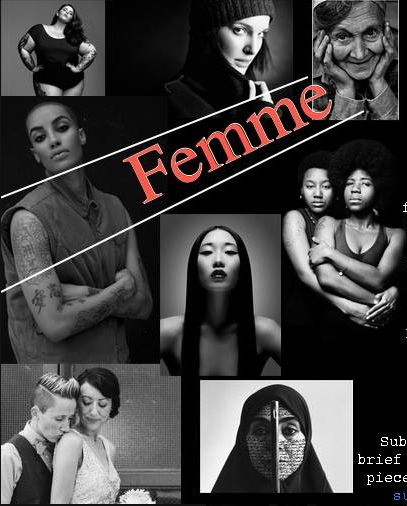 It kicks off tonight for a weekend of short plays celebrating all things femme within the LGBTQ community! It's Seattle's lgbtq theater company FANTASTIC.Z THEATRE and it's their annual short works festival which gives voice to the female experiences for this year's offering with plays by, for, about and featuring the talents of female artists…thus, this year's festival theme is also the name of the fest: FEMME!
The festival is being produced at 18th and Union Art Space, 1406 18th Ave, which is shockingly right off of 18th Avenue and Union right at the top of Capitol Hill near the big TV antennas!
There is also a "B-Sides" reading on Saturday afternoon that features four great works that didn't move on to a full production.
We encourage local theater fans (especially LGBTQ ones) to check it out and support local queer theater.
Some more info!
Fantastic.Z Theatre's festival of short plays celebrates the female experience within the LGBTQ community. 

This year's line-up:
MISS EDUCATION by Charlie Cook
WHO SHE COULD HAVE BEEN by Allie Costa
TINY MOMENTS IN BETWEEN by Sarah Haas
THE WAY BACK by Rebecca K. Hsia
PERFORMANCE REVIEW by Nedra Pezold Roberts
I'M LOVIN' IT by Jessi Pitts

*Opening Night is Followed by an Artist Talk-Back*

DIRECTORS:
Linda Cleckler, Jasmine Lomax, and Caitlin McCown

ENSEMBLE:
Simone Dawson, MJ Jurgensen, Maddy Noonan, Duncan Pound, Stephanie Spohrer, and Emma Wilkinson

DRAMATURG: Claire Koleske
STAGE MANAGER: Rebecca K. Hsia
ASST STAGE MANAGER: Queenelle Gazmen
LIGHTS: Keny Dutton
SOUND: Stefanie Senior
GRAPHIC DESIGN: Margarita Mouschovias

MARCH 8th – 11th
18th and Union Art Space
1406 18th Ave, Seattle, WA 98122

Can't make it to any of these performances? Join us at 2pm Saturday March 10th for B-Sides. This Pay What You Can event is a Matinee Staged Reading. These are 4 of our top favorite submissions to this year's festival that we loved, but just did not get included in FEMME!

DON'T GO BREAKIN' MY HEART by Donna Hoke
KICKBALL! by Caroline Prugh
MAY SARTON DREAMS DEEP by DS Magid
THIS PROVINCIAL LIFE by Allie Costa

Directed by Marquicia Dominguez and Jessica Severance
(Visited 1 times, 1 visits today)