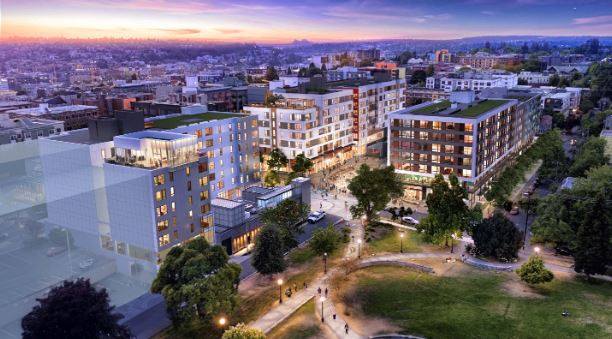 Finally.
After many years of development and dull hot cement taking up space around the Capitol Hill Light Rail Station, ground will be broken on Tuesday evening, June 19, 2018 on construction of new buildings, including low income housing at the building site on Broadway between John and Denny.
The groundbreaking will also include the Seattle AIDS Memorial Pathway, which has long been part of the development plan for the project and will also extend into adjacent Cal Anderson Park. 
A community celebration is being held from 5pm to 7pm at the site of the future public plaza space at Broadway & Denny. This is a free event and the public is invited to attend.
More info about the AMP: AIDS Memorial Pathway and the groundbreaking ceremony:
Seattle AIDS Memorial to Celebrate Groundbreaking

A community celebration will take place on June 19, 2018

SEATTLE, WA

 

—

 

The AMP: AIDS Memorial Pathway, as part of the Seattle Capitol Hill Station Development, a transit-oriented, mixed-income and mixed-use development project, will break ground 

June 19, 2018

.

To honor this important milestone, a celebration will be held on the site of the future public plaza, near the intersection of Broadway and Denny onTuesday, June 19, 2018 from 5-7 p.m. The event will feature food and drinks from local purveyors, live music and a pop-up farmers market. The event is hosted by project partners Gerding Edlen, Bentall Kennedy, Capitol Hill Housing, Sound Transit, Capitol Hill Champion, Capitol Hill Neighborhood Farmers Market and The AMP: AIDS Memorial Pathway. The community is invited and encouraged to join the celebration of this major achievement.

The groundbreaking celebration marks the commencement of construction of the Capitol Hill Station Development, a long-awaited and transformational project for the Capitol Hill neighborhood. Located atop the new Capitol Hill Light Rail Station, the transit-oriented development includes four buildings and will provide 428 apartments, including 178 affordable apartments, approximately 30,000 sq. ft. of ground floor retail and 210 underground parking spaces. The development will also include a community room available to the public and a public plaza that will serve as the home of Capitol Hill Neighborhood Farmers Market as well as a venue for other community events. The project will be highly sustainable and is targeting a LEED For Homes Platinum Certification. The project is slated to open Q2 2020.

The Capitol Hill Station Development is an FTA Joint Development project being developed by Gerding Edlen. Gerding Edlen was selected by Sound Transit to be the Master Developer of all four sites via a competitive Request for Proposals (RFP). Sound Transit will ground lease Sites A, B-South and C to Gerding Edlen and sell site B-North to Capitol Hill Housing, Gerding Edlen's co-developer on the site. Gerding Edlen's joint venture partner on Sites A, B-South and C is Bentall Kennedy's U.S. Core Fund, who shares Gerding Edlen's passion for responsible property investment and sustainability.

"We are very pleased that this important project for the Capitol Hill community and the City of Seattle will finally be realized," stated Jill Sherman, Partner at Gerding Edlen. "The phenomenal location and transit access, as well as the partnerships with multiple nonprofits to make the development a special and inclusive place is something we are extremely proud of."

"The Capitol Hill Station Development, situated at the gateway to Cal Anderson Park, is a fitting location for The AMP. The memorial will be a beautiful community gathering place to honor those who died, those who fought, and those who continue the fight against HIV/AIDS through story sharing, oral histories, photographs, and artifacts; and provide a call to action to end HIV/AIDS, stigma, and discrimination." Tom Rasmussen, City Councilmember (retired), Seattle City Council.

For the past 20 years, Sound Transit and the Seattle community have envisioned a vibrant urban development that would complement and support the local Capitol Hill neighborhood. The Capitol Hill Champion, a joint project of the Capitol Hill Community Council and the Capitol Hill Chamber of Commerce, was created in 2010 with the express purpose of advocating for community priorities in the development of the Capitol Hill Station Development. Through extensive outreach and advocacy, the Capitol Hill Champion set forth the community's vision and priorities and has worked in close partnership with Sound Transit throughout the planning and RFP process, and Gerding Edlen throughout the design and development process, to make these priorities a reality.

"Today's groundbreaking ceremony celebrates a vision for transit-oriented development that has been two decades in the making," said Sound Transit Chief Executive Officer Peter Rogoff. "Thanks to the meticulous work of Gerding Edlen and the intensive engagement of the Capitol Hill community, the development at this light rail station will provide affordable housing and neighborhood improvements at one of our busiest transit centers and in one of our region's fastest growing communities. With the Sound Transit Board's adoption of our new TOD policy, these are the kinds of community projects that we hope to facilitate more of as we expand our light rail network."

We're excited to reach this milestone, " said Brie Gyncild, co-chair of the Capitol Hill Champion. "Thousands of community members have helped to identify the priorities for our neighborhood, advocate with elected officials and Sound Transit, and work with the development team to shape this project. We've worked hard to ensure we'll gain high-quality affordable housing, a permanent home for the Capitol Hill Farmers Market, a much-needed community room, great access for people walking and biking, and buildings that advance our environmental goals. There is much to celebrate."

The Capitol Hill Station Development will be a model for smart, sustainable communities that encourage transportation alternatives. In addition to unparalleled access to light rail and the streetcar, the project will include plentiful bicycle parking to serve commuters, residents and visitors. The project is truly mixed-income – 42% of the units will be leased at below market-rate rents. Site B North, which will be owned and operated by Capitol Hill Housing, will include 110 apartments affordable to households that earn at or below 30%, 50% and 60% of the area median income. The apartments will be a mixture of studios, one, two and three-bedroom units. The building will be built to a LEED Platinum standard and will also include a 1,335-square foot community room that will be open to the public. The project is made possible thanks to the Seattle Office of Housing which committed $8.7 million in financing through the 2009 Housing Levy as well King County which committed $4.7 million toward construction. Impact Capital and KeyBank provided critical pre-development funding.

"It's been a long road, but we are excited to start work on desperately needed affordable apartments for families in the heart of Capitol Hill. We have been working alongside the community for many years to ensure this process reflects community priorities. This development will transform our neighborhood and we're proud to make sure that affordability is part of that transformation," said Christopher Persons, CEO of Capitol Hill Housing.

The three additional market-rate sites will participate in Seattle's Multi-Family Tax Exemption Program, which will result in another 68 below-market units affordable to households earning 65%-85% of the area median income. The project will also include small shop spaces targeted to local businesses and entrepreneurs.

The general contractor for Sites A, B-South and C is Lease Crutcher Lewis. Walsh Construction is the general contractor for Site B-North. The architect for Sites A and C is Hewitt Architects and the architect for Sites B-North and B-South is Schemata Workshop. The landscape architect is The Berger Partnership.

About The AMP: AIDS Memorial Pathway
The AMP, community-driven and -funded, will use public art to create a physical place for remembrance and reflection; utilize technology to share stories about the epidemic and the diverse community responses to the crisis; and provide a call to action to end HIV/AIDS, stigma, and discrimination. Learn more at https://theamp.org/
(Visited 2 times, 1 visits today)