Seattle-based artist Jono Vaughan contends with the pattern of violence against transgender people through Project 42, which consists of wearable pieces (eventually 42 of them) commemorating trans people murdered in the U.S.  
How do you honor life that was stolen — and not one, but lives taken over and over and over again?  For Seattle-based visual artist Jono Vaughan, the answer is to create a unique, stunning piece that memorializes the individual, though united as a collection, and give the project a title that reminds all who witness it the depth and the breadth of the devastation.  All the while, the people who are deceased are remembered like the pieces that honor them: beautiful, unique, and thoughtfully designed.
The collection is Project 42, and Vaughan created it in order to memorialize transgender people who have been murdered throughout the United States.  The number 42 signifies the age in years of the average lifespan of a trans person in the U.S. — by Vaughan's own reckoning through research, absent an official tally — due to violence against trans people (especially trans women), low access to healthcare, suicides, employment discrimination and reduced job prospects, homelessness, and more.  (You can read more on instances of discrimination, economic instability and other pervasive hardships in the NCTE trans census, here.)  
On display now at Seattle Art Museum (SAM) are three of the pieces in Project 42: one unique, handcrafted dress in honor of each of three trans women who were murdered: Myra Ical, Deja Jones, and Lorena Escalera Xtravaganza.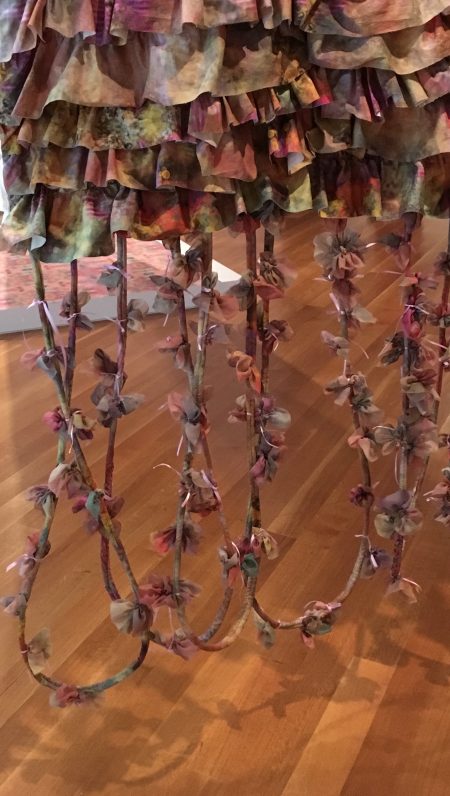 Each piece is designed specific to the individual being memorialized, with the style inspired by the person's life and history.  To create the pieces, Vaughan begins with images of the location of the person's murder, then turns those images into abstract textile prints, which she then sews into the piece.  (All three pieces in the SAM exhibit are dresses.)
The honorees of the dresses on display at SAM are:
Myra Ical was murdered by strangulation at the age of 51, on the street in her hometown of Houston, Texas, where she had lived for 20 years.  Her body was found "covered with numerous bruises and defensive wounds." She was a native of Guatemala, and worked as a cleaner of office buildings.
Deja Jones was murdered by gunshot at age 33 in a friend's home in Miami, Florida.  She had moved to Miami only recently, and was murdered seven blocks from her home.
Lorena Escalera Xtravaganza was murdered at age 25 in her apartment in Brooklyn, New York, in a fire that authorities deemed suspicious, and later homicide.  Escalera was a well-known dancer and performer, a member of the House of Xtravaganza, and performed under the stage name Lorena Xtravaganza. The dress design notes the "strictures of gender in traditional fashion," and celebrates Xtravaganza's "love of performance and the spectacular."
Vaughan invites viewers to help celebrate Escalera Xtravaganza by adding flowers to the dress' magnificent train — and on First Thursday (6/7), from 5 to 7 pm, there's a drop-in flower-making studio with the artist.  Admission to the museum and exhibit that day is also free. More information on the flower-making event is here.
Accompanying Vaughan's Project 42 exhibits are performance pieces, in which a collaborator wears one of the dresses and commemorates and celebrates the individual, an act that Vaughan describes as "the returning of humanity and the sharing of missed opportunities."   
The SAM exhibit will include several of such performances, presented as occasional pop-up (unannounced) pieces.  On Mother's Day, dancer Randy Ford performed a beautiful, emotional piece wearing the dress honoring Deja Jones, in which she danced in remembrance to Mary J. Blige's "No More Drama," which talks about moving past hurt and pain.  The performances enable the pieces to come alive, if you're lucky enough to catch one. If not, your imagination — of the piece flowing on a live human it memorializes, rather than on a gallery wall — will work, too.
Vaughan's complete Project 42 collection (not currently on display) includes another dozen or so pieces, and her aim is to reach 42 in total.  One piece is in the Henry Art Museum's collection, and was displayed there in a 2016 exhibit called Trans Hirstory in 99 Objects.  The dress commemorates Brandy Martell, who was murdered at age 37 by multiple gunshot wounds, in downtown Oakland, California.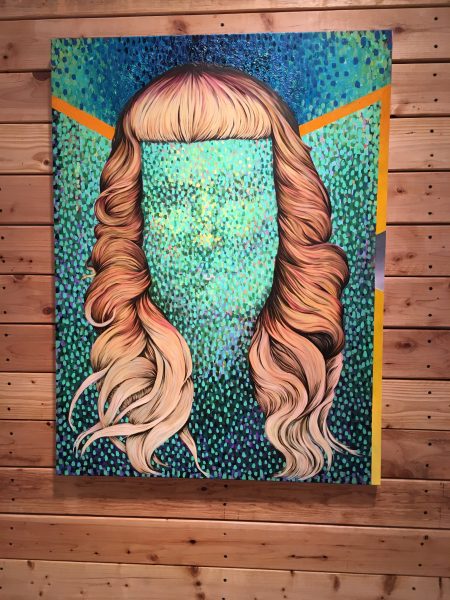 Vaughan also celebrates the beauty of the living.  Her exhibition at the Bryan Ohno Gallery in the International District included four large paintings celebrating female beauty through hair designs on colorful backgrounds.  The Ohno gallery exhibition closed last month, but you can see some of her paintings and other pieces online here.  
Vaughan's Project 42 exhibit at SAM runs through 8/5.  Admission on First Thursday is free, along with the flower-making event (on June's First Thursday, 6/7) with the artist.  Admission on other days is $20, which includes admission to SAM's many other galleries and permanent exhibits; ticket info can be found here.  SAM is Wednesday-Sunday 10 am to 5 pm; extended hours Thursday (open to 9 pm).  Closed Monday and Tuesday.

(Visited 2 times, 1 visits today)