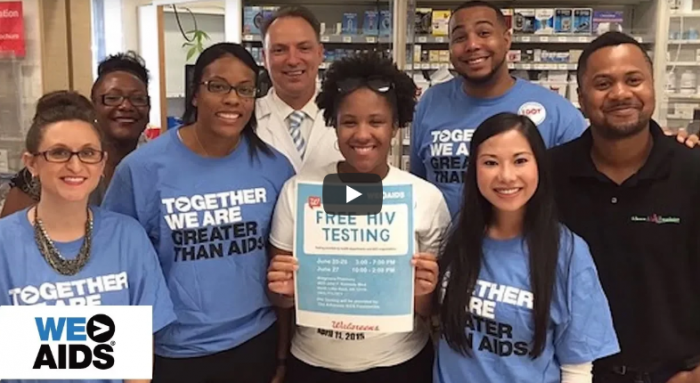 National HIV Testing Day is Wednesday, June 27th and for the 8th year in a row Walgreens and Greater Than AIDS  are teaming to offer free in-store HIV testing in over 180 cities. 
The partnership hopes to reach out to under served communities such as younger people and the African American community where infection rates for black men who have sex with men are dangerously high with 1 in 2 black men who have sex with men are projected to become HIV positive if recent infection rates continue. 
To date, the Walgreen/Greater Than AIDS partnership has resulted in over 40,000 free administered tests. 
For a list of participating test sites, go visit www.greaterthan.org/walgreens.
There's only one participating Walgreen's in the greater Seattle-Tacoma area:
2024 6th Ave, Tacoma, WA 98403, United States
Testing Partner: Pierce County AIDS Foundation
Hours: 10AM-7PM
Here are testing sites for King County:
KING COUNTY
Gay City offers HIV and STI testing six days per week, at two different locations. Testing is free, with donations gladly accepted. Gay and bi men, along with trans individuals, are eligible to be tested at the Gay City Wellness Center. Anyone is eligible to be tested by Gay City at the Out of the Closet Thrift Store.
Testing in English and Spanish is available Mondays from 1pm – 3:30pm (testing services provided by Gay City)
CMCH offers HIV tests for US and foreign born African Americans. To find out more info, contact CMCH @ (206) 461-6910 ext 212 or austin@cschc.org
Testing is available to all persons FREE OF CHARGE during operating hours.
For PIERCE COUNTY
Pierce County AIDS Foundation (PCAF) offers free, confidential HIV testing and free, anonymous HIV testing by request. Testing hours are Monday thru Friday from 9 am to 5 pm. Please contact (253) 597-4803 or test@piercecountyaids.org to set up an appointment.
Call 253 798-6410 for more information about HIV/AIDS, needle exchange program and where to get an HIV test.
For SNOHOMISH COUNTY
EAF provides free and anonymous HIV testing at each of its 3 offices during regular office hours. It's always best to call ahead to schedule a test, but you can also drop in to the office most convenient to you.
For THURSTON COUNTY
Currently no-cost, confidential, and rapid HIV testing is available every Friday 2-7pm. Just call (360) 352-2375 to schedule a time slot.
More info:
Walgreens and Greater Than AIDS Join with Health Departments and Local Organizations to Help Provide Free HIV Testing in More Than 180 Cities for National HIV Testing Day on June 27
Testing at participating Walgreens supports ongoing commitment to community outreach on HIV
DEERFIELD, Ill., June 13, 2018 – Walgreens and Greater Than AIDS, a leading national public information response to the domestic HIV/AIDS epidemic, are working with 220 health departments, AIDS service organizations, and other community organizations to help provide free HIV testing and information at participating Walgreens stores in more than 180 cities on National HIV Testing Day on Wednesday, June 27, between 10 am – 7 pm (local time).
Walgreens and Greater Than AIDS are helping the participating testing partners to expand the free HIV testing to even more locations this year with a focus on heavily affected communities. Since 2011, more than 40,000 HIV tests have been conducted as part of the activation. BioLytical Laboratories and OraSure Technologies, Inc. are donating test kits and Abbott Rapid Diagnostics is providing support for outreach.
Local agencies will be at participating Walgreens stores to provide free, confidential, and fast test results on site, without the need to schedule an appointment. Counselors will be on hand to answer questions about HIV prevention and treatment options, including PrEP, a medication that offers another effective means of protection for those testing negative for HIV.
"Walgreens has supported people living with HIV/AIDS since the beginning of the epidemic more than 30 years ago," said Glen Pietrandoni, senior director, patient care and advocacy, at Walgreens. "Early testing can mean access to effective treatment and the opportunity to go on to live a healthy normal lifespan. In addition, with proper adherence to medication, successfully treated patients cannot easily transmit the virus to others. As we continue to work towards an end to HIV/AIDS, it is crucial that testing and trusted resources on treatment are made more widely available within communities."
The Centers for Disease Control and Prevention (CDC) recommends HIV testing as part of routine health care. An estimated 1.1 million people in the United States are living with HIV and approximately 1 in 7 are unaware of their status.1
"There are more options than ever to prevent and treat HIV," said Tina Hoff, Senior Vice President and Director, Health Communications and Media Partnerships at the Kaiser Family Foundation, which leads Greater Than AIDS. "The first step is knowing your status. This collaboration normalizes HIV testing as part of everyday life, while helping to educate about these advances."
The community partnership is part of an ongoing commitment by Walgreens and Greater Than AIDS to broaden the reach of HIV testing and information in non-traditional settings and to support the outreach of local organizations. Year round, HIV-trained pharmacy staff are available at more than 1,000 Walgreens locations nationwide, including communities with high HIV prevalence, offering one-on-one, confidential medication counseling to support treatment adherence, and assisting with other care needs, such as identifying financial assistance options.
For a complete list of participating Walgreens locations and supporting partners for this year's National HIV Testing Day, as well as additional information about HIV testing, including year-round testing sites, visit www.greaterthan.org/walgreens.
About Walgreens
Walgreens (walgreens.com), a provider of trusted care in communities since 1901, is included in the Retail Pharmacy USA Division of Walgreens Boots Alliance, Inc. (NASDAQ: WBA), the first global pharmacy-led, health and wellbeing enterprise. Approximately 8 million customers interact with Walgreens in stores and online each day, using the most convenient, multichannel access to consumer goods and services and trusted, cost-effective pharmacy, health and wellness services and advice. As of Aug. 31, 2017, Walgreens operates 8,100 drugstores with a presence in all 50 states, the District of Columbia, Puerto Rico and the U.S. Virgin Islands, along with its omnichannel business, Walgreens.com. Approximately 400 Walgreens stores offer Healthcare Clinic or other provider retail clinic services.
About Greater Than AIDS
Greater Than AIDS is a leading national public information response focused on the U.S. domestic HIV epidemic. While national in scope, Greater Than AIDS focuses on communities most affected. Through targeted media messages and community outreach, Greater Than AIDS and its partners works to increase knowledge, reduce stigma and promote actions to stem the spread of the disease.
About Kaiser Family Foundation
The Kaiser Family Foundation, a leader in health policy analysis, health journalism and communication, is dedicated to filling the need for trusted, independent information on the major health issues facing our nation and its people. The Foundation is a non-profit private operating foundation based in San Francisco, California.
1 HIV/AIDS Basic Statistics, Centers for Disease Control and Prevention, last updated: December 18, 2017, Last accessed: May 2018 https://www.cdc.gov/hiv/basics/statistics.html
(Visited 1 times, 1 visits today)