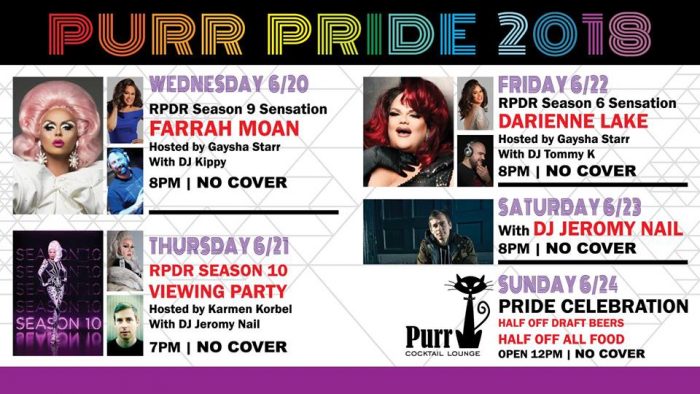 There were people wondering if PURR COCKTAIL LOUNGE would do a big Pride event this year, after moving from their original location in the heart of Capitol Hill's Pike/Pine gay neighborhood to their new location in Montlake, a mostly residential neighborhood at the foot of Capitol Hill. Purr and owner Barbie Roberts were known for bringing in RuPaul Drag Race stars during Pride Week and their huge street party on Pride Saturday.
They can't exactly do a street party in their new spot; they're on very busy 24th Street which is a high traffic thoroughfare. But, Purr is offering up a full weekend of events this year including visits by two big stars and guest djs.
And…
NO COVER CHARGES FOR ANY OF THE EVENTS!
WTF?!?!?!?
THAT'S UNHEARD OF!!!
Ok…I exaggerate but very few clubs that bring in out of talent  forgo charging some kind of door charge to help defer the considerable costs of paying for talent and flying them in.
They're bringing in two former RuPaul's Drag Race contestants…Farrah Moan from Season 9 and Darienne Lake from Season 6. Originally, BeBe Zahara Benet, the Season 1 winner and recent All-Stars contestant was to appear as well, but sadly, the death of her father forced her to cancel her appearance.
Here's the final line-up:
Purr's Schedule of Pride Week Events:
Wednesday, June 20
Farrah Moan
Hosted by Gaysha Starr
w/DJ Kippy
8pm/NO COVER
Thursday, June 21
RPDR Season 10 Viewing Party
Hosted by Karmen Korbel
w/DJ Jeromy Nail
7pm/NO COVER
Friday, June 22
Darienne Lake
Hosted by Gaysha Starr
w/DJ Tommy K.
8pm/NO COVER
Saturday, June 23
Pride Celebration
w/DJ Jeromy Nail
8pm/NO COVER
Sunday, June 24
Pride Celebration
Half Off Beers/Food
Noon/NO COVER
(Visited 1 times, 1 visits today)