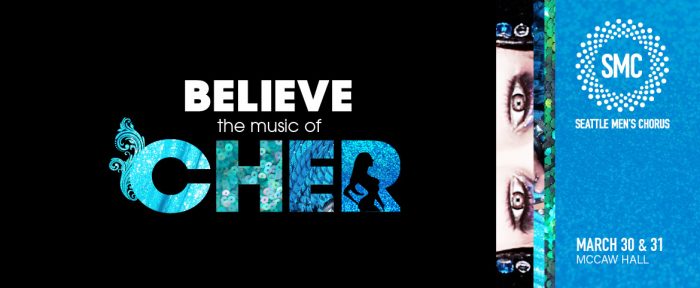 The Seattle Women's Chorus and the Seattle Men's Chorus have announced the line-up for their 2018/19 Season which includes the Women's Chorus celebrating 15 years of concerts and the Men's Chorus doing a huge Stonewall 50th Anniversary concert for June of 2019 to mark that major gay rights event.
Other highlights include a Cher themed SMC concert with special guest Chad Michaels, from RuPaul's Drag Race and the queen of Cher impersonators. 
Season subscriptions are on sale now with single ticket sales beginning Sept 4th.
More skinny:
Two Anniversaries Bookend the 2018-2019 Season for Seattle Men's Chorus & Seattle Women's Chorus

 

Seattle, WA –The Seattle Women's Chorus (SWC) leap into their 15th year of concerts with Hear Me Roar in October and the Seattle Men's Chorus (SMC) wind down the season with Summer of '69, a musical commemoration of the 50th Anniversary of the Stonewall Riots. Special surprise concert guests will be announced in the coming months.

SWC expands their outreach to South Puget Sound by adding a new venue in Burien to their concert line. In addition a new mixed ensemble group, comprised of members from both SMC and SWC, will make their debut at the 2018 holiday concert. Each season they will perform tight-harmony, contemporary a cappella pieces at community events and select SMC and SWC concerts.

Season subscriptions are on sale now. Single tickets go on sale on Tuesday September 4, 2018 and the best seats are expected to go quickly.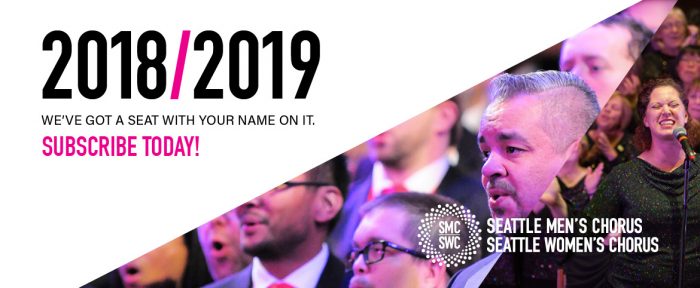 SEATTLE WOMEN'S CHORUS

Hear Me Roar

This blowout concert marks 15 years on stage. It's filled with throwback favorites, pop extravaganzas, and fresh choral sounds that mark where the chorus has been…and where they are going!  The music of Katy Perry ("Roar"), Melissa Etheridge ("I Run for Life") and Alicia Keys ("Superwoman") illuminate stories of strength, survival, and hope as the worlds of disco, Broadway and Hollywood blend together for an epic celebration.

Dates:   

10/12/18 – 10/20/18

10/12, 

10/13 at 8:00

pm; 

10/13 at 2:00pm

Seattle First Baptist Church

Burien, Highline Performing Arts Center

SEATTLE MEN'S CHORUS

Jingle All the Way

SMC is ringing in the season with a high-spirited celebration that brings together all your favorites: beloved carols, fresh takes on holiday classics, and show-stopping dazzlers that will have you on your feet! Featuring "Silver Bells," "Do You Hear What I Hear," "Jingle Bell Rock" and many more moments of pure Holiday joy.

12/9, 12/20, 12/21, 

12/23 at 7:30

pm; 

12/16 at 8:00

pm; 12/23 at 2:00pm

Seattle, Benaroya Hall

Tacoma, Rialto Theatre

Everett Civic Auditorium

SEATTLE MEN'S CHORUS

Believe: The Music of Cher

With Special Guest Chad Michaels

Six decades of #1 hits. 100 million albums sold. Countless reinventions. No other diva compares to the Goddess of Pop and her groundbreaking success as a music, movie, and style icon. SMC packs McCaw Hall with all the songs, sparkle and sequins you'd expect from the ultimate Cher tribute. Guest-starring Chad Michaels, the uncanny Cher impersonator who hair-flipped his way to the championship of RuPaul's Drag Race: All Stars.

Dates:   

3/30/19 – 3/31/19

3/30 at 8:00pm & 

3/31 at 2:00

pm

Seattle, McCaw Hall 

SEATTLE WOMEN'S CHORUS

Legends of Rock

Decades ago, women like Janis Joplin and Carly Simon erupted onto the mainstream rock scene, blowing a hole through the stage wall that generations of women rockers have burst through. This concert is a loud and proud ode to the trailblazing singer-songwriters who weren't afraid to raise their voices and make a scene: Patti Smith, Joan Jett, Alanis Morissette, Florence Welch, Tina Turner, Debbie Harry, and more groundbreaking artists.

2:00pm

Seattle, Benaroya Hall

SEATTLE MEN'S CHORUS

Summer of '69

Woodstock. The moon landing. Vietnam. Stonewall. In the summer of 1969, current events churned into a psychedelic era of rebellion and change. SMC transports us back to this vibrant year through the chart-topping, culture-defining music that blared through turntables and transistor radios. Joining with a coalition of LGBTQ choruses across the country, we also present a thrilling new musical theater work that tells the stories of the Stonewall riots and the birth of the struggle to live life out loud, a message that still resonates today.

6/21 at 8:00

pm; 6/22 at 

2:00

pm

Seattle, Benaroya Hall

 

Subscription Packages:    On Sale Now: $51 – $287             

Individual Tickets:

     Tickets on sale to the General Public 

9/4/2018

:  $25 – $78

Box Office:                 

206.388.1400        Mon-Fri, 

11:00AM-6:00PM

About Seattle Men's Chorus/Seattle Women's Chorus

The internationally renowned Seattle Men's Chorus (founded 1979) and Seattle Women's Chorus (founded 2002) comprise the largest community choral organization in North America. Both choruses stand out as the largest LGBTQ-identified men's and women's choruses in the world. The choruses comprise one of the Pacific Northwest's largest, most vibrant and successful music organizations, performing in Seattle's most prestigious venues for an annual audience of more than 30,000 patrons. Flying House Productions is the not-for-profit organization that governs and manages the Choruses. Collectively there are over 600 singing members along with staff, volunteers, and associate members who support both Choruses. They are a leading voice for the LGBTQ community and offer more than 30 outreach events and main stage concert performances annually.

Our Mission: Our voices transform society through innovative and entertaining programs that build community, illuminate the experiences of LGBTQ people and their allies, expand inclusion, and inspire justice.

Our Vision:  A more harmonious world that celebrates the unique identities and talents of all people.
Tags: LGBTQ Choruses, Seattle Men's Chorus/Seattle Women's Chorus, SMC, SWC