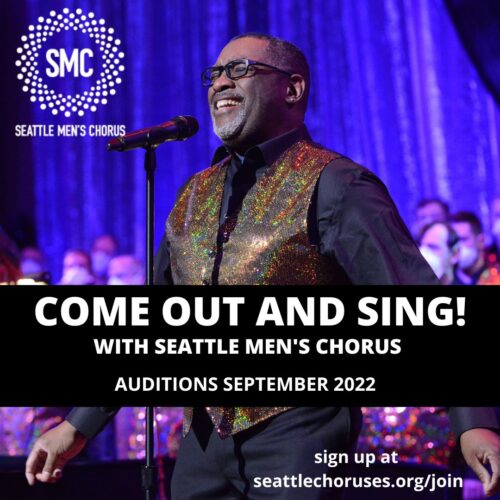 Has it been years since you sang your heart out in high school or college chorus or your church choir…and you really miss it?
Are you aching to change up your dreary life and make new friends and have new experiences?
Is there an inner diva/divo in you just waiting to burst out?
If you answered positively to any/all of these questions you have an opportunity coming up to do something about it…Seattle Men's Chorus and Seattle Women's Chorus have auditions coming up in September!
The SMC auditions are just around the corner….Tuesday, September 6th and SWC auditions are happening later in the month on Tuesday, September 20th.
More info from the website is down below and to see even more info and to sign up for an audition, then actually GO to the website: https://www.seattlechoruses.org/join/
The choruses are proud to be a leading voice for the LGBTQ community. We represent a diverse group of singers: lesbian, gay, bisexual, transgender, gender nonconforming, non-binary and straight allies. We are united in the pride we take in our singing.

Because we have distinct TTBB* and SSAA* choruses, placement in a chorus is based solely on successfully passing the current musical audition standards for that particular ensemble and being placed by the Artistic Director according to the tessitura and blending quality of the voice.

If you're interested in auditioning, we hope we'll hear from you. Due to COVID-19 we are not allowing interested singers to attend rehearsal prior to auditions.

You must be 18 years or older by the date of the first rehearsal in order to sing with the chorus.  

*(TTBB: Tenor, Bass, Baritone SSAA: Soprano, Alto)

Upcoming Auditions:

Held at Seattle First Baptist Church.

Time slots will be assigned between the hours of 6-10 PM.

A follow-up email closer to audition dates will provide a more detailed form to complete, information and assigned audition times.

2022-2023 Seattle Men's Chorus Auditions:

Tuesday 9/6/2022

Monday 12/5/2022

Monday 3/20/2023 

2022-2023 Seattle Women's Chorus Auditions:

Tuesday 9/20/2022

Tuesday 2/14/2023
(Visited 14 times, 1 visits today)