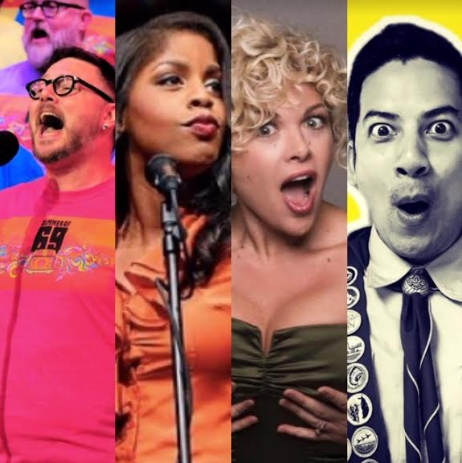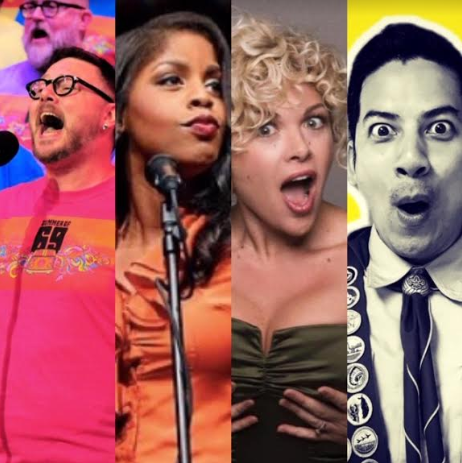 An all-star line-up of local talent will perform at ECHOES, a benefit concert for the AMP: AIDS Memorial Pathway this upcoming Monday, October 14th at The Moore Theatre in downtown Seattle. Hosted by former KIRO TV reporter Micki Flowers, the show will feature local theater performers as well as special tributes to four area HIV/AIDS activists: DeAunte' Damper, Bill Hall, Pat Migliore and Steve Harper.
The AMP Project has been years in the making and with construction finally in progress, it will soon become a reality in 2020 with portions of the memorial being contained within the confines of Capitol Hill's Cal Anderson Park and extending into the Plaza area currently under construction at the building site created by the Light Rail Station.
Among the talent performing on Monday are Justin Huertas, playwright, composer, lyricist and actor best known for creating the musicals "Lizard Boy" at Seattle Repertory Theatre and last summer's The Last World Octopus Wrestling Champion at Arts West Playhouse. Two popular local musical theater actresses, Alexandria Henderson and Billie Wildrick will also perform along with musical director Nathan Young and Showtunes Theater Company. Members of the Seattle Men's Chorus and Seattle Women's Chorus will also perform along with members from Whim W'him dance theater company.
More info below…get tickets HERE!
THE AMP PRESENTS ECHOES, AN EVENING OF PERFORMANCE, REMEMBERANCES AND STORIES
Micki Flowers to host concert benefiting Seattle's forthcoming AIDS memorial
The AMP: AIDS Memorial Pathway will present ECHOES, a benefit concert on October 14, at 7:30 p.m. at the Moore Theatre, 1932 Second Avenue in Seattle. Hosted by Micki Flowers, a former health reporter for KIRO-TV and longtime HIV/AIDS advocate, ECHOES will feature music, dance and storytelling from a diverse lineup of local activists and performers. Throughout the night, the audience will have opportunities to make donations toward this historic memorial.
The AMP, scheduled for completion in 2020, will be located in the plaza over Seattle's Capitol Hill light rail station and the north edge of Cal Anderson Park. Utilizing various forms of public art and technology, the memorial will offer visitors opportunities for remembrance of, reflection on and participation in the ongoing fight to end HIV/AIDS.
"ECHOES is a celebration of life, a sharing of memories and a recognition of all those affected by HIV and AIDS," said Jason Plourde, project manager for The AMP. "ECHOES will offer an opportunity to experience our shared history, move toward healing and directly contribute to the creation of the AIDS Memorial Pathway."
The concept for ECHOES was created by Michael Byron-Ingersoll, who will also serve as director of the concert. Byron-Ingersoll is a long-time activist and fundraiser in the greater Seattle community. He has worked with many AIDS organizations, including AIDS Housing of Washington, Bailey-Boushay House, Rosehedge, Multifaith Works and the Lion Building, among others. His professional acting and directing career includes work with SHOWTUNES Theatre Company, Village Theatre, ACT, Seattle Musical Theatre, Twelfth Night Productions and Driftwood Players.
"I still feel the loss of dozens of my friends who battled HIV/AIDS," said Byron-Ingersoll. "They will never be gone from my heart or mind, and they come alive when I speak of them and share stories about them. What I recall is an echo of the energy and spirit of who they were. That echo has been my inspiration for the creation of our concert. The stories we share and the performances we see are meant to help us experience the many echoes that we all carry in our hearts."
Four Seattle area activists will share personal stories and recount how their lives have been impacted by HIV and AIDS: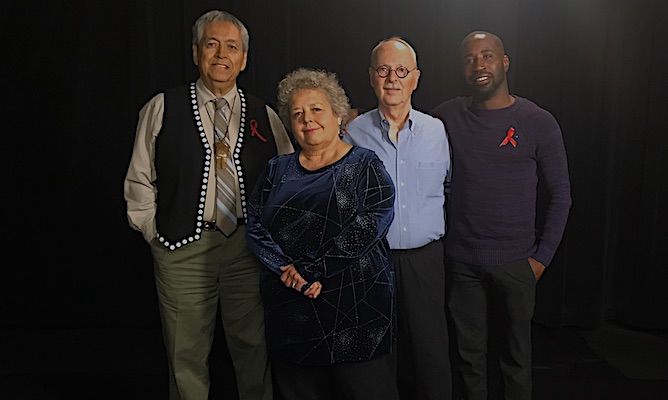 · DeAunte' Damper recently made history when he was appointed the LGBTQ chair of the Seattle King County chapter of the NAACP, a first in the organization's 110-year history. He also serves as a peer navigator for POCAAN, a multicultural social service agency serving marginalized communities in Seattle and greater King County.
· Bill Hall is a Tlingit native from southeast Alaska and a longtime HIV/AIDS activist. He is currently working with the Seattle Indian Health Board and Urban Health Institute as an advocate for the city's Native community. Hall is a standing Community Advisory Board member of both the Fred Hutch defeatHIV research program and Seattle Children's Center for Diversity and Health Equity.
· Pat Migliore has been a volunteer at Seattle AIDS Support Group (SASG) for the last 35 years and helped found the BABES Network, a program offering peer support for women living with HIV that is now a run by the YWCA. Pat has taught in Seattle schools for many years and currently teaches HIV and AIDS education to grades 5-12 and at local colleges.
· Steve Parsons was the first co-facilitator of SASG. He also served on its board of directors and coordinated the organization's volunteers for many years. He is the founder and executive director of OutKitsap (which continues as the Kitsap Pride Network).
Interspersed between the stories told by the speakers will be performances by:
· Alexandria Henderson is a frequent performer in local and regional professional theater. She has been seen most recently as Elle Woods in Showtunes Theatre Company's Legally Blonde and Ali in the 5th Avenue Theatre's production of Mamma Mia!
· Justin Huertas is an award-winning playwright, composer, lyricist and actor. He's best known in Seattle for his original musical Lizard Boy and for his most recent musical, The Last World Octopus Wrestling Champion. His next musical, Lydia and the Troll, premieres at Seattle Rep in the spring of 2020. His acting credits include The 25th Annual Putnam County Spelling Bee at Village Theatre and Tiny Beautiful Things at Seattle Rep.
· The Seattle Men's Chorus (founded 1979) and Seattle Women's Chorus (founded 2002) comprise the largest community choral organization in North America. Both choruses stand out among the largest LGBTQ-identified choruses in the world. The choruses comprise one of the Pacific Northwest's largest, most vibrant and successful music organizations, performing a range of classical and popular music. They are a leading voice for the LGBTQ community and provide a bold and powerful force for LGBTQ and social justice.
· Nathan Young and SHOWTUNES Theatre Company present unique theatrical experiences celebrating material from Broadway's past, present and future with concert versions of rarely staged musicals, and are dedicated to the appreciation, preservation and advancement of musical theater.
· Whim W'Him is an award-winning Seattle-based contemporary dance company founded in 2009 by former Pacific Northwest Ballet principal dancer and choreographer Olivier Wevers. It showcases innovative dance in collaboration with global artists. The company aims to provide a platform, centered on choreography and dance, for artists to explore their craft through innovation and collaboration and is committed to producing work that engages and challenges audiences.
· Billie Wildrick is an award-winning actor and director based in Seattle. Her acting credits include the 5th Avenue Theatre's productions of Pajama Game, Carousel and Guys and Dolls; ACT Theatre's Vanities, First Date and Das Barbecü; and Seattle Children's Theatre's Seussical. Her most recent directing credits include Annie at the 5th Avenue Theatre and The Champagne Widow at Café Nordo.
"We are thrilled to present this amazing group of performers and speakers who have been fierce advocates for those affected by HIV and AIDS," said The AMP's founding chair, Tom Rasmussen. "The stories and performances, like the forthcoming memorial, will honor both our past and our future and serve as a reminder of our shared need to be active, remain vigilant and stand ready to fight discrimination however it may arise."
Tickets for ECHOES are $25 for general admission and $100 for premium general admission (seating in the first three rows of the theatre) and are available online at https://www1.ticketmaster.com/echoes-a-tribute-concert-benefiting-the-amp-aids-memorial-pathway/event/0F0056FD9BA22DE0 and in person at the Paramount Theatre box office at 911 Pine St. Box office hours are Monday through Friday, 10:00 a.m. to 6:00 p.m.
About The AMP: AIDS Memorial Pathway
The AMP, community driven and collaboratively funded, will use public art to create a physical place for remembrance and reflection, utilize technology to share stories about the epidemic and the diverse community responses to the crisis, and provide a call to action to end HIV/AIDS, stigma and discrimination. For more information about The AMP, visit theamp.org
(Visited 1 times, 1 visits today)