One is spooky, weird and oddly appropriate for the times we live in despite dating from 2008.
The other is grounded in reality, though it's the reality of Hollywood.
Both are set in Los Angeles and both come from Latinx writers, though one is more concerned with Latinx issues than the other.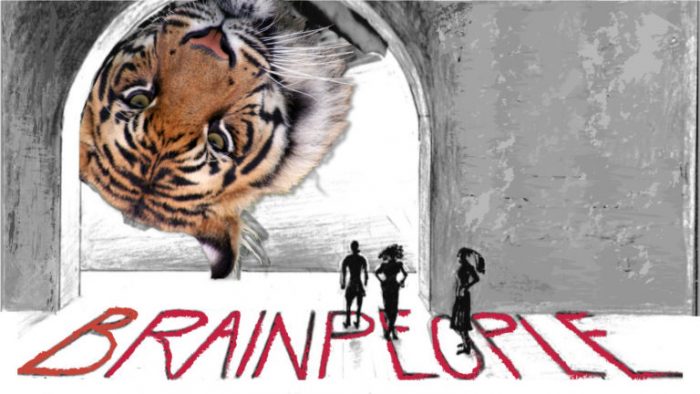 We'll start with the weird one…José Rivera's oddly prophetic "magic realism" three hander, BRAINPEOPLE. It's being staged by Latino Theatre Project at Theater Off Jackson in the International District and it's a screwy psychological twister of a play involving three very different women at a very peculiar dinner party.
Our hostess is the lovely Mayannah, a wealthy young heiress originally from Puerto Rico and now living in a large loft in downtown Los Angeles "sometime in the future". It's definitely a despotic/dystopic future as things have apparently fallen apart in the United States; there are references to rioting and internment camps and a lack of free elections. There are frequently sirens in the distance and a general sense of unease in the air. Since this play actually dates from 2008, Mr. Rivera's "sometime in the future" is apparently NOW since all those things kinda/sorta describe 2018…
(Watching the play, I assumed it was a very recent work and deliberately written to reflect our Trumpian World. No…Mr. Rivera is apparently just prescient.)
Mayannah is gleefully if not a bit nervously preparing for an annual event in her home. It's the one night of the year she dismisses her staff to cook a special meal for herself and to share it with two other people, complete strangers she finds on the street, to commemorate the death of her parents from many years ago, in India, when Mayannah was a child.
The guests arrive, chauffeured to the loft by Mayannah's armed guards since the streets of Los Angeles are so dangerous (more dangerous than they've always been apparently) and both guests are just as strange as their host. Rosemary, dressed as your stereotypical L.A. rocker chick seems to be the real deal, an actual rocker wannabe/bimbo/pass around party girl…until all of a sudden she's not that person but an entirely different one. "Rosemary" is apparently a schizophrenic/multiple personality with dozens of personas locked up inside her and over the course of the evening we meet quite a few of them who gradually fill us in on Rosemary's sad background.
The other guest is Ani (pronounced "Ah Nee") supposedly of Armenian descent, a seemingly more grounded type who is quickly alarmed by the vague oddness of Mayannah and the more explicit dangers of interacting with a multiple personality like Rosemary. Ani is resistant to everything offered at this party, including the queer menu which includes tiger meat as its main course. As she stubbornly refuses to participate in the evening, Mayannah at first implies she won't earn her reward (we discover the two women were offered large sums of money to attend this macabre dinner) but then in desperation ups the ante to keep Ani from leaving. And, Ani is tempted by the larger amount being offered because as we discover, she is desperate to flee the United States to run away from her own set of  problems.
As the night progresses, each of the three characters reveals more and more about their pasts and none of their stories are the slightest bit straightforward or average…each character turns out to be larger than life with some pretty dark secrets rattling around their respective closets. Those reveals are largely exposed by long monologues, one for each character, that get to the nitty and the gritty of their personalities as well as the reasons for this queer dinner.
Of course, it all ends…queerly.
I mostly liked Brainpeople, but I do tend to like or at least admire material that strives to be oddly different. I was never sure where this story was taking me…the experience of seeing it was unsettling, but pleasantly so; there's a fund sense of dread in the air. Another of Mr. Rivera's plays, Marisol was staged in Seattle 4 or 5 years ago, and it was also weird and post-apocalyptic and strangely fun (though not everyone agreed with me). Brainpeople is actually a great play to produce in Halloween month; I'm not sure why Latino Theater Project isn't emphasizing the "spooky/weird" nature of the material. It could be a selling point.
Mr. Rivera excels at creating big characters and twisty plots but he's also strong on dialogue; those monologues performed by each actress are richly written and they must be a joyous challenge to perform.
Of the three actresses and roles, I think the juiciest role/performance goes to Rosemary, the split personality that is very well acted by Alyssa Norling, who has to create a dozen different characters or so, all with individual accents. It's a challenge and in lesser hands, it could totally flop but Ms Norling is very very good in the role.
I also enjoyed Sofía Raquel Sánchez as the hostess Mayannah…she has a lovely ethereal oddness to her. Haunting and beautiful but also sincerely effed up; Mayannah is a very queer character and Ms Sánchez does a nice job of bringing her to life, though to be honest, she seems a tad young for the role.
Vero Lecoq has the tricky role of Ani, who hides her oddness under a mask of normality at the beginning of the play but has to gradually expose she's as twisted as the other two more obviously off characters. For me, the performance and the casting were both not quite right; Ms Lecoq didn't seem comfortable in what is, arguably, the role of an uncomfortable character but….it didn't quite gel. However, at the end of the play where the Ani character has to channel a different character, the actress was quite effective.  But, I don't think she nor director Fernando Luna found the right handle on the performance in general…there's a hesitancy that is holding something back in it totally succeeding. Still, the trio of actresses as a whole do make for a strong ensemble and work well with each other, particularly in the final moments of the play.
Who is this for? Fans of the odd and the strange and queer characters in general, but also specifically the homo/lesbo-erotic. Brainpeople is a weird little play that I very much enjoyed.
Review:

BRAINPEOPLE

by José Rivera. Produced by Latino Theatre Project. Directed by Fernando Luna. Set design by Alexander Scott Winterle. Lighting Design by Michael Mrizek. With Alyssa Norling, Sofía Raquel Sánchez, Vero Lecocq. Now through November 3, 2018 at Theatre Off Jackson/International District.
---
Meanwhile, over at Seattle Public Theater at their Bathhouse Theater at Green Lake, there is a totally different kind of Latinx play, one that focuses more specifically on Latinx issues. It's Tanya Saracho's FADE, another one act piece and also set in Los Angeles but this play is more naturalistic than Brainpeople and centers on two people, both of Mexican descent, but from very different worlds.
Lucia is young woman born and raised in a privileged Mexican home; she had a maid growing up. Meanwhile, Abel is a 3rd generation Mexican-American and native of Los Angeles. Lucia and Abel meet "cute"…she's a newly hired writer on an unnamed television series that features a Latina police officer as its central character and Abel is a janitor at the studio/production offices where she works. They get off on the wrong foot when Abel comes into her office and Lucia immediately begins chattering away to him in Spanish, assuming who he is solely based on his appearance.
Eventually, the pair warm up to each other and form an odd relationship. Lucia reveals quite a lot about her private life (she's chatty!) while Abel is more reticent about his. Eventually, he does open up to her and reveals some secrets about his private life.
Unfortunately, Lucia is struggling to gain a toe hold with her new job and make a name for herself in the writer's room which is apparently all male and mostly white and totally not interested in what she has to say. Needing material for a script, Lucia begins appropriating aspects of Abel's life to create a new character and plot line for the television show. The material is good and Lucia finds herself climbing the ladder of Hollywood success, but at what cost?
Many of the themes of Fade were covered in a terrific interview with the play's director, Pilar O'Connell by Rachel Delmar (read it HERE!) but for those of you unwilling to check out that interview, in a nutshell this play covers a lot of different parts of the Latinx experience in the U.S. including issues of classism between people of different backgrounds. 
Fade is an interesting play, though a tad on the long side for a two hander (an hour forty minutes or so) and since it's set over a period of several weeks, we get lots of small scenes and lots of time devoted to the characters entering and exiting all those scenes…structurally, there are some problems here, including a couple long waits for Lucia to change costumes.  Fade also suffers from some predictability…it's one of those "flow chart" stories where you can predict the plot as you go along…if Lucia does X, then THIS will happen or THAT will happen; if THIS happens then that means the choices are A or B. And, so on.
Structure isn't Ms Saracho's strong point, but she does have a gift for the dialogue…Lucia and Abel have fluid, believable conversations. You develop an interest in the two of them largely because of that. Oddly, of the two characters I think Abel is the more believable and "real" of the pair. He's grounded in the reality of his situation and lot in life. Part of that is the writing but it's also the subtle but effective performance of Marco Adiak Voli as Abel.
Ana María Campoy does a fine job of capturing the cluelessness of Lucia, who really hasn't a clue why she's crossed a line with her actions. Lucia isn't purposefully cruel with her actions but her selfishness and ambition does cause pain for other people. She's a complicatedly shallow person, if that makes sense.
Pilar O'Connell's staging is effective (though some of those long transitions need pruning) and the pair of actors are engaging. Design elements are good, including Jenny Littlefield's office set, though there is a long exposed hallway that cries out for a series of posters of other shows/films being done by this studio. That wall looks bare plus EVERY freaking Hollywood office hallway features those posters…it's a given!
Fade is play with interesting ideas and two charismatic characters and this production is worth checking out. But, to be honest, it's a play you really only need to see once. 
Review: FADE by Tanya Saracho. Produced by Seattle Public Theater. Directed by Pilar O'Connell. Scenic Design by Jenny Littlefield. Costume Design by Fantasia Rose Oslund. Lighting Design by Ahren Buhmann. Sound Design by Michael Owcharuk. Properties Design by Jodi Sauerbier. With Ana María Campoy and Marco Adiak Voli. Onstage now through November 4, 2018 at Bathhouse Theater/Green Lake.
(Visited 2 times, 1 visits today)