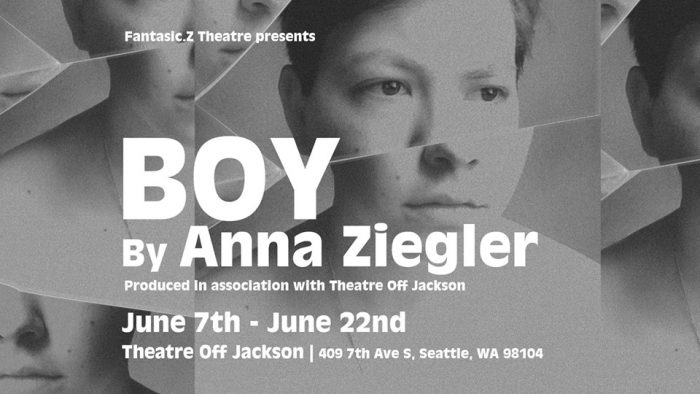 Just a heads up about a terrific new play that has its Seattle premiere tonight (Friday, June 7th) at Theatre Off Jackson in the International District…it's BOY, the 2016 play by acclaimed playwright Anna Ziegler about a cis born boy who is raised as a girl but after a complicated childhood and teen years, returns to living his life as a male. The play examines the repercussions of why this happened and the relationships between that boy, Adam, and his parents and the doctor who encouraged them to raise Adam as a girl.
And, it's based on the true (and more tragic) story of David Reimer, who was born in 1965 with a twin brother, who suffered a botched circumcision that resulted in his penis being badly mutilated. A psychologist, John Money, encouraged Reimer's parents to raise him as a girl, since Money was an originator of the theory of gender neutrality, that we're all born neutral but our sense of gender is learned from our upbringing and gender markers…that we LEARN to be male or female from learning how to do so via our family and how we're treated and what we're exposed to.
So, David Reimer was castrated (testes removed) and was raised as a female despite the fact he was born male and the results of this "experiment" didn't live up to Dr. Money's theories despite the doctor's insistence and shocking methods of treatment which included forcing Reimer to act out female roles. But, David was rejecting his enforced gender identity by the time he was 9 years old and was traumatized by Money's treatment and demanded his parents stop the doctor from treating him. By the age of 14, David reverted to his original male persona and tried to lead a "normal" life but he dealt with serious issues of depression that led him to suicide when he was 38 years old.
If this story sounds familiar to you, it's because it's a famous story that became a best selling book, As Nature Made Him: The Boy Who Was Raised as a Girl  in 2000.
Anna Ziegler has long been fascinated by this story but this play, Boy, that resulted from her fascination takes a different angle than the real story which only served as an inspiration. Ziegler has said: "…the John Money/David Reimer story seemed to lack the particular angle in which I was most interested – a story in which love is the blinding force, as opposed to greed or ambition or cruelty. I wasn't interested in writing a story about a villain and a victim, but in exploring the complicated terrain of mutual need, love and dependence between doctor and patient, and the problems that arise when someone is desperate to see an experiment succeed."
Fantastic Z will explore the "tricky terrain" of this story with their production of BOY which will run for the next three weeks at Theater Off Jackson. More info on their production below and you can grab tickets HERE!
Inspired by a true story, Anna Ziegler's BOY explores the tricky terrain of finding love amidst the confusion of sexual identity, and the inextricable bond between a doctor and patient. In the 1960s, a well-intentioned doctor convinces the parents of a male infant to raise their son as a girl after a terrible accident. Two decades later, the repercussions of that choice continue to unfold.

BOY by Anna Ziegler
directed by Emily Harvey
June 7th – 22nd

in association with
Theatre Off Jackson
409 7th Ave S. Seattle, WA 98104

OPENING WEEKEND:
Friday, June 7th 8pm
Saturday, June 8th 8pm

SECOND WEEK:
Monday, June 10th 7:30 pm (pay what you can)
Thursday, June 13th 7:30 pm
Friday, June 14th 8pm
Saturday, June 15th 8pm

CLOSING WEEKEND:
Thursday, June 20th 7:30 pm
Friday, June 21st 8pm
Saturday, June 22nd 2pm Matinee
Saturday, June 22nd 8pm

The Cast
ADAM TURNER: Drew David Combs
JENNY LAFFERTY: Anuhea Brown
DR. WENDELL BARNES: Jamey Cheek
TRUDY TURNER: Jane Martin Lynch
DOUG TURNER: Matthew Middleton

The Creative Team
DIRECTOR: Emily Marie Harvey
STAGE MANAGER: Jordan Talbot
DRAMATURG: Anne Everhart

SCENIC DESIGNER: Elana Lessing
COSTUME DESIGNER: Jenny Burkley
LIGHTING DESIGNER: Keny Dutton
SOUND DESIGNER: Freddy Molitch
PROPS DESIGNER: Jenny Burkley
MOVEMENT COACH: Alyza Delpan-Monley

Based on a true story, BOY is about how one man reclaimed his gender identity and his life.

Fantastic.Z Theatre
presents
BOY by Anna Ziegler
June 7th – 22nd
in association with Theatre Off Jackson
Theatre Off Jackson
409 7th Ave S. Seattle, WA 98104
(Visited 7 times, 1 visits today)