That quiche diving is "great technique."

I went over to "fit her for a pantsuit," if you know what I mean …

No sausage here — No Men.  No Meat. All Manners.
Fantastic Z's production of 5 Lesbians Eating a Quiche is just as double entendre-filled as you might expect (as it's pretty evident right there in the title … nevermind).  
The show is at the Ballard Underground, where it opened May 18th and has only three shows left (this Thursday through Saturday, 5/31-6/2).
The play brings us to the Cold War era, where shit could hit the fan at ANY TIME.  That it was our own damn country that was doing the oppressing — see: McCarthyism, racist police violence, de facto segregation, suppression of The Homosexual Menace — should come as no surprise, but it was the big bad outside threat, which never came to fruition, that made an overt appearance in the play.
The characters are five self-avowed non-lesbian never-married "widows" who are trapped in their meeting hall, along with 40-some of their Sisters (aka, YOU, Elma and Ruby and Joan and whoever you are).  Oh, and that rat Marjorie, who always ruins everything.
The Sisters are gathered in 1956 for their annual quiche breakfast at the Susan B. Anthony Society for the Sisters of Gertrude Stein, but instead find themselves in the thrust of the Cold War in their newly-fortified hall, with all sorts of alarms going off.  And their prized quiches from the day's big contest? All locked outside the hall, except for the winning quiche, the one on the table.
Panic, drama, hilarity, tragedy, and affirmations ensue.
The Sisterhood is based on the concept of the actual lesbian society during the Cold War era, called the Daughters of Bilitis, who posed as a poetry club in order to remain secretive in a society that was none-too-keen to acknowledge them in any positive manner.  Helpful dramaturgy displayed on the lobby walls will fill you in.
Like any good queer dramedy, it is heavy on both the sisterhood and the catfights, and, particularly in the first act, the humor had a lot in common with the likes of the Drop Dead Gorgeous and Pitch Perfect styles of delicious cattiness.
I'd be hard-pressed to pick a favorite out of this bunch.  All five — Jana Gueck, Jane Martin, Jessica Severance, Alexandria Stevens, and Jessica Stepka — excelled in their ensemble roles, as messy caricatures when called for, and as endearing characters when not. The directing was snappy and made sense.  The costuming was terrific (pussy skirt instead of poodle skirt? — win!), the scenic design on point, and the lighting and sound supportive and unobtrusive.
What I really wanted to top it off?  Some damn quiche — the ACTUAL quiche, you dirty-minded dirtballs — for sale at the bar or wherever.  If you're going to make me sit there thinking about breakfast pie for 90 minutes on a Sunday afternoon, you better put it within reach!
(Instead, I ended up trying out the extravagant brunch pizza by Breezy Town Pizza — like Chicago-style but not, get it? — at the Clock-Out Lounge on Beacon Hill, on the other side of town.  So I got my happy ending.)
My real beefs with the show (as if being quicheless in Seattle weren't bad enough) relate to my beefs with Fantastic.Z in general.  First, I'm decidedly not the police of queerness. But in this queer-oriented company's shows, few of the actors are ever people I know to be (whether personally or in the bios or wherever) queer-identified.  And maybe many of them are, who knows! But if a company is predicated on queer arts and queer representation, it would be helpful to have some overt queer representation.  Not a maybe, not just a dash, not a token, but a lot of it!
None of the actor bios say, and the only one identified as partnered is described as having a husband (who's described as "a lover of quiche," which … yes!, gold star for that).  Women can have husbands and still be queer, or maybe the husbands are queer, who knows. Also, people who are queer don't all have to be publicly out about it. I'm not saying any of that.  What I am saying is in a program for a queer show, if I'm resorting to detective work and homing in on the costume designer who likes to tinker with her vintage Volvo as one of few candidates for possible queerdom, it seems like representation may be lacking.
A similar but distinct gripe with the company (regardless of this particular, all-white-appearing show) applies to Z's racial dynamics.  Based on the shows I've seen, over several seasons, this may well be the whitest company in town — and that's saying something. This city has tons of excellent actors, at all experience levels, of a great many races.  If you're only able to find one race, with a tiny-sometimes-sprinkling of all the others combined, it's really tough to avoid a factual finding that you're not trying.
In addition, it's a little weird that the show was written by two men, Evan Linder and Andrew Hobgood (and also, here, directed by one, Z's Producing Artistic Director, Kyle Baiz).  That could be why when a male eventually is introduced among them, near the end of the show, an undue amount of attention shifts to him. And yet — the script is really good, and it's hard to find too much fault with it, other than that minor plot point.
5 Lesbians was a great choice for the company, and the production was wonderfully executed.  The actors, design team and director should be proud.
But for a company whose mission starts and ends with "Fantastic.Z is Seattle's LGBTQ theatre company . . . giving a voice to the LGBTQ community and its allies," representation of that community — inclusive of its great diversity — should be a given.  In future shows, I hope it will be.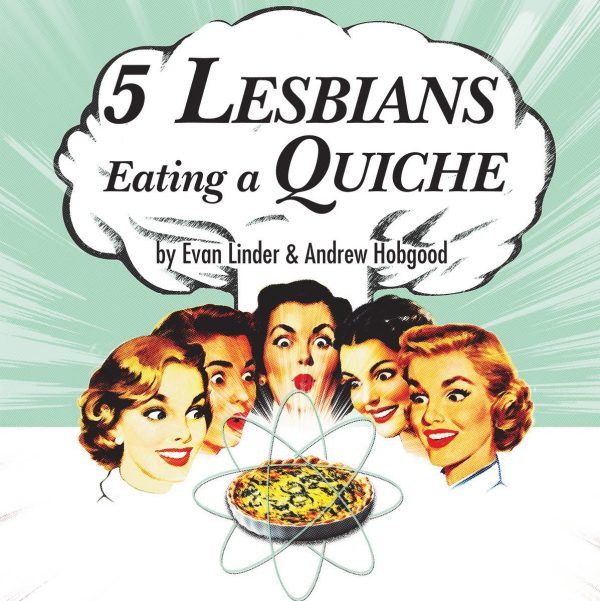 (Visited 1 times, 1 visits today)