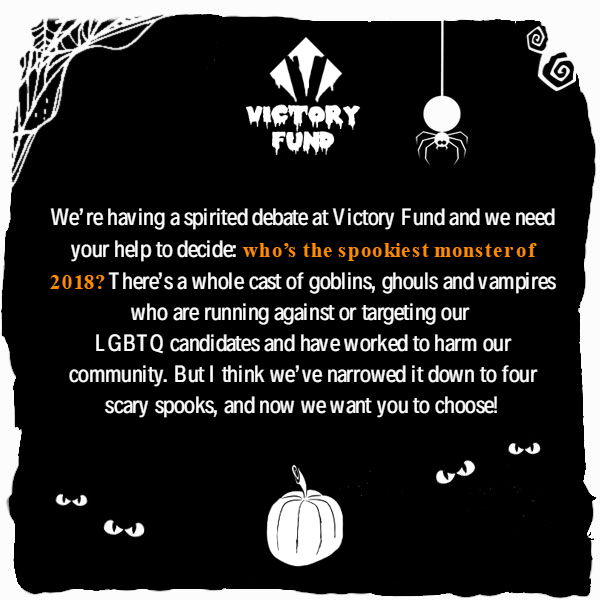 Vice President Mike Pence
• Signed a "Religious Freedom" Bill in 2015 that would allow businesses to ignore and violate local discrimination laws and worked to undermine Indiana's current discrimination laws as Governor;
• Worked to ban marriage equality with a constitutional amendment while in Congress;
• Voted against the Employment Non-Discrimination Act while in Congress;
• Argued to strip HIV prevention campaigns to pay for conversion therapy… because why not?
Donate $15 to vote for Mike Pence as the scariest bigot! >>
Minnesota's Jason Lewis
• As a shock jock, Lewis said a lot of unbelievable things, including this gem: "Gay couples are no more discriminated against than the polygamist, the drug user, or the loan shark."
• Argued that marriage equality would lead to polygamy (yea, he's THAT guy) and that same-sex parents like his opponent Angie Craig "could harm the kid"; and
• Called bathroom access for trans students "an abomination".
Donate $15 to vote for Jason Lewis as the scariest bigot! >>
Pennsylvania's Daryl Metcalfe
• Called our candidate Daniel Smith Jr. a "lawless liberal" because he's active in the LGBTQ community;
• Said this about fellow lawmaker who brushed his arm: "Stop touching me… I'm a heterosexual. I have a wife. I love my wife. I don't like men, as you might";
• Refers to State Rep. Brian Sims as a "lying homosexual"; and
• Repeatedly blocked legislation that would ban LGBTQ discrimination from coming to the Pennsylvania House floor.
Donate $15 to vote for Daryl Metcalfe as the scariest bigot! >>
Montana's Rodney Garcia
• Routinely misgenders our candidate Amelia Marquez, despite numerous corrections;
• Attacks Amelia for receiving our endorsement;
• Broke campaign finance laws and refuses to fix the mistake; and was
• Convicted of domestic abuse and still talks about 'morality'!!
Donate $15 to vote for Rodney Garcia as the scariest bigot! >>
Tags: Defeat Bigots, Mike Pence Bigot, Political Donations, Victory Fund, Victory Fund 2018