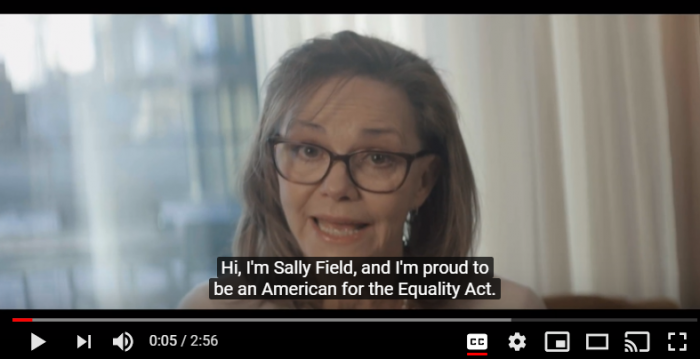 WASHINGTON — Today, the Human Rights Campaign (HRC), the nation's largest lesbian, gay, bisexual, transgender and queer (LGBTQ) civil rights organization, announced the launch of a star-studded Americans for the Equality Act public awareness and advertising campaign filmed by award-winning directors Dustin Lance Black and Paris Barclay. The series, which launches today with a debut video featuring Academy Award-winning actress Sally Field and her son Sam Greisman, will feature prominent figures in entertainment, sports and beyond speaking about the need for the Equality Act — a crucial civil rights bill that would extend clear, comprehensive non-discrimination protections to millions of LGBTQ people nationwide.
WATCH: Debut video featuring Academy Award-winning actress Sally Field and her son Sam Greisman
Currently, 50 percent of LGBTQ Americans live in one of the 30 states without statewide legal non-discrimination protections for LGBTQ people — leaving millions at risk of being fired, denied housing, or refused service because of who they are or whom they love. The Equality Act would guarantee existing civil rights laws apply to LGBTQ people by providing clear, consistent non-discrimination protections based on sexual orientation or gender identity across key areas of life, including employment, housing, credit, education, public spaces and services, federally-funded programs and jury service.
Reintroduced in Congress on March 13, the measure has unprecedented support from nearly 70 percent of Americans, more than 280 members of Congress, 170 major businesses and more than 300 social justice, religious, medical and child welfare organizations. Recent polling finds that a growing majority of Americans support federal non-discrimination protections and LGBTQ equality. A recent survey by PRRI found that nearly seven in 10 Americans support laws like the Equality Act, including majorities in every single state and majorities of Republicans, Independents and Democrats alike.
Over the coming days and weeks, HRC will roll out videos from a powerhouse lineup of supportive film and television actors, influencers, musicians and professional athletes, including Adam Rippon, Shea Diamond, Alexandra Billings, Blossom Brown, Charlie and Max Carver, Dustin Lance Black, Paris and Christopher Barclay, Gloria Calderon Kellett, Jamie Lee Curtis, Jane Lynch, Jesse Tyler Ferguson and Justin Mikita, Justina Machado, Karamo Brown, Marcia Gay Harden, and Nyle DiMarco. The new series is modeled after HRC's successful Americans for Marriage Equality campaign. The campaign will continue as the legislation is considered in Congress, with additional videos being produced.
"This is an exceptionally important effort, and I'm so proud to have had the opportunity to both direct this series and participate with my family," said Emmy Award-winning director Paris Barclay. "So much of the progress of the LGBTQ movement has hinged on our ability to tell our stories and move people — and that's the same spirit with which we've approached this compelling project. I was moved by the stories from the talented people participated in this campaign. We join them in working to make history again by passing the Equality Act."
"Every American deserves a fair shot at a job to support themselves and their family, and the security of a roof over their head," said Academy Award-winning director Dustin Lance Black. "These are key ingredients in what we've long cherished as our 'American Dream.' But until the Equality Act is signed into law, this dream may not be a reality for far too many Americans in many areas of our wild and wonderful country. I believe we must all share our personal stories and struggles with our fellow Americans in order to help this great dream become a reality for more of our loved ones, coworkers, and neighbors."
"The advocates and artists featured in HRC's 'Americans for the Equality Act' video series amplify the chorus of voices urging Congress to pass the Equality Act," said HRC President Chad Griffin. "The harsh reality is that LGBTQ Americans still face real and persistent discrimination in their everyday lives, and Congress must pass the Equality Act to protect them. We're grateful for these incredible champions for using their voices and platforms to help ensure every person is treated equally under the law, no matter who they are or who they love."
The Human Rights Campaign is America's largest civil rights organizations working to achieve equality for lesbian, gay, bisexual, transgender and queer people. HRC envisions a world where LGBTQ people are embraced as full members of society at home, at work and in every community.
(Visited 2 times, 1 visits today)