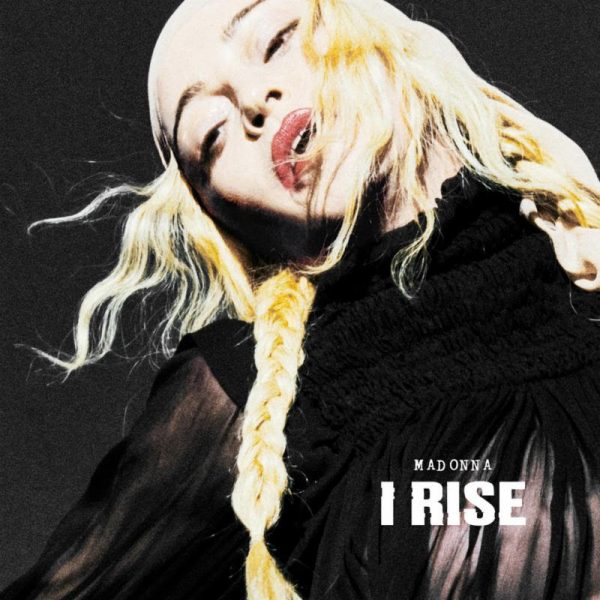 MADONNA RELEASES EMPOWERING BALLAD "I RISE"
The Queen of Promotion (aka "Madonna") is busily werking up the crowds (hopefully) to get excited about her new album MADAME X which comes out June 14th. She's releasing a new single off the album every week or so (five in total) before the release…we got her duet "Medellín" last week and this week it's her big new gay anthem (hey, it's smart to court your fanbase!) "I Rise" which honors the 50th anniversary of Stonewall/Gay Pride. 
Madge also made a video for I Rise….no word on when that gets released. That's the video project that RuPaul's Drag Race star Monet X. Change used as her excuse to bail on the Murray & Peter live national drag tour of HATER'S ROAST a few weeks back. Madonna asked Monet to to appear in the video and Monet asked for time off to do so, from Murray & Peter, who told her no, so she quit and it turned into a big nasty public feud between M&P and Monet with fans getting involved.
It was U.G.L.Y.
The poo we've heard is that Monet was under the impression she would be featured in the video but the apparent gossiped about possible reality is, she was one of SEVERAL drag queens on the shoot and she was mostly in the background during the filming and she's not happy about it….which makes sense since she rather foolishly broke an existing contract and pissed off producers to be an extra on a video.
Dumb, gurl…Dumb. There's only ONE star in a Madonna video and it ain't gonna be an extra. It gonna be….drum roll!
MADONNA!!!!
UPDATE: And, this morning they released info about the "Madame X" Tour….it's only a handful of cities to start:
The Madame X Tour will kick off September 12th at the BAM Howard Gilman Opera House in New York and will feature multiple nights of shows in each city including performances at the Chicago Theatre, The Wiltern in Los Angeles, the Colosseum at Caesars Palace in Las Vegas, the Boch Center Wang Theatre in Boston, The Met Philadelphia and at the Fillmore Miami Beach at the Jackie Gleason Theatre in 2019. The Madame X Tour will then resume in early 2020 with performances at the Coliseum in Lisbon, the Palladium in London and at the Grand Rex in Paris. Here is a link to a video from Madonna about the Tour: 

https://madonna.lnk.to/TourVid

To ensure fans have best access, ticket requests for all shows will be accepted now through Friday, May 10th (11:59pm EDT) at 

madonna.livenation.com

. Fans will be able to select city and show preference plus their preferred price points prior to completing their request. By Friday, May 17th, fans whose requests have been confirmed will be notified of fulfillment and informed of their ticket allocation(s) and corresponding show information. All fans will be notified even if we were unable to accommodate their request. Tickets will be fulfilled at Ticketmaster Secure Mobile Tickets. Every ticket purchased includes a CD of Madonna's new release Madame X in stores June 14th. Event ticket limit is 4 per person. To submit ticket requests and for complete city & date, VIP and Travel Package information visit: 

Madonna.livenation.com

.

Tickets for these very special Madame X performances will be scaled between $60.00 – $760.00 (plus applicable service fees). Additionally, fans will have the opportunity to enter to purchase tickets at $10.00 at 

Madonna.com

. There will be 10 tickets available per show and fans will be notified on show date if they have been selected for this unique opportunity.

Icon is Madonna's official fan club and Verified Lifetime Legacy members of Icon will receive first access to tickets and VIP Packages to these very special dates. Legacy Fan Club members will sign in at 

www.madonna.livenation.com

 and register for the show(s) of their choice. Verified Icon members will receive notification of their seat selection on Friday, May 17

th

. Icon Fan Club members will be eligible to receive tickets for a single event in up to two cities.
More breathless info from the "I, Rise" press release:
Madonna has released the empowering and anthemic ballad "I Rise," the second track of five songs to be previewed before her highly-anticipated new studio album Madame X debuts globally on June 14th. Following the release of the critically-acclaimed "Medellín," additional songs to be shared with fans include the infectious pop gem "Crave" featuring Swae Lee and produced by Mike Dean on May 10, the Jamaican dancehall vibes of "Future" featuring Quavo on May 17, as well as the sonically innovative "Dark Ballet" on June 7. To listen to "I Rise," visit HERE.
Madonna says, "I wrote 'I Rise' as a way of giving a voice to all marginalized people who feel they don't have the opportunity to speak their mind. This year is the 50th anniversary of Pride and I hope this song encourages all individuals to be who they are, to speak their minds and to love themselves."
As previously announced, on May 4 GLAAD, the world's largest lesbian, gay, bisexual, transgender and queer (LGBTQ) media advocacy organization will honor Madonna with the Advocate for Change Award at the 30th Annual GLAAD Media Awards in New York City. Madonna is the second person and first woman to ever receive this recognition, which is awarded to a person who changed the game for LGBTQ people around the world through their work.
Influenced creatively by living in Lisbon, Portugal over the past several years, Madame Xis a collection of 15 new songs that celebrate Madonna's career-long affair with Latin music and culture as well as other global influences. Singing in Portuguese, Spanish and English, Madonna collaborated on Madame X with longtime producer Mirwais, as well as with producers Mike Dean and Diplo, among others.
NPR says, "Medellín is a carefully dosed combination of…coolly narcotic dance-pop…and energetic reggaetón," while Entertainment Weekly declares the song is, "A breezy, summer-ready anthem…" NME calls Medellín a "self-reflective gem of a pop song" andThe Guardian says, "Medellín is a potent reminder of Madonna's deft history of meshing genres."
Madame X from Live Nation, Interscope Records and Maverick will come in a standard and deluxe version of the album and is now available for 

pre-order

. Album pre-orders include a download of "Medellín" and "I Rise," which is available across 

Apple

, 

Spotify

 (pre-save), 

Amazon

 and all DSPs. Further details regarding the album, videos and appearances will be announced in the coming weeks.
For more information, please visit:
(Visited 1 times, 1 visits today)