Seattle resident and former Amazon software engineer Paige Thompson, 33, was arrested July 29th and made her first appearance in U.S. District Court and ordered detained pending a hearing scheduled for Thursday, August 1st for allegedly hacking into Capital One Financial Corporation systems and stealing personal information on nearly 100 million US and Canadian citizens. Though the data was stolen from its storage location on Amazon's Web Services cloud, Capital One has admitted the hack was the result of an error on Capital One's part, through a misconfiguration in its firewall designed to protect the bank's servers.
Thompson allegedly broke into their servers between March and July of this year. Authorities were alerted to the crime by tips that Thompson was openly discussing the crime on social media including on a site called GitHub where a "white hat hacker" reported Thompson to Capital One on July 17th.
Thompson has a long history of discussing personal issues on social media with many posts suggesting a struggle with mental illness including suicidal threats and expressing a desire to be deported to Denmark to undergo legal euthanasia.
On July 12th she posted this message on Twitter posting under the name "Erratic":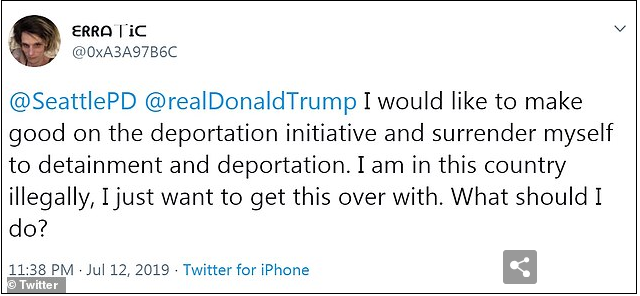 Thompson's motives are unknown. Per her posts, it appears she had only acquired the information but hadn't actually done anything with it, or indicated that she planned to use it for fraudulent purposes. Capitol One doesn't believe the information was used for fraud but is offering free credit monitoring services to all victims of the hack.
'Importantly, no credit card account numbers or log-in credentials were compromised and over 99 percent of Social Security numbers were not compromised,' Capital One said in today's statement.
Tags: Capital One, Capital One Bank Hack, Capital One Financial Servcies, Cyber Crime, Hacking, Paige Thompson, Seattle Cyber Crime