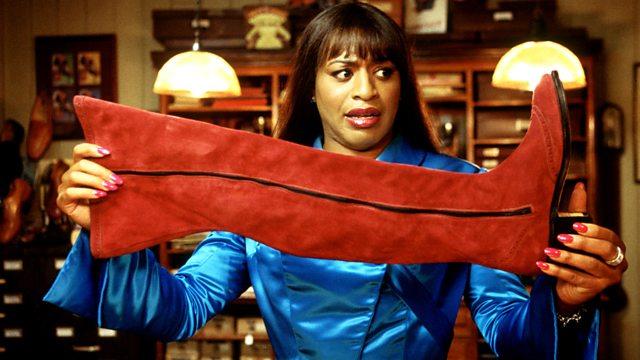 Some of y'all are scratching your heads and thinkin': 
"HEY! ISN'T IT TIME FOR THREE DOLLAR BILL CINEMA'S ANNUAL OUTDOOR MOVIES IN CAL ANDERSON PARK EVENTS?"
And, yes…yes, loud typing Local Person Who Enjoys Free LGBTQ Movies In The Park, it is.
It's happening Friday, August 30th (Labor Day Weekend!) with the fun pre-show starting at 7pm (DJ music) and the screening to start at dusk (around…8:15ish) but get there earlier to snag a prime location on the lawn just north of the playing fields at Cal Anderson Park on Capitol Hill. 
You might also note/ponder that there seems to be only ONE Three Dollar Bill Cinema Outdoor Movie Screening in the Park event this year as opposed to previous years with 3 or 4 such events and the sad answer to your pondering is, these events aren't cheap to produce. They're, of course, FREE public events so they don't bring in much money (some concession sales) and they cost several thousand dollars to put on; Three Dollar Bill had to cut back this year, so there will only be one park screening this year.
(If this makes you sad, then dig into your pocket and give Three Dollar Bill Cinema money so they can continue to produce super events like the Outdoor Movies, and the Seattle Queer Film Festival (which is coming up in October) and Translations Film Festival. ALSO, if you own a business or are high end management, see about corporate sponsorship for Three Dollar Bill Cinema events! We're a'thinkin' you can probably write such things off on your taxes!!! Go HERE to give them money!!!)
Oh, I almost forgot to mention the MOVIE being screened….it's the adorable KINKY BOOTS, the 2005 British com-dram starring Joel Edgerton as Charlie, who has inherited his family's failing shoe factory, and Chiwetel Ejiofor as Lola, a drag queen who encourages Charlie to make gorgeously sexy shoes and 'kinky boots' in sizes big enough for everyone to wear. Naturally, complications and wackiness ensue with the inevitable outcome that everyone learns valuable lessons about acceptance.
It might be a movie you've never seen, yet the title and story are VERY familiar to fans of the 2013 Tony Award winning musical version of the film, with music and lyrics by pop star Cyndi Lauper and a book by Harvey Fierstein. It was a surprise smash hit that ran for years with several tours making its way to Seattle. Now is your chance to see the original film (which actually has lots of music in it, too) on a big screen.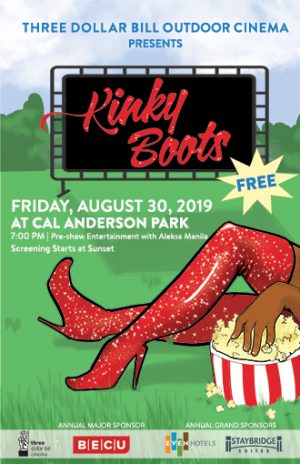 Friday, August 30, 2019 | The Meadow at Cal Anderson Park
Pre-Show Begins at 7:00 pm | Screening is at Sunset
A drag queen (Chiwetel Ejiofor) comes to the rescue of a man who, after inheriting his father's shoe factory, needs to diversify his product if he wants to keep the business afloat. See the fantastically funny film that inspired the smash-hit Broadway musical!
Rating: PG-13 (for thematic material involving sexuality, and for language)
Runtime: 106 minutes
Pre-show, hosted by Aleksa Manila, and concessions begin at 7:00pm with popcorn, candy and cold beverages to purchase as well as chairs to rent!
Screening to begin at sunset (around 8:15 pm) at the SE corner of Cal Anderson Park. ARRIVE EARLY to get a good seat and join us for the pre-show events.
Tags: Cal Anderson Park, Kinky Boots (film), Outdoor LGBTQ Film, Three Dollar Bill Cinema