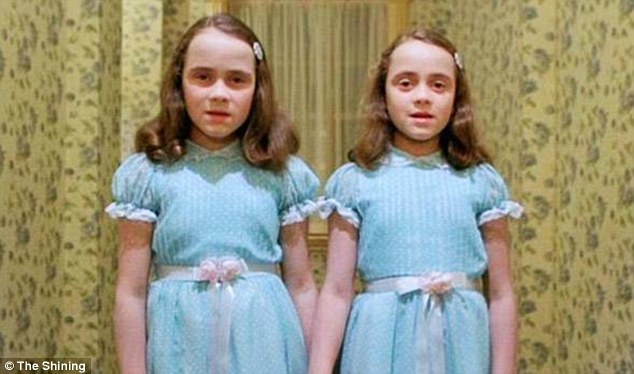 Halloween has always been a two part holiday…well, at least for the last few decades. It used to be pretty much strictly for the kids…you went trick or treating on October 31st. Older kids/students/young adults might go to a costume party. Adults might go to a fancy dress party at the "club".
Now, of course, it's a big deal with any nightlife venue vying for Halloween bucks. But, since October 31st can fall on any day of the week, the tradition has become, "crazy parties at public venues on the Saturday before Halloween" and "more subdued events on the night itself"….unless it falls on a Saturday.
This year, Halloween is a Thursday which has bar owners excited about the prospect of a Three Day Holiday Weekend for increased revenue…which is probably why there seems to be more October 31 events this year as opposed to years where October 31 is on the dreaded Monday or Tuesday.
I'll cover October 31 events in another post but go check out the Calendar to find them all, over HERE!
THIS post is about stuff happening this upcoming Saturday, October 26th and specifically for events with some ties to Halloween/General Spookiness. If I left anything out, let me know at info@seattlegayscene.com !
5:00 PM
October 26 @ 5:00 pm – 2:00 amCc Attle's, 1701 E Olive Way
Seattle, 98102 United States + Google Map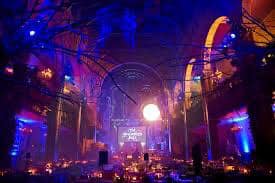 AS ALWAYS NO COVER EVER !!!!!!!! Join the Staff at CC's for a fun filled evening come out wearing body paints or your neon, florescent or bright whites…..we have installed black lights throuugh out the bar so you can show your glow…….As always if there is a line those in costume get priortiy entry……….Find out more »
October 26 @ 5:00 pm – 9:00 pmPipsqueak Gallery, 173 16th Avenue
Seattle, WA United States + Google Map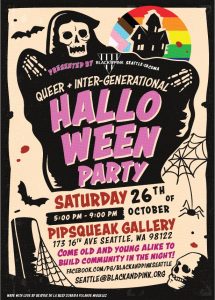 Come out to Pipsqueak Gallery (173 16th Ave) the Saturday before Halloween to join Black and Pink and friends for a Halloween party focused on building queer community across generations! Meet new folks and old friends! Eat a bite, take a sip, have a good talk, show off a dance move or two, learn more […]Find out more »
6:00 PM
October 26 @ 6:00 pmSheraton Grand Seattle, 1400 6th Avenue
Seattle, WA 98101 United States + Google Map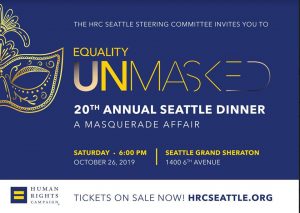 HRC Seattle is excited to announce this year's 20th Annual HRC Seattle Dinner "Equality Unmasked: A Masquerade Affair" will be held on October 26th at the Seattle Sheraton. Mark your calendars for what will be a night to remember. Visit www.hrcseattle.org for more info and to buy tickets!1400Find out more »
7:00 PM
October 26 @ 7:00 pm – 10:00 pm|Recurring Event (See all)Skylark West Seattle, 3803 Delridge Way SW
Seattle, WA 98106 United States + Google Map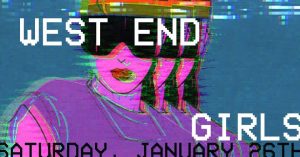 ⭐ West End Girls: A Drag Extravaganza! ⭐ 🎟️ TIX: buytickets.at/theskylark/284336 🎟️ Hosted by Cookie Couture Performances by: Anita Spritzer Betty Wetter Londyn Bradshaw Old Witch Stacey Starstruck Thadayus Poster Design: Alex Thomas | http://alextthomas.com/ Door: 7PM | Show: 8PM $10 online | $13 day-of 3803 Delridge Way SWFind out more »
October 26 @ 7:00 pm – 9:00 pm|Recurring Event (See all)ACT Theatre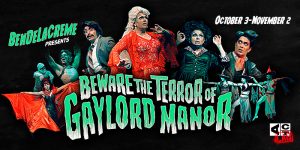 30 Shows! Oct 3 to Nov 2, 2019 Returning to haunt ACT Theatre for a third consecutive year, internationally acclaimed drag artist BenDeLaCreme is joined by an all-star cast of comedy, dance, cabaret and burlesque luminaries for a tale of Halloween horror sure to leave you howling! Pull up a seat in the heart of […]Find out more »
October 26 @ 7:00 pm – 11:00 pmAll Pilgrims Christian Church, 500 Broadway E
Seattle, WA 98102 United States + Google Map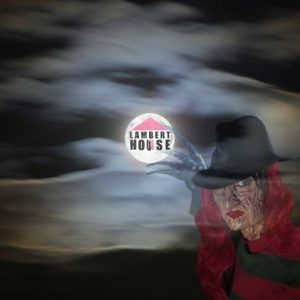 A spookily-fun dance for LGBTQ and ally youth ages 13-22! Come to make friends, with friends, or both and dance in celebration of the most haunted holiday of the year! Featuring lots of food and beverages, DJ Sean from Seattle Parties, a youth drag show, introvert room, coat and bag check, and more! Suggested donation […]Find out more »
8:00 PM
October 26 @ 8:00 pm – 2:00 amThe Crescent Lounge, 1413 E Olive Way
Seattle, 98122 United States + Google Map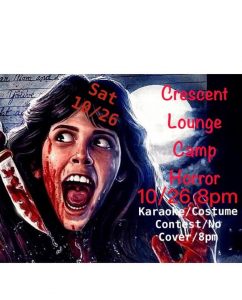 Come celebrate Crescent 80's Camp Horror! Karaoke all day and night starting at 4pm. Costume contest at midnight with cash prizes for 1st, 2nd and 3rd place. Judging will be on Realness, Funniness and Campiness! Playing camp horror movies for the night! Never a cover, come play at the Pacific Northwest's oldest gay and dive […]Find out more »
October 26 @ 8:00 pm – 10:00 pm|Recurring Event (See all)Studio Current, 1100 E Pike St
Seattle, 98122 United States + Google Map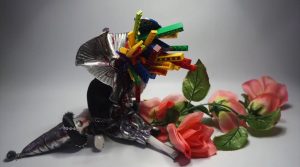 Drag up your Halloween weekend with an authentic scary maze produced by @intima_cabaret Rosa Marchita challenged her sisters to prepare a performance about their worst nightmare. You will be taken inside the dark corners of Íntim@'s world, where all the monsters hide. These latinx queens have gory secrets, and they will share it with you […]Find out more »
October 26 @ 8:00 pm – 3:00 amThe Cuff Complex, 1533 13th Ave
Seattle, WA 98122 United States + Google Map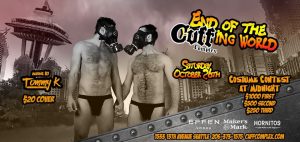 End Of The Cuffing World. The Cuff's Annual Halloween Party and Costum Contest. Saturday October 26th 8:00pm to 3:00am Music By DJ TOMMY K Costume Contest at Midnight. Your Host DJ Disco Vinnie. Prizes are $1000 First Place, $500 Second Place and $250 Third Place. Drink Specials all Night. Cover Charge $20Find out more »
October 26 @ 8:00 pm – 11:00 pmPalace Theatre & Art Bar, 5813 Airport Way South
Seattle, WA 98108 United States + Google Map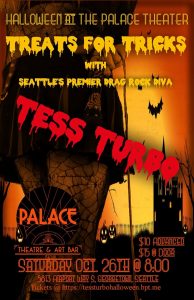 Tess Turbo is doing her first solo performance at The Palace Theatre and Art Bar for a rockin' Halloween show! Seattle's Premier Drag Rock Diva will grab your soul and haunt your dreams with 2 sets of high energy entertainment. Playing dress up is fun, so everyone is encouraged to ransack their costume closet and […]Find out more »
9:00 PM
October 26 @ 9:00 pm – 2:00 amFred Wildlife Refuge, 128 Belmont Ave E
Seattle, 98102 United States + Google Map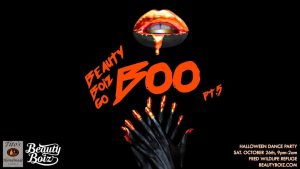 Get your costume ready queers, because it's time for our 5th annual Halloween Costume Dance Party! On Saturday, October 26th, the BeautyBoiz are back at Fred Wildlife Refuge (128 Belmont Ave. E, Seattle WA 98102) with BeautyBoiz go BOO, pt. 5. The event will feature a 30min Drag Spooktacular at 10:30pm, a dance party with […]Find out more »
October 26 @ 9:00 pm – 12:00 amClock-Out Lounge, 4864 Beacon Ave S
Seattle, 98108 United States + Google Map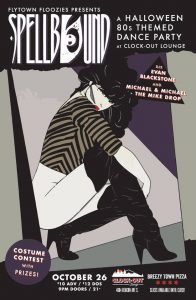 Party in your best Halloween costume, with an 80's inspired theme! DJ's Evan Blackstone and Michael & Michael – The Mike Drop, will be spinning all night long. $10 Advance // $12 Day of Show Costume Contest With Prizes! Note: not a specific LGBTQ event; open to allFind out more »
October 26 @ 9:00 pm – October 27 @ 5:00 amFirst & Bell, 2218 First Avenue
Seattle, WA 98121 United States + Google Map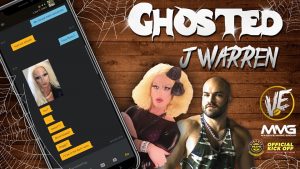 Did that naughty photo drop get no response? Maybe they're busy? Oh, but their status says online. Sorry girl, you just got GHOSTED! Boo to that! But hey, Verotica, the Queen of being ghosted, has got your back. "Not everyone can handle all this woman either babe, and I have tricks….all kinds of tricks." – […]Find out more »
October 26 @ 9:00 pm – 2:00 amQueer Bar, 1518 11th Ave
Seattle, 98122 United States + Google Map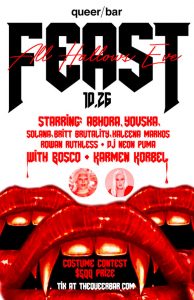 "Join us at the table. It's time to FEAST…" To celebrate the upcoming Samhain, Queer Bar invites you to FEAST: All Hallows' Eve with hosts Bosco and Karmen Korbel. A night of debauchery, decadence, and desire to welcome the thinning of the veil between this world and the next. Local drag legends Kaleena Markos, Solana […]Find out more »
October 26 @ 9:00 pm – 2:00 amThe Lumber Yard Bar, 9619 16th Ave SW
Seattle, WA 98106 United States + Google Map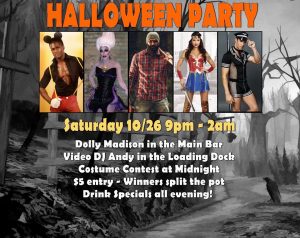 The Lumber Yard Bar is having a Halloween Party and you're invited! Costumes encouraged and we'll be holding a Costume contest at Midnight. Get those creative juices flowing, it's $5 to enter the contest – winners will split the total cash pot!! 🤑💵💰 Dolly & the DJ performing upstairs in the Main Bar Video DJ […]Find out more »
October 26 @ 9:00 pm – 2:00 amSeattle Eagle Tavern, 314 E Pike St
Seattle, WA 98122-3610 United States + Google Map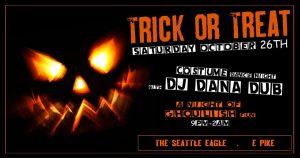 TRICK OR TREAT COSTUME BASH w/DJ DANA DUB A NIGHT OF GHOULISH FUN So excited to be back at the Dirty Bird kicking your Halloween Weekend on Saturday, October 26. Cum undead vamp witchy and expect to dance Dark Synth, Goth, Industrial, EBM, Acid House and other spooktackular favorites! ⚰️⚰️⚰️ Soundtrack by: DJ DANA DUB🎧 […]Find out more »
October 26 @ 9:00 pm – 1:00 amBackyard, 3820 S. Ferdinand St. Ste. 102
Seattle, WA 98118 United States + Google Map
Join us at Backyard in Columbia City for a spooktacular affair complete with karaoke, drag performances, costume contest, photo booth, dancing, themed drink specials, and more! Your bewitching host for the evening is Queen Andrew Scott joined by special guests and Backyard newcomers Rylee Raw and Phoenyx. KJ Fehronemo will keep you movin' and groovin' […]Find out more »
10:00 PM
October 26 @ 10:00 pm – 12:00 am|Recurring Event (See all)ACT Theatre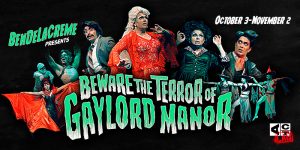 30 Shows! Oct 3 to Nov 2, 2019 Returning to haunt ACT Theatre for a third consecutive year, internationally acclaimed drag artist BenDeLaCreme is joined by an all-star cast of comedy, dance, cabaret and burlesque luminaries for a tale of Halloween horror sure to leave you howling! Pull up a seat in the heart of […]Find out more »
October 26 @ 10:00 pm – 2:00 amReBar, 1114 Howell St
Seattle, WA 98101 United States + Google Map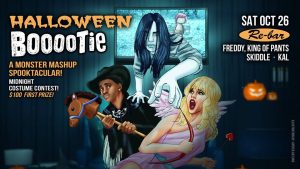 Re-bar, 1114 Howell St, Seattle $15 before 10:30 PM . $20 after . 21+ w/ ID 💀 It's a Monster Mashup Spooktacular, with a Midnight Costume Contest with cash prizes! Plus, scary good mashups to keep you on the dance floor well past the witching hour! 💀 ► MIDNIGHT COSTUME CONTEST $100 First Prizes for […]Find out more »
October 26 @ 10:00 pm – 2:00 amTimbre Room, 1809 Minor Ave.
Seattle, 98101 United States + Google Map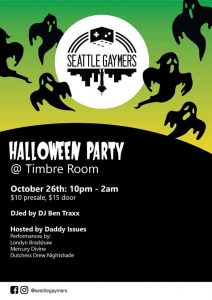 For the 4th year in a row, Seattle Gaymers is thrilled to bring our annual Halloween Party in conjunction with our fabulous peers at Timbre Room. Join us at this fun-filled event featuring music by DJ Ben Traxx and hosted by our very own Daddy Issues. PLUS Performances by Londyn Bradshaw, Mercury Divine, and Dutchess […]Find out more »
October 26 @ 10:00 pm – 2:00 amTrain Car House Party, 2963 4th Ave S
Seattle, WA 98134 United States + Google Map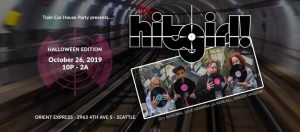 TCHP and HITGIRL (Julie Herrera, LA Kendall LaBree, Aundrea Stoyanov, and Ginger Vaughn Hollinga) GET SPPOOOOOKY for OUR ANNUAL HAUNTED TRAIN EDITION!!!Find out more »
(Visited 1 times, 1 visits today)