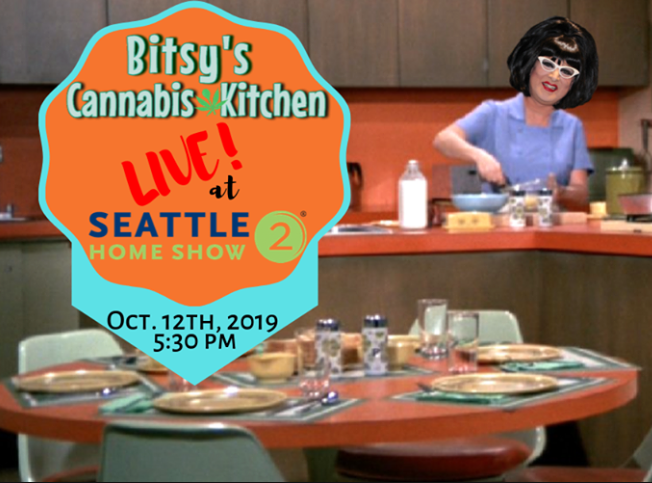 I NEVER thought I'd be doing a post about the frickin' Seattle Home Show (I'm about five seconds away from not having a home, at any given time…do you think blogging pays well? Well…DO YOU? Well, it doesn't!!!) but blogs demand content and frankly the idea of a gay man dressed up in drag to make pot brownies for suburbanite dads and housewives cracks me up so…
Join BITSY BATES, Seattle's one and only Cannabis Queen (well, most queens I know in this town are technically "cannabis" queens if you get what I mean, but Bitsy likes to show off her "baking" skillz…) for a very spatial Seattle Home Show edition of her popular "Bitsy's Cannabis Kitchen" show she does on the interwebs. It's happening this Saturday at CenturyLink Field Event Center (down in Stadium Land) and you need a ticket to get in to see Bitsy, who does her show from 5:30pm to 6:30pm on Saturday, October 12th. Tickets are actually pretty cheap to go to the Home Show (go here to snag them).
She's also encouraging you to enter to win a Magical Butter Machine but you gotta be 21+ to do that 'cause marijuana will rot your brain, kid!
(It won't….unless you smoke bushels of it a day…)
Bitsy has a lot of love for the Magical Butter Machine!!!
Come see a live Seattle Home Show edition of "Bitsy's Cannabis Kitchen" at Centurylink Field Event Center & you could win a Magical Butter Machine Master Bundle! The World's First Counter-Top Botanical Extractor allows you to infuse butter, oils, and tinctures; make soups, sauces, salad dressings, or even topicals & salves all in one unit!
The Master Bundle comes with everything you need – just add your own flower! Items Included:
– MB2e Machine
– DecarBox
– MB Cookbook
– LoveGlove
– PurifyFilter 190 + 73
– MB Butter Tray
– 2mL Gummy Trays
– 8mL Gummy Trays
Tickets at: http://seattlehomeshow.com/tickets
(Visited 6 times, 1 visits today)