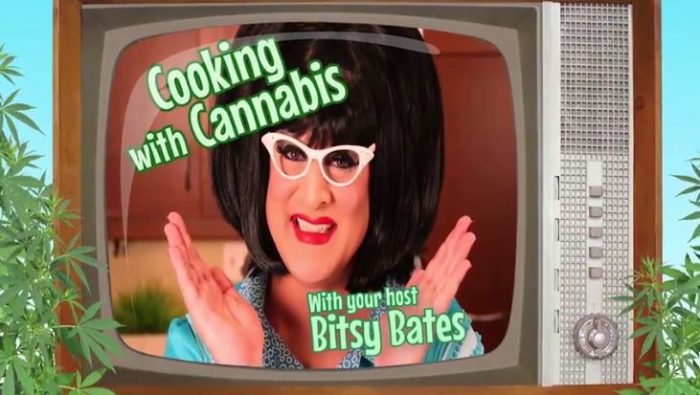 We LOVE a good advertorial!
Part not-so-subtle advertisement!
Part entertainment!
Part commentary!
So many parts!
(Note: we aren't being paid to run this story…technically it's NOT an advertorial, just clever marketing…However, we are certainly OPEN to being for advertorials. Hint, hint. We are cheap and desperate for affection.)
Uncle Ike's is the beloved (by most) Central District weed shop at 23rd and Union that has become one of Seattle's most popular stores for the purchase of legal marijuana and marijuana products (Buddha bless the wise citizens of the State of Washington for having the good sense to legalize weed!)
Unkie Ike has teamed up with "Bitsy Bates" aka Seattle drag star/actor Andrew Tasakos who has been around for a VERY long time (yet remains refreshingly young….we suspect 'fillers' or a pact with Satan….) to create a new video series on how to cook with marijuana. The result is UNCLE IKE'S CANNABIS KITCHEN starring Bitsy Bates and the first episode has just dropped featuring Ms Bates whipping up an essential component of cannabis cooking: Weed Butter.
They've made a total of 8 episodes for Season One and we're guessing they'll be dropping new episodes every week or so.
You can check out more info on their website and here's a bit more info about the series down below:
Join Bitsy on a cannabis culinary adventure as the Season premiere kicks off with a hilarious tutorial on how to make cannabutter and other infused oils using non-traditional methods. What can you make with canna butter? EVERYTHING!

For the rest of the season, Bitsy will show you step by step how to use those infused ingredients to make delicious dishes. This isn't just brownies folks, hummus, pesto pasta, chicken piccata to name a few. Signature cocktails as well! Season highlights feature our friends at Entre Hermanos  joining in on the fun, and in the season finale, we're joined by special guest Mistress Matisse of Velvet Swing. You will not want to miss this one! (trust us, it's about cannabis infused personal lubricant, things go wrong.)

About Bitsy Bates

Andrew Tasakos, aka Bitsy Bates, is a professional drag queen and actor from Seattle, WA.  Andrew added his name to Seattle drag history in 1994 when he co-hosted "Queens Kitchen", a revolutionary public access television show in local LGBTQ entertainment.  Andrew's newest project, "Uncle Ike's Cannabis Kitchen" is his perfect "creative storm", created & filmed in his home, and premieres August 2017.

Magical Butter appliances are 15% OFF at Uncle Ike's Glass & Goods through Labor Day!
The actual episode!!!!
(Visited 1 times, 1 visits today)