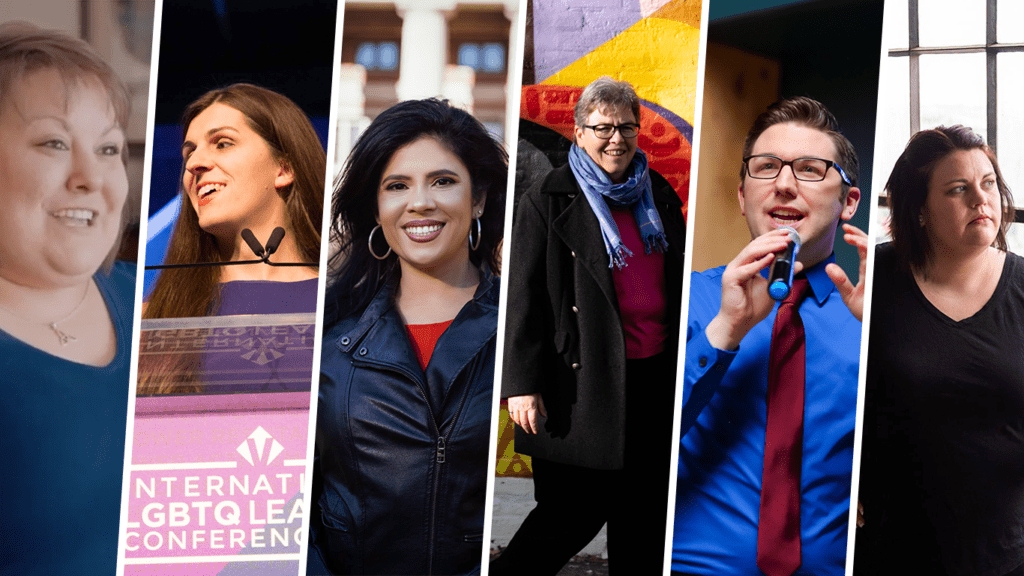 Here are the top five stories the LGBTQ Victory Fund team will be tracking tonight! We'll also be updating our live candidate tracker as results roll in. Watch along here: victoryfund.org/results2019.
1. Will LGBTQ candidates determine control of the Virginia state legislature?

Five openly LGBTQ state legislators are on the ballot in Virginia Tuesday night. While all are incumbents, Virginia Delegates Danica Roem and Dawn Adams are in seats considered competitive by both parties. With all 100 seats in the House of Delegates on the ballot and Republicans holding the majority 51-48, victories for both Roem and Adams are considered essential to Democratic efforts to retake the House. Openly LGBTQ Delegates Mark Levine and Mark Sickles also must hold their seats but are in safer districts.

In the Virginia state Senate, Republicans hold a 20-19 majority and openly LGBTQ state Senator Adam Ebbin is running for reelection. While Ebbin's seat is a crucial hold if Democrats are to take the majority, he is expected to win.
2. Can Danica Roem defeat a transphobic opponent… again?

Virginia Delegate Danica Roem – who made history in 2017 when she became the first openly trans person to win and serve in a state legislature – is in a tough reelection race against anti-LGBTQ opponent Kelly McGinn. McGinn has a long history of opposing equality for LGBTQ people but has attempted to position herself as more moderate. Yet in the final weeks of the campaign, an organization with close ties to McGinn released a transphobic online attack ad featuring Roem, saying she "sponsored a bill to force all insurance companies to pay for harmful and unnecessary 'gender transition' surgeries." Roem will become the first openly trans state legislator ever reelected if she wins Tuesday night. She is one of eight transgender candidates on the ballot. Three genderqueer/non-binary candidates are also on the ballot.
3. Will Eliz Markowitz set the stage for Texas state legislative races in 2020?

All 150 Texas state House seats are up for election in 2020 and Democrats must flip just nine seats to take the lower chamber, which has consistently introduced anti-LGBTQ legislation under Republican leadership. But first comes a special election being billed as one of the most important state legislative races of 2019 and a bellwether for 2020. Openly LGBTQ candidate Eliz Markowitz is the sole Democrat running against a field of Republicans – and her seat is considered a critical pickup. While she would need to run again in 2020, the advantages of incumbency make it more likely she can hold the seat in a once conservative district. Markowitz will be one of six openly LGBTQ people in the state legislature if she wins.
4. Will LGBTQ people of color see a significant increase in representation?

There are currently 163 openly LGBTQ people of color who serve in elected positions – just 21 percent of all LGBTQ elected officials nationwide. On Tuesday night, voters have an opportunity to elect 31 non-incumbent LGBTQ people of color and 11 incumbent LGBTQ people of color, moving the total number of LGBTQ elected officials of color from 163 to potentially more than 190. Among some of the historic opportunities:
Earlier this year, a number of history-making LGBTQ candidates of color won their races. Lori Lightfoot was elected mayor of Chicago, Antonio Brown elected to the Atlanta City Council and Greg Smith to the Juneau Assembly in Alaska. 
5. Will four major cities increase LGBTQ representation on their city councils?

There are opportunities to increase or secure LGBTQ representation on four major city councils – Boston, Houston, Indianapolis and Seattle – with potential history-making candidates running for reach.

Boston
Two openly LGBTQ candidates – Alejandra St. Guillen and Liz Breadon – are  running for Boston City Council and either would become the first openly LGBTQ woman elected to the council. Boston voters have not elected an openly LGBTQ person to the city council in more than 25 years. St. Guillen would also be the first Latina elected to the council.

Houston
Voters in Houston can dramatically increase the number of LGBTQ city councilmembers on Tuesday, with incumbent Robert Gallegos running for reelection and ten other openly LGBTQ council candidates on the ballot. In addition to Gallegos, four of the candidates are endorsed by Victory Fund: Nelson Adriatico, Nick Hellyar, Shelley Kennedy and Isabel Longoria. Kennedy and Logoria would be the only openly LGBTQ women on the city council and Longoria would be the first openly LGBTQ Latina ever elected to the body.

Indianapolis
Openly LGBTQ representation on the Indianapolis City-County Council could triple on Election Night. Zach Adamson – the only out member – is running for reelection. Both Alison Brown and Keith Potts are running as first-time council candidates. Brown – who was targeted with an anti-LGBTQ attack ad in the final weeks of the campaign – would become the first openly LGBTQ woman elected to the council if she wins.


Seattle
Seattle currently has no LGBTQ representation on its city council, but that will change if openly LGBTQ candidate Egan Orion wins his race.
(Visited 2 times, 1 visits today)