Actor Peter Bartlett is one of those faces that gets recognized by people as "That man in that thing" from his role (2001-2012) as butler Nigel Bartholomew-Smythe (and later his identical cousin Neville) on ABC's greatly missed daytime soap One Life to Live. He appeared memorably in the original Broadway runs of Beauty and the Beast (Cogsworth), The Drowsy Chaperone (Underling),Sondheim's  The Frogs (Pluto), Rodgers & Hammertein's Cinderella (Sebastian), Something's Rotten! (Lord Clapham/Master of Justice) and the 2016 revival of She Loves Me (Headwaiter). His most enduring film credit (another butler role) was providing the voice of Lawrence in Disney's The Princess and the Frog, and he created multiple roles in the Off-Broadway cast of The Most Fabulous Story Ever Told, for which he received a Drama Desk nomination.  Chatting with Peter was as joyful a time as I've had in 2 plus decades as an interviewer.

———————————————————————————————————–
David-Edward Hughes: How long have you and the cast been here, and how's it going?
Peter Bartlett: We arrived here just about 10 days ago and start previews tomorrow. I'm holding up, thank you, and based on my experiences, the show is shaping up very well. I think.
DEH: You play a character that I for one don't remember (and couldn't find on IMDB either) named Mr. Jolly. Explain who he is.
PB: The character in the film is very brief, and very very drab. Now, I assure you my participation in this wonderful musical is scant, as in don't drop your gloves or you'll miss me! He's a children's show host, there are puppets involved. It's very sweet and different than in the film. I am so grateful for this job, and I know a lot of people say this about their companies but this a truly sweet group of people, and I hope that will hold, being mindful of the old adage about it only taking 1 person to sour the bunch.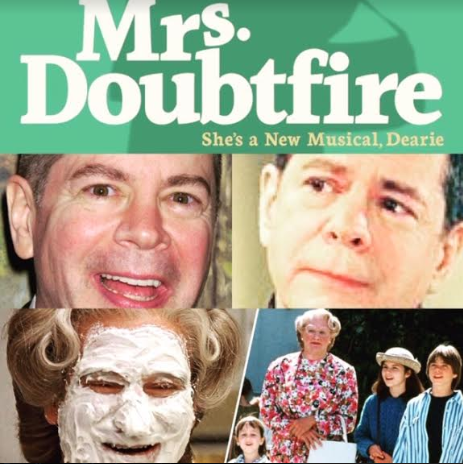 DEH: There has been so much press comparing Mrs. Doubtfire and the soon to shutter Tootsie musical….
PB: Which I loved by the way. The book of that show is so funny. No one really understands why they couldn't find their audience and it's heartbreaking. Mrs. Doubtfire adheres more closely to the film I think. The film is iconic in a Pretty Woman or The Devil Wears Prada kind of way, where they almost ought to exist on their own shadow.

I'm feeling very confident of our show. I've been through lots of techs and I have no feelings of doubt whatsoever that we're going into previews and we're not prepared. Quite the contrary! Our director Jerry Zaks is so marvelous, and keeps a firm hand on the reins. And our star Rob McClure is just a saint of a person, he has like 28 costume changes, just a lovely guy, and a brilliant performer. He brings a whole new sense to the role, and it's lovely. Not to mention he's here with his wife and a nine month old baby! Where does he get the energy?
DEH: This is clearly a great time in his life. Now I'm going to go all fanboy for a moment. Your work as Nigel on One Life To Live was so great, a butler in the tradition of the classic Hollywood Tradition of every Arthur Treacher role ever or David Niven as My Man Godfrey. 148 appearances over 21 seasons on ABC (plus a few on the later few episodes on the net). With plenty of outs to do your stage and other screen work. What a contract you must have had!
PB: It was a great job for me. Phil Carey, who played Asa my boss on the show, in the first two or three years he'd say "You're crazy not to ask them for a contract"  because they were very fond of me and the writers liked me, but I really didn't want one. I didn't want them to have the power to say I couldn't do that play or musical, or go out of town, so I never asked for a contract. I had a marvelous time popping in intermittently.  I never had to be a part of the gossip or the pecking order. Which is not to say that there weren't many lovely people on the show that I was always happy to see. And I then lived in the Village, taking the 7th Ave subway to the studio on 66th Street, unlike many soap actors who had to go out to Queens, or Brooklyn, or further, so that was so easy.
DEH: Who do you remember most fondly of your OLTL co-stars?
PB: My dear late friend Patricia Elliott who played Renee Divine Buchanan. It was such a treat to work with her on the show, especially once they married her to Phil Carey's Asa and she was part of that household. Phil Carey was a guy who got into the business under contract with Warner Brothers, one of the last contract players along with Kim Novak who he co-starred with, so I think that was why he didn't understand why I balked at having one. Our friendship took awhile, but Phil was nothing but good to me. We got on very well over those many years.
DEH: Thank you for taking the time to chat with me, Peter. Have a Mr. Jolly Christmas.
PB: My pleasure, David. The show is great, the songs the scenery, everything! I know you'll enjoy it.

————————————————————————————————————–
The World Premiere of MRS. DOUBTFIRE at The 5th Avenue Theatre 
Now Through January 4, 2020 (Extended by Popular Demand)

Book by Karey Kirkpatrick and John O'Farrell
Music and Lyrics by Wayne Kirkpatrick and Karey Kirkpatrick
Based upon the Twentieth Century Fox Motion Picture
Music Supervision by Ethan Popp
Choreographed by Lorin Latarro
Directed by Jerry Zaks

The principal cast of Mrs. Doubtfire features Tony®-nominated Rob McClure in the title role, Jenn Gambatese as Miranda Hillard, Brad Oscar as Frank Hillard, Analise Scarpaci as Lydia Hillard, Jake Ryan Flynn as Christopher Hillard, Avery Sell as Natalie Hillard, J. Harrison Ghee as Andre, Mark Evans as Stuart Dunmeyer, Charity Angél Dawson as Wanda Sellner, and Peter Bartlett as Mr. Jolly.

For Tickets and other Information go to www.5thavenue.org/show/mrs-doubtfire
(Visited 1 times, 1 visits today)