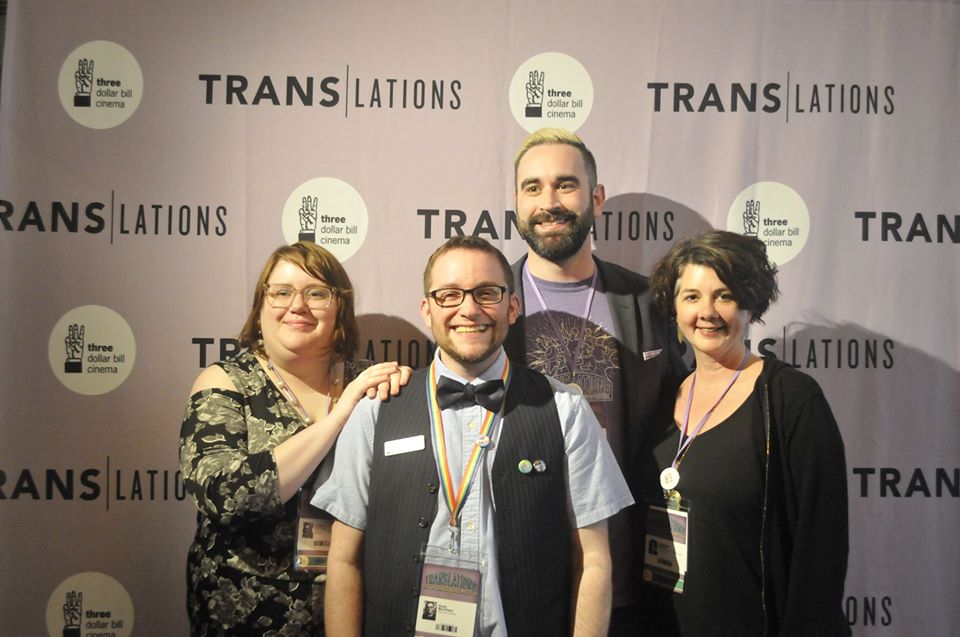 It's supposed to be a slow news time of year…nothing but "end of the year" lists and awards and holiday stories and crap of that ilk…but, for some reason, the 20 Teens are going out with a bang with the impeachment of the illegitimate president Donald Trump.
Locally, there's also quite a lot of local drama going on right now, with the most recent being some big changes at THREE DOLLAR BILL CINEMA, the non-profit LGBTQ group that produces film events for our community throughout the year including the annual Translations Film Festival and the Seattle Queer Film Festival.
in the last few weeks, both Megan Garbayo, their Outreach & Education manager and Sam Berliner, who worked as a programmer and coordinator have both left the organization for other pursuits and today, it was officially announced that Ben McCarthy has resigned his position as the Executive Director.
McCarthy broke the news on his social media today:
Seattle has been an incredible home to me for nearly a decade. I am so thankful for the amazing people I have met, the things I have done, and the memories I have made. After 8.5 wonderful years, it is time to say goodbye. Last month, I made the choice to move on and return to my roots in Charlotte, NC to be closer to my family and start the next chapter of my life. This is definitely bittersweet as I have truly loved my time in Seattle and my job with Three Dollar Bill Cinema but I am ecstatic to be around my family again.

Thank you to all of my friends, coworkers, colleagues, and my chosen Seattle family for your amazing support and love. Though I have moved on from the great PNW, I do not plan to be a stranger and hope to stay in touch with each and every one of you – and visit as often as I can.
And, Three Dollar Bill Cinema released their own statement announcing the departure of McCarthy and the news that longtime Seattle Queer Film festival Director and Programmer, Kathleen Mullen would step in as the interim Executive Director.
With both sadness and gratitude, the Three Dollar Bill Cinema board of directors announces that Ben McCarthy has decided to move on from his role as Executive Director. He has moved back to the east coast to pursue other opportunities in the arts and to be closer to his family. We thank Ben for his work with and dedication to Three Dollar Bill Cinema and wish him the best of luck in his new endeavors.
At the same time, we are thrilled to announce that Kathleen Mullen has accepted the role of Interim Executive Director. Kathleen has served as the Festival Director for The Seattle Queer Film Festival in 2014, 2015, 2018 and 2019.

Kathleen Mullen has contributed to the planning, film programming, and execution of film festivals and art organizations nationally and internationally for over twenty years. She has worked with the Vancouver Latin American Film Festival, DOXA Documentary Film Festival, Whistler Film Festival, Toronto International Film Festival, Hot Docs, Inside Out Toronto LGBT Film Festival, and Boston Museum of Fine Arts. Mullen holds a Master of Fine Arts in Film Production from York University. She has written and directed a number of short films including Button OUT!, you wash my skin with sunshine, and Sleep Lines  as well as the award-winning mid-length documentary, Breathtaking. She is a dual citizen of the US and Canada.

Kathleen is excited to take on this role with Three Dollar Bill Cinema's for the 25th anniversary year of The Seattle Queer Film Festival. She welcomes your questions, comments or hello messages. She can be reached at kathleen@threedollarbillcinema.org.
The next event on the Three Dollar Bill Cinema calendar is their big annual fundraising gala, still set for April 4th. Tickets and details HERE.
(Visited 3 times, 1 visits today)