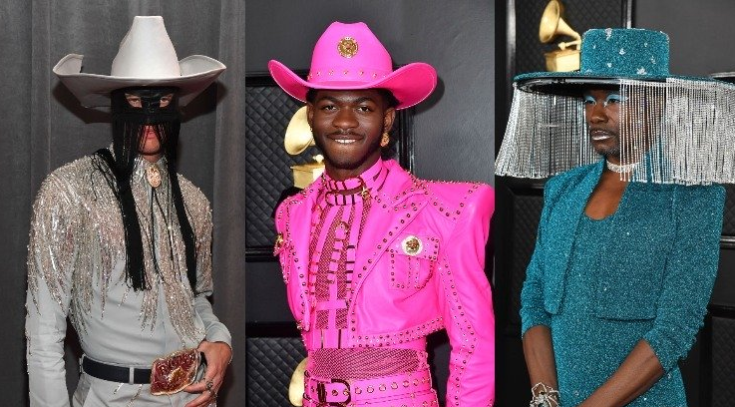 OK…which gay celebrity got the Red Carpet right in the Grammy Red Carpet Fashion Sweepstakes which happened last night at the Grammy Awards? Was it singer Lil Nas X, masked country singer Orville Peck or actor/famed Red Carpet show off Billy Porter?
We're giving this one to Lil Nas X for his sexy hot pink cowboy/fetish gear look….it's colorful, cute and ZEXY! We like the spangles on Orville's western wear look but the grey color was meh. (And, we really are already tired of the mask gimmick, TBH….) And, while Billy Porter usually is the star for his over the top lewks, we did not like his Grammy outfit. Not a fan of the color, the fabric, the silhouette or the awful make-up…he looks like a demented lamp shade from Grandma's Attic… Is he trying too hard?
Meanwhile, in "Who Actually Won A Grammy" News, the big winner was teen queen Billie Eilish who snagged all the big wins including Album, Song, New Artist. Lil Nas X did win for Pop Duo (will Billy Ray Cyrus) and Best Vidoe for his hit redo of the country standard "Old Town Road".
Our Lizzo who snagged a glob of noms, did win multiple Grammys, including Pop Solo Performance. The apparently bisexual Tyler the Creator won for Best Rap Album. And, beloved icons like Madonna, Lady Gaga and Beyoncé  all earned awards, too.
All the winners at Grammy.com.
(Visited 18 times, 1 visits today)