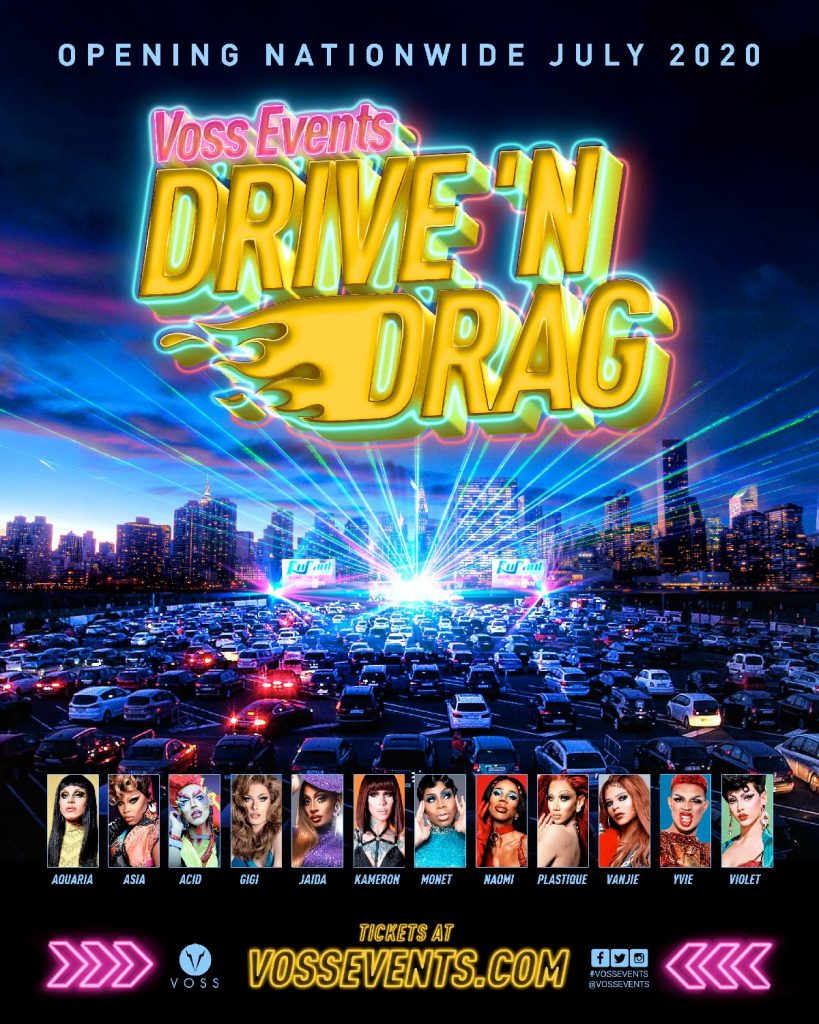 We know it's been tough for folks who adore LIVE entertainment. Live performance venues have been shut down for since March of this year due to the Covid-19 Pandemic and it's likely that indoor performances will mostly NOT be happening for the foreseeable future.
Fans of live drag have made do by watching streaming shows online but…let's be frank. There's nothing like a LIVE performance…the energy of it and the shared experience by actually being in the same room as the performer makes a world of difference between live and screened entertainment.
Happily, some changes are happening including some clever work arounds such as this…Voss Event's Live DRIVE 'N DRAG show tour which kicks off in New York before heading out to visit cities all over the U.S. including Seattle the weekend of August 14-16, 2020. This show will be staged OUTDOORS with a set up similar to the old drive in movie theaters. You'll show up in your vehicle to watch the performances from the safety of your personal space. To make sure everyone has good sight lines, the shows will also be projected onto Jumbo Screens and you can listen to the performances via your FM radio.
There will be 2 shows per night (at 7pm and 9:30p) and the Seattle events will be taking place at the huge parking lot at Southcenter Mall. Go HERE to snag your tickets and see below for more info including the scheduled line-up for the Seattle shows.
Start your engines—literally! RuPaul's Drag Race stars finally sashay back to the stage this summer! Now you can enjoy our fantastic stage shows from the safety of your car at Voss Events Drive 'N Drag. The drag show must go on! 
Live on Stage:
✯ Asia O'Hara
✯ Gigi Goode
✯ Jaida Essence Hall
✯ Plastique Tiara
✯ Vanessa Vanjie
✯ Yvie Oddly
Featuring:
✯ Jumbotron LED Screens
✯ Concert Quality Light Show
✯ Outdoor & FM Sound
✯ Gourmet Foodtrucks
✯ One Hell of a Good Time
Very limited space avaiable. Please book quickly as these events will sell out. 
Parking begins 45 minutes prior to showtime. We are located in the mall's far North Lot along Tukwila Parkway next to Bahama Breeze. 

*Line-Up Subject To Change
Tags: RPDR Stars In Seattle, Voss Events