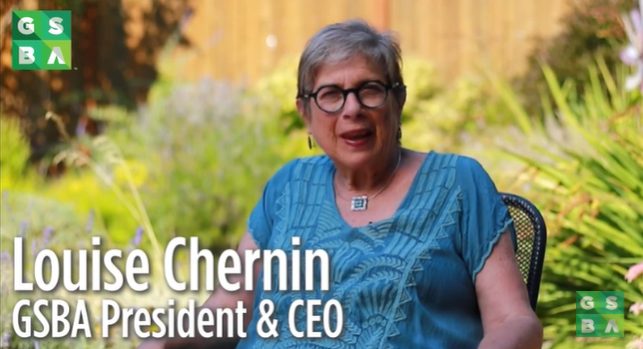 Apparently she had planned to retire earlier this year but the concerns of the Covid-19 pandemic pushed her plans back to this fall, but LGBTQ Seattle was still surprised to learn that the Greater Seattle Business Association's CEO/Executive Director LOUISE CHERNIN is stepping down from the job she's held for the last 19 years.
She released the news today via press release, a video and a message sent out via social media; she'll step down by the end of the year from the group, most commonly referred to as the "GSBA". A search for her replacement will begin immediately.
Chernin has been involved with the GSBA since its early days in 1992 and took over as CEO in 2001 and has grown the organization to be the largest LGBTQ chamber of commerce in the country. It's probably most recognized for the work it does promoting LGBTQ owned businesses and groups in the region and for its Scholarship program which provides financial aid to LGBTQ students every year.
A decision may be both right and difficult at the same time, which is true of my decision to retire as President & CEO of GSBA, a position I have held for nearly 19 years. It is not an overstatement to say that serving in a leadership role in GSBA has been one of the most impactful, fulfilling, and life-changing experiences of my life.
Given the strength and visionary leadership in GSBA, with its outstanding Board, currently under the expert leadership of Stephanie Dallas; an extraordinary and talented staff, that works tirelessly on behalf of our small business members and students and a membership committed to doing good through business, I step down, confident that GSBA is in good hands. As for me, I am not going anywhere. This is my community, which I love. My role is changing but not my commitment to social justice.
The Board of Directors has appointed a search committee of GSBA Board and community members, which will be led by Board Treasurer Carolyn Hojaboom. The committee will oversee a national search to ensure an inclusive and successful recruiting process for the next President and CEO. We have retained Campbell & Company, a national consulting firm for nonprofits, to lead the search process.
GSBA is in place to welcome new leadership during this time of great challenge and huge opportunity to address the economic disparities within our state and nation. GSBA is stable, sound, and well positioned to continue the important work that still needs to be done. Please stay tuned for an invitation early next year to introduce our new President & CEO to the community.

For the future,
Louise Chernin (She/her)
GSBA President & CEO
Stephanie Dallas, the current Board Chair of the GSBA announced the search has already begun for a replacement for Louise, but if one cannot be found before her departure, GSBA Deputy Director, Mark Rosén will fill that role as an interim Executive Director. She also had this to say about Louise's service with the GSBA:
We are beyond fortunate to have had Louise Chernin as our President & CEO for these last 19 years, leading us with her passion, experience, dedication, vision, and clarity to bring GSBA to a place of strength, depth, and breadth as an organization. Louise is responsible for an enormous share of that which constitutes the very heart and soul of GSBA, built with her unwavering commitment to our mission and to our community.

Happily, we continue that good fortune with Louise as we look forward to her sustained involvement with organizations fighting for social justice and economic equity, which includes her continued commitment to GSBA. She has never been afraid to speak out for equity and inclusion, and in fact, she typically leads the charge. Knowing Louise, I trust that will not change and she will continue to inspire and lead all of us in the coming years.

– Stephanie Dallas Board Chair, GSBA
And, we should note that Louise has always been a great friend and booster of Seattle Gay Scene and she has been an important leader of our community for so many years…we wish her a happy and fulfilled retirement!
Salud, Louise Chernin!
(Visited 1 times, 1 visits today)