November 20, 2020

•
by
Michael Strangeways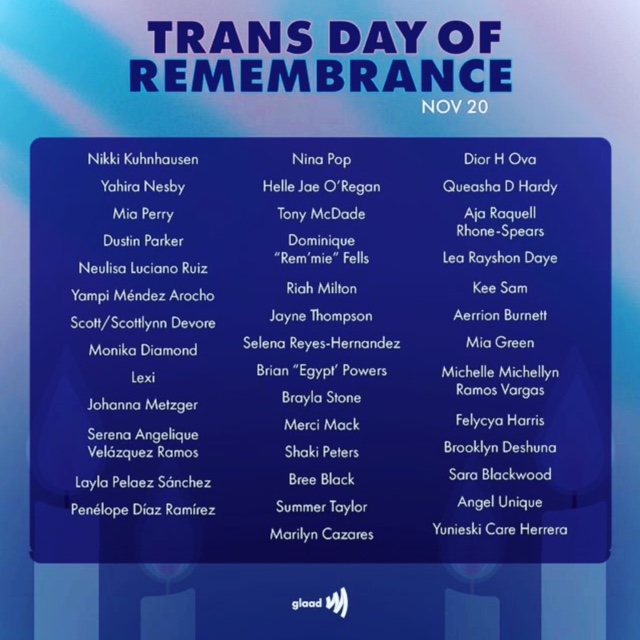 A letter from Human Rights Campaign's President Alphonso David:
Today, we mark Transgender Day of Remembrance, a time to commemorate the transgender and gender non-conforming people who have been lost to fatal violence over the course of the previous year.

On every Transgender Day of Remembrance, the Human Rights Campaign joins community members for a day of shared mourning and shared resilience. This year, we of course cannot be together in person, but we must remember those we have lost, and recommit ourselves to the work to end this violence.
Commemorating Those We Have Lost. This week, in recognition of Transgender Day of Remembrance, we released "An Epidemic Of Violence: Fatal Violence Against Transgender and Gender Non-Conforming People in the United States in 2020," a distressing report honoring those who were killed in 2020 and shining a light on data that we have collected since 2013 on the epidemic of violence.

With at least 37 known deaths so far this year, the majority of whom —25 in total— were Black or Latinx women, the Human Rights Campaign has officially recorded more violent deaths of transgender and gender non-conforming people than any year since we began tracking this violence in 2013. Since January 2013, we have documented more than 200 transgender and gender non-conforming people who were victims of fatal violence. Yuni Carey, a Latinx transgender woman, was murdered in Miami, Florida just this Tuesday.

The victims of this epidemic were more than statistics. Every person we lost this year had loved ones, friends and a community. They had hopes and dreams for the future that will now never be realized. We must honor them today and every day by continuing our work to reduce the stigma faced by the transgender and gender non-conforming community and fighting against the rising tide of violence.
A Rise in Hate. On Monday, the Federal Bureau of Investigation released troubling data showing unacceptably high levels of hate crimes — and an increase in those targeting transgender people. Per the report, hate crimes based on sexual orientation represent 16.8% of hate crimes, the third largest category after race and religion. The report also shows an uptick in gender identity based hate crimes rising from 2.2% in 2018 to 2.7% in 2019.

These alarming statistics represent real trauma for individuals and families across this country who have to bear the brunt of these hate crimes. As the Biden-Harris administration assumes office, we must recommit ourselves to advocating for mandatory hate crimes reporting across the country, better training for law enforcement officers to recognize bias-motivated crimes, and greater inclusion and equity in our communities.
What We Can Do. There are many ways we all can help combat this violence, including working to eliminate stigma against trans and gender non-conforming people, supporting laws and policies that prohibit discrimination based on gender identity, combating the root causes of violence, including the criminialization of sex work, homelessness, intimate partner violence and unemployment, uplifting transgender and gender non-conforming voices and building inclusive communities throughout society.

This past week, many of you joined with us to commemorate Transgender Awareness Week, an annual event that is dedicated to illuminating both the progress and unfinished work in the fight for transgender and non-binary equality, culminating in today's Transgender Day of Remembrance. This year, we hosted and participated in a number of events, all of which can be found here.
We also released new videos in our stop the stigma campaign with WarnerMedia, "See Each Other. Save Trans Lives.," which feature uplifting vignettes that tell stories of joy. Additionally, we released a call to action to support trans and gender-expansive youth, partnered with HBO on the TRANSlation Summit, and the Human Rights Campaign hosted a panel today to mark Trans Day of Remembrance.

But our work did not begin with Transgender Awareness Week, and it does not end with Transgender Day of Remembrance. Last month, I joined Minneapolis City Council Vice President Andrea Jenkins to launch a "Pledge to End Violence Against Black and Brown Transgender Women" asking state and local elected leaders to acknowledge the disproportionate and record-breaking fatal violence against transgender people in America, especially Black and Brown transgender women, and take decisive steps to deliver change.

Earlier this month, we also released the "Blueprint for Positive Change 2020," an important brief that includes 85 individual policy recommendations, reaching across the federal government, aimed at bettering the daily lives of LGBTQ people at home and abroad. One of our recommendations is to establish an interagency working group to address anti-transgender violence. The Biden-Harris administration has the opportunity to not only put our democracy back on track but deliver real positive change for LGBTQ people's daily lives, and the Blueprint has been shared with the Biden-Harris transition team as they evaluate the policy steps of the incoming administration.
Giving Thanks. A year ago, we never could have imagined all that would unfold in 2020 – we were pushed and challenged in so many ways.

As intense as this year was, what sticks out most in my mind is you. The Human Rights Campaign community is extraordinary. The depth of your support and all the compassion you have shown during these times – it truly touches me. You all did so much for our community all while balancing new, hard, responsibilities – working and teaching kids from home, caring for a sick family member, navigating life in a horrendous pandemic.
Now as we prepare for the holiday season– not carrying on our normal traditions, not being with family and friends – I want you to know that the Human Rights Campaign is your family. And even though we cannot sit around a table together I hope we will ALL say thanks for each other – and for all that we have accomplished together.

In Unity,

– Alphonso David, President, Human Rights Campaign
(Visited 1 times, 1 visits today)
As the Editorial Director/Co-Owner, Michael Strangeways writes, edits and does about a million other jobs for Seattle Gay Scene, Puget Sound's most visited LGBTQ news, arts and entertainment website now celebrating its 14th year as a media outlet. A semi-proud Midwesterner by birth, he's lived in Seattle since 2000. He's also a film producer who would like you to check out the Jinkx Monsoon documentary, "Drag Becomes Him" now available on Amazon.com. In his spare time, he gets slightly obsessive about his love for old movies, challenging theater, "otters", vodka, chocolate, "I,Claudius", Lizzie Borden, real books made out of paper, disaster films, show tunes, Weimar era Germany, flea markets, pop surrealistic art, the sex lives of Hollywood actors both living and dead, kitties, chicken fried steak, haute couture and David Bowie. But, not necessarily in that order.
Related Posts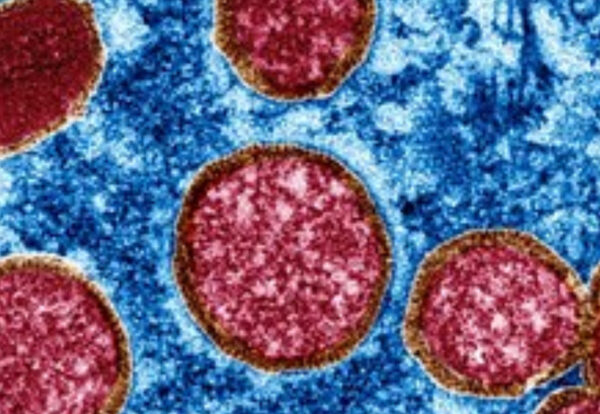 *Monkey Pox • Community • Community Health & Wellness • Community News • Health & Wellness • Living • Men's Health • Sexual Health • Uncategorized
Good news from the Human Rights Campaign as the Mpox
...