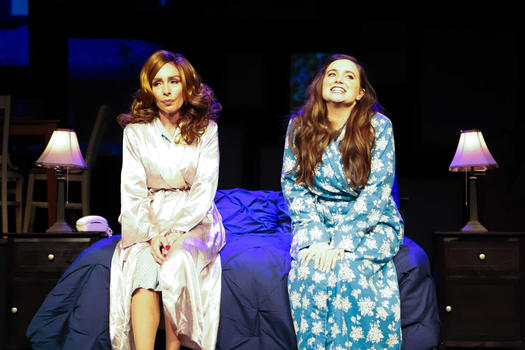 Review: TERMS OF ENDEARMENT adapted by Dan Gordon based on the novel by Larry McMurtry and the screenplay by James L. Brooks. Produced by Tacoma Little Theatre. Direction and Scenic Design by Blake R. York. Costumes Design by Michele Graves. Lighting Design by Niclas Olson. Sound Design by Dylan Twiner. Properties by Frank Roberts. With Stephanie Leeper as Aurora, Anastazja Bury-Quinn as Emma, Scott C. Brown as Garrett, Derek Mesford as Flap, Danielle Locken as Patsy Clark/Doris/Nurse, Jay Lurvey as Doctor Maise. Now through September 26, 2021 at Tacoma Little Theatre in Tacoma.
On one hand I am so happy to applaud Tacoma Little Theatre's return to live theatre (and its vital hard-stance on masks and immunization proof being required upon entry) that I hoped this review could be an unconditional love letter. The fact of the matter is, that this TERMS OF ENDEARMENT in Dan Gordon's stage adaptation is at best a CliffsNotes version of Larry McMurtry's 1975 Pulitzer Prize winning novel. Not to mention the work of James L. Brooks who wrote and directed the 5 time Oscar winning1983 film which won star Shirley MacLaine her long overdue Oscar. The play was obviously designed with an eye on the budget with a star-lady headliner to rake in bucks (initially done as a West-End/UK tour with DALLAS star Linda Gray and revised for off-Broadway where starring an ill-suited Molly Ringwald in 2016). Streamlined to only use 6 actors (two of whom double as several subsidiary characters) in a bothersome one-set format, TLT might have been better off doing this much loved material as a live staged reading.
Director Blake R. York, also Tech Director at this recently and tastefully renovated theatre, has cast most of his leads well, though his staging of this script, which has a lot of fade-out/fade-in's belying its filmic origins, is rather inconsistent and after a week of performances too many lighting cues were late or clumsy, with visuals of photos and outdoor locations sometimes being too muddled and dark.
As Aurora Greenway, the meddling Mama of this 3-decade long saga, Stephanie Leeper is not a copy of any prior Aurora or even Carol Burnett whom Leeper brings favorably to mind. (Leeper is also a fab singer and anchored a solid production of GYPSY as one of the top 3 Madame Rose's I have ever seen). She has strong chemistry with Ana Bury-Quinn, quite lovable as her benighted daughter Emma. Bury-Quinn is hampered by having only Aurora and hapless dullard college associate professor "Flap" Horton to really play off of, since the adaptation limits her BFF Patsy Clark (gamely portrayed in fleeting moments by Danielle Locken) to a few short scenes, while Emma's three children (so important to her and Aurora in the story) and her inter-marital affair with a sweet but also married banker are reduced to offstage mentions. Derek Mesford as Flap looks the part but stronger direction of this character and development of his role (Flap was tellingly also left offstage in the initial UK draft). Happily, Scott C. Brown fires on all on all burners as Aurora's neighbor/erstwhile lover, the former astronaut Garrett Breedlove, (Lord, the male characters in this story are all assholes!) and he gives Leeper's Aurora an active and motivated stage sparring partner.
I have avoided mentioning the plot of this character driven story, but the Big C plays a big part in the 2nd act (though even if you don't know any of the versions of this tale you may have an inkling by intermission.) Even the hard-hearted will probably need some tissue ready. TLT is to be applauded for all their efforts in bringing audiences back to the stage, and though the acting is the key draw to this production that will do, especially for audience members who've never seen the movie/ read the book. But the big draw here is Ms. Leeper; all Puget Sound Theatres reopening now should continue to embrace, rediscover or welcome her to their stages!
TERMS OF ENDEARMENT runs through September 26, 2021
Fridays and Saturdays at 7:30pm
Sundays at 2:00pm
Pay What You Can: Thursday, September 23rd at 7:30pm
$27 Adults – $25 Students/Seniors/Military – $20 Children 12 & Under
HERE for tickets.
(Visited 1 times, 1 visits today)