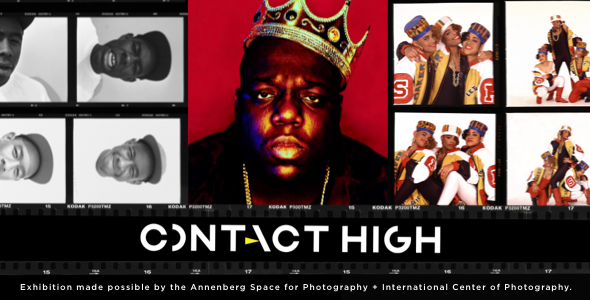 Yes, it's another wonderful new exhibit coming to Seattle's Museum of Pop Culture, aka MoPOP, and this time the focus is on Hip Hop…it's the traveling exhibition, Contact High: A Visual History Of Hip-Hop and it opens October 16th. A largely visual exhibit, it explores 40 years of the musical genre from its earliest beginnings in New York City, through today "documenting a revolution not just in music, but in politics, race relations, fashion, and culture."
Images include the biggest stars of hip hop including Missy Elliott, Jay-Z, Queen Latifah, Tupac and many more but will also include other physical ephemera and a video documentary as well. Best of all, this exhibition is included in MoPOP general admission or with a MoPOP membership….no extra ticket required! Details >> http://mopop.org/contacthigh 
More from MoPop:

While the music was establishing itself as a cultural force, photographers were on the scene, documenting the urban spaces where hip-hop came alive. The music reflected everyday experience; the images captured and memorialized it, providing a necessary perspective — sometimes empowering, sometimes controversial.


A single image can define a decisive moment, creating an instant icon. And that's exactly the point. Photography has helped shape hip-hop, which has always been about self-definition. Press photos and album covers announce the arrival of the style, swagger, bravado, singularity, and artistry that help the performer become an icon. For this genre that speaks truth to power, reclaims and concretizes identity, idealizes self-representation, and visualizes political rhetoric, the images are inseparable from the music.


Today, moments become decisive on Instagram, and the shift to digital photography has made the contact sheet pretty much obsolete. Contact High pays tribute to the way a new genre reinvented popular music—back when nobody knew where hip-hop could go or how long it might last, back before hip-hop exploded worldwide.

Exhibition highlights include:
Exclusive images of some of hip-hop's biggest influences, including Missy Elliot, Jay-Z, Queen Latifah, Kanye West, and Tupac Shakur.
More than 75 unedited contact sheets ranging from Barron Claiborne's iconic Notorious B.I.G. portraits to images of Aaliyah, Wu-Tang Clan, Sir Mix-A-Lot, and Kanye West.
The Dapper Dan jacket made for Rakim and MF DOOM's mask.
In addition to photographs, artifacts from MoPOP's permanent collection such as early rap battle fliers, Grandmaster Flash's turntables, Tupac Shakur manuscripts, Flavor magazines, and costumes from Sha-Rock and The Notorious B.I.G., add to our understanding of hip-hop culture.
A documentary short film featuring Contact High photographers at work and in conversation, including Barron Claiborne, Brian "B+" Cross, Eric Coleman, Estevan Oriol, Jorge Peniche, Jamel Shabazz, Janette Beckman, Joe Conzo, Jack McKain, Dana Scruggs, and Danny Clinch. The film is produced by the Annenberg Foundation and Radical Media.
Contact High: A Visual History of Hip Hop was made possible by the Annenberg Space for Photography + International Center of Photography. Curator Vikki Tobak, Creative Director Fab 5 Freddy. Based on the Book CONTACT HIGH: A Visual History of Hip-Hop by Vikki Tobak.
(Visited 6 times, 1 visits today)