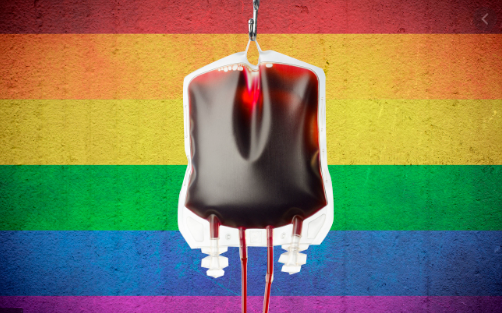 While other countries have ended the banning of blood donations from men who have sex with men, the United States is still discriminating against gay men from giving blood. The regulation dates back nearly 40 years when the AIDS crisis struck and "tainted" blood samples were a concern.
The Human Rights Campaign is calling for an end to that ban at a time when the nation's blood supplies are at its lowest and the need for blood is at its highest.
via HRC:
To Address National Blood Crisis, Human Rights Campaign Calls for End to Discriminatory Restrictions on Gay and Bisexual Men Donating Blood
Outdated Rules Still Prevent Many Men Who Have Sex With Men From Helping to Ease Ongoing Shortage of Blood Needed for Emergencies
WASHINGTON — In the wake of news that the American Red Cross had declared the first "national blood crisis" due to critically low blood supplies, the Human Rights Campaign (HRC) — the nation's largest lesbian, gay, bisexual, transgender and queer (LGBTQ+) civil rights organization — on Tuesday once again called for federal authorities to remove unnecessary restrictions on blood donation by men who have sex with men.
"We are facing a national blood shortage. This is a crisis that can in part be addressed by modernizing the Food and Drug Administration's discriminatory policy that bans men who have sex with men from donating blood " said Joni Madison, Interim President of the Human Rights Campaign. "The current policy is outdated, does not reflect the state of the science, and continues to unfairly stigmatize one segment of society."
HRC has strongly encouraged the FDA to revise the history questionnaire used to screen potential donors to one based on an individual risk assessment of sexual behaviors upon which all donors are evaluated equally, without regard to sexual orientation or gender identity.
The Human Rights Campaign is America's largest civil rights organization working to achieve equality for lesbian, gay, bisexual, transgender and queer people. HRC envisions a world where LGBTQ+ people are embraced as full members of society at home, at work and in every community.
(Visited 1 times, 1 visits today)