It's been almost exactly two years (I'm about 6 weeks shy of that anniversary) but I finally stepped foot inside a theater to be an audience member watching a stage show on Tuesday. I was nervous as hell because, well, theaters are full of PEOPLE who insist on BREATHING all their foul, nasty GERMS all over the place and some of those germs might be Covid-y and frankly, I'm anti-Covid. The whole "kills/maims/destroys your sense of taste" thing is permanently on my "No Fly List".
But, I survived and…it was fine. My first show back was at the vastly huge space of the 5th Avenue Theater and their first new production in two years of "Disney's Beauty and the Beast" and I deliberately chose this show and this theater space because it's BIG and I figured all those nasty germs would have more room to bop around in and less room to infiltrate my precious, precious body. I was nervous as hell entering the theater but the 5th Avenue has a solid plan in place to keep everyone safe; they check your I.D. and your ticket and your vaccination status card at the door and it was swift and efficient. And, they have monitors roaming around with placards saying "Mask Up!" to make sure everyone is doing just that. So, I felt pretty safe in that space.
Kudos 5th Avenue Theatre!!!
Now as for the show itself.
It was ok. It got the job done and it seemed to really please the audience. I mostly had a nice time while watching it.
I'm sorry I can't be more effusive but…"OK" and "Nice" pretty much says it all. There are some lovely things in this production and some ok things and a few things I didn't care for at all. It's a Disney property and that comes with a lot of baggage, also both good and bad….good, that it's a safe and entertaining show for the family but safe can also sometimes be a bit contrived. And, it's Disney so it's also going to be somewhat formulaic and "corporate" at times, too. That's not so good.
And, while "Disney's Beauty & the Beast" as an animated movie was quite delightful, not everything that works in an animated film is transferrable to the stage as a live and in person event. Film has the benefit of editing and montage to move things along but an animated film obviously also has the benefit of being able to depict pretty much anything and everything imaginable like anthromorphic chests of drawers and teapots and candlesticks and feather dusters.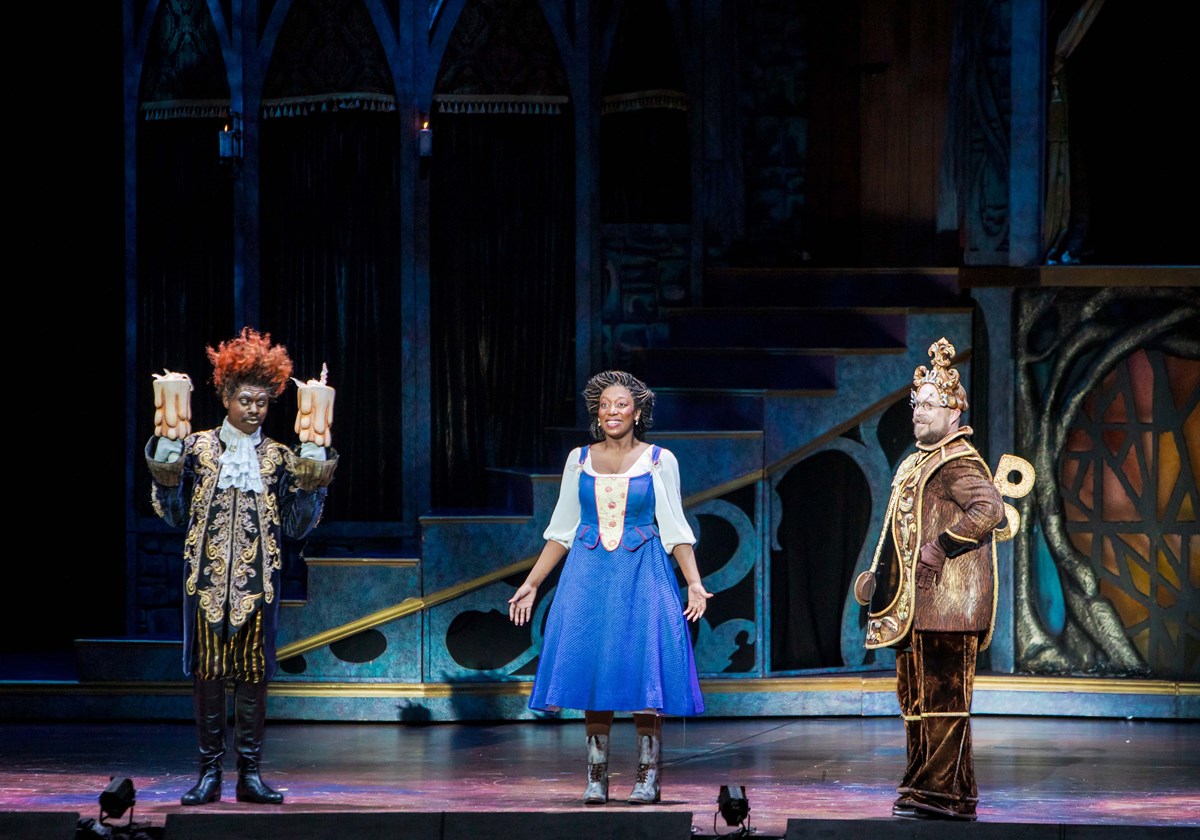 Actually, the stage version of "DB&TB" does a pretty good job of that…the actors dressed up as chests of drawers and teapots and candlesticks and feather dusters all pretty much works in a clunky sort of way, though their version of a child turned into a tea cup verges on the macabre. One of the chief problems with the stage version of "DB&TB" is how they deal with the passage of time and the depiction of the chief villain. Again, because film has the advantage of editing and montage, it's easy to depict that several hours/days/weeks have gone by and that's less easy to do on stage. As for their villain, Gaston, while he was a charming cartoon jerk on film, he's just a greasy asshole live and in person.
So, part of my problem with "DB&TB" is with the material itself. Love the movie but kinda "meh" on the material in stage form. As for this specific production, it does manage to get the job done because…well, it's a Disney product and that's what it's designed to do and the 5th Avenue Theatre is a very capable musical theater producing entity so it's a mostly slick and fast moving show. There's a clunky song or two that slows things down at times and it's director Jay Woods first time at directing this huge of a musical theater production. There's some awkward staging here and there and hesitant transistions between moments of action onstage but overall it's the type of issue that your average theater going isn't going to notice other than a vague feeling of "let's move this scene along!"
And, to be blunt, the scenic design was on the cheesy side. There's no set designer listed in the program and if you look closely it looks like they rented much of the set from outside sources and it all mostly feels like a cheaper "bus and truck" road tour of the material. There's an overuse of tacky painted backdrops and a lack of depth to the scenery. I understand that budgets are very tight for theater companies after two years of being shut down for Covid but…the 5th Avenue is a professional theater company so you do expect a bit more from them.
As for the "good stuff" there's much to like here with the highlight being our leading lady, Porscha Shaw who radiates so much charm and charisma that she practically lights up the stage all by herself. We've seen Ms Shaw in many shows locally, but most of them were plays (where she also always managed to shine, even if the production itself didn't) and she fulfills every requirement for being a perfect Disney heroine including a strong voice and ability to look radiant in the obligatory Disney Princess Fairy dress. Her Belle is feisty, passionate, charming and strong.
The supporting cast is also strong with Lisa Estridge as the adorable housekeeper Mrs. Potts (aka the Angela Lansbury role) and Arika Matoba as the aforementioned macabre tea cup son Chip (who is basically a talking head pushed around on a cart…) Seattle area newcomer Jason Weitkamp was very funny as the fussy Cogsworth while Nicholas Japaul Bernard as Lumiere and Allyson Lee Brown as the maid Babette were appropriately ribald and saucy as the Frenchiest of the cast (even though they're ALL technically French…) though Mr. Bernard's accent got a bit too thick at times. And, not surprisingly, Seattle theater veteran Anne Allgood nearly steals the show in the relatively small role as Madame de la Grande Bouche, (aka, the chest of drawers/wardrobe). She's pretty French, too, I guess and also deliciously hammy but in the good way of musical theater character actors.
As for our Beast, he's played by out of towner Riley Brack and while he has a lovely deep voice and did a terrific job with the menacing aspects of the Beast, he also had the dullest songs to sing. All the Beast's solos were a bit too long and not very compelling.
Now we come to our Villain, the dreadfully beefy bully Gaston, the local village lout who is determined to make our lovely Belle, his bride. The character works fine in the film but onstage…he's just a creep. For that matter, the entire village is creepy and awful…they mostly all treat Belle like crap and they're the stereotypical village jerks with pitchforks and torches who want to destory everybody/thing they don't like or understand…it's like dealing with Trump voters who can sing on pitch. The audience seemed to enjoy "Gaston" the big number in the show celebrating the awesomeness of the character; I really hated it and secretly wished that Gaston and the revolting village would all be banished to Mar-a-lago to never be heard from again.
Hopefully.
The actor playing Gaston is another out of towner (I guess Seattle doesn't have anyone beefy enough?) and while Jaysen Wright has an impressive chest, a handsome face and a fine singing voice, he seemed a bit petite to be the hulking Gaston. Are there not any tall, hulking, hairy chested tenors out there anymore? And, for reasons unknown, his exposed chest and arms were oiled up to the point it looked like you could fry bacon on his pecs. It was not only distracting but probably cholesterol unfriendly to both actor and audience. My theory is that a someone in the make-up department was eager to oil up Mr. Wright for every performance.
So, greasy villains aside, the 5th Avenue's production of "Disney's Beauty & the Beast" was enjoyable despite some clunky moments in the script. It has a terrific leading lady and some wonderful supporting characters and actors and pretty costumes and a couple fantastic numbers ("Be My Guest" stopped the show for a bit and the title song brought a tiny tear to my old grizzled eye) and it's mostly fun for the entire family.
Especially if you have family members who enjoy oily tenors with huge pecs.
---
Review: Disney's Beauty & The Beast. Music by Alan Menken. Lyrics by Howard Ashman & Tim Rice. Book by Linda Woolverton. Produced by The 5th Avenue Theatre. Directed by Jay Woods. Musical Direction by R.J. Tancioco. Choreography by Kathryn Van Meter. Lighting Design by Connie Yun. Sound Design by Haley Parcher. Hair/Wig/Make-up Design by Cherelle D. Guyton. Scenic Coordinator: Lex Marcos. Costume Coordinator: Danielle Nieves. With Anne Allgood, Nicholas Japaul Bernard, Riley Brack, Lisa Estridge, Jose J. Gonzales, Reginald Andre Jackson, Arika Matoba, Be Russell, John David Scott, Porscha Shaw, Jason Weitkamp, Jaysen Wright, Kate E. Cook, Rebecca Cort, Shanelle Leonard, Allyson Lee Brown. Onstage January 12 through February 6, 2022. Tickets: https://www.5thavenue.org/
(Visited 30 times, 1 visits today)